NHL Free Agency 2011: Live Blog of All of the News and Rumors from Opening Day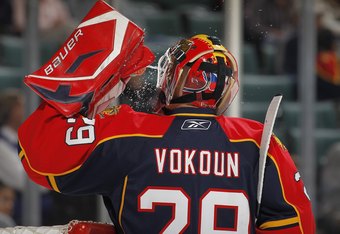 Joel Auerbach/Getty Images
It's here.
July 1st.
For some of us, it's Canada Day. For others, simply a hot first day of July.
But for the entire hockey world, it's the biggest holiday imaginable: the opening of free agency.
At noon E.T., hundreds and hundreds of players will hit the wires as free agents, and it won't take but two minutes for the contracts to start pouring in (for there's already been a lot of negotiations before now, most definitely).
On the forwards' side of things, Brad Richards highlights a group of UFAs heavy on mid-line players and not so much on first-liners. Back on "D," a flurry of last-minute rights trading has resulted in an extremely shallow and undoubtedly mixed-up class of defensemen. And, for the goaltenders, Tomas Vokoun stands out among a most mediocre group just happy that there's a lot of teams needing netminders this summer.
The newly recreated Winnipeg Jets will make their first addition to the team today. They made their first draft pick a week ago; now it's time to start attracting the real NHL-ers.
Tomas Kaberle, after many years of trade rumors, will be stirring things up in free agency instead this afternoon. And the Philadelphia Flyers, after their massive overhaul, will hit the ground running with the cap space to sign perhaps just one player.
As the day goes along, we'll be running a live blog with instant updates, reactions and analysis of the day's signings the minute they happen. We'll be tracking every source possible to get you the news as fast as possible, from the most common places—like NHL.com—to the some hole-in-the-wall sites and from the most reliable sources—CapGeek.com, perhaps—all the way down to Twitter.
Of course, we'll manage to throw in plenty of opinion, bias and half-baked criticisms to make sure our favorite day of the year will never become dull.
So, as the day wears on, keep us up on your desktop—even in a minimized box in the corner, possibly—for instant reactions of all of the frenzy of happenings around NHL free agency on this special occasion...for most of us, at least.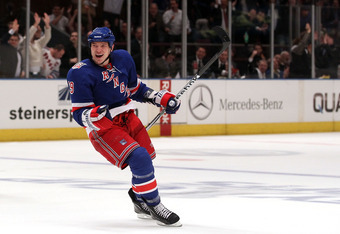 Ruslan Fedotenko has been re-signed by the NY Rangers to a one-year, $1.4 million deal. Fedotenko had 10 goals last year for Blueshirts.
Just to say it now, we're willing to bet that the Florida Panthers will finish in the top 10 in the league in scoring next year, and a good chance at top five, too. You heard it here first. But for defense...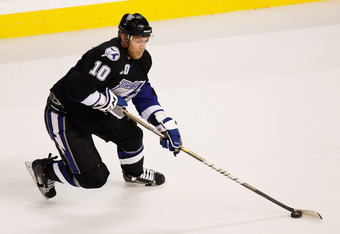 Florida does it again! Sean Bergenheim, after an explosion in the 2011 playoffs for TBL, is signed to a four year, $11 million contract. Quite a raise for the previously-regarded perennial underperformer! He'll have a $2.75 million cap hit and complete a suddenly stacked group of Florida forwards.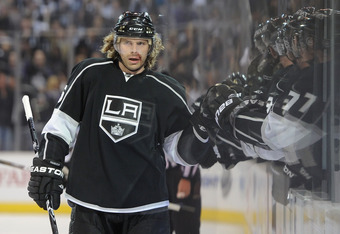 After the all reports about a contract in Philly were cleared off the table, Michal Handzus quietly signs in with San Jose - two years, $2.5 million cap hit. The price was clearly not as inflated as we thought it might be with all of the rumors surrounding him, and a decent signing for the Sharks.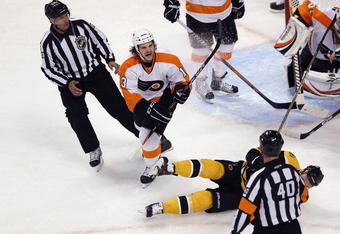 Former Flyers tough guy Daniel Carcillo, 24, signed by the Blackhawks at one year, $750,000. That's a very impressive signing for Chicago, who gets a young forward that's among the best in his niche for an extremely cheap price and an easy removal route - just a one season contract. Fantastic idea to start the evening.
Looks like it's all slowed down...sorry we missed the last true rush of the day (probably). While the Richards sweepstakes continue, he, Vokoun, and Kaberle - the top guys at each position - all stayed free agents through the afternoon. Nevertheless, opening day was one of the craziest in years and, according to TheFourthPeriod, saw 14 of the top 30 FA's go off the board.
Stay tuned, we will continue checking in from time to time throughout the evening.
Oilers and Ducks swap defensemen - Kurtis Foster headed to Anaheim, Andy Sutton going to Edmonton. Ducks get the better end of this one, Foster is a really underrated player.
Chuck Kobasew, who had nine goals and 16 points last year for Minnesota at age 29, has agreed to a one-year deal with Colorado. There's been a lot of one-year deals lately, that's interesting.
On the goaltending front, Johan Hedburg has reportedly signed a one-year extension with New Jersey and Brian Elliot has been inked to a two-year, two-way contract with St. Louis.
And the big headline of the past hour: the Buffalo Sabres sign Ville Leino away from the Flyers with a six-year, $27 million contract worth $4.5 million per year...all for a guy with one fantastic season and not much else on the resume.
CapGeek also reporting that Jake Dowell signed a one-year, $0.8 million deal in Dallas, Benoit Pouliot signs one-year, $1.1 million contract for Boston, and Jim Vandermeer agreed to a one-year, $1 million contract with San Jose.
Just to keep those of you up to speed, here's what happened while we were gone:
Flyers trade Kris Versteeg to Panthers for second and third rounders...Marco Sturm signs one-year, $2.25 million deal with Dallas...Alexei Ponikarovsky signs one-year, $1.5 million deal in Carolina...Jean-Sebastian Giguere signed by Avalanche...Sheldon Souray signs one year, $1.65 million contract for Stars...Tomas Fleischmann signs four-year, $18 million deal with Florida...Eric Belanger signs three-year, $5.25 million deal in Edmonton...
We're back...and overwhelmed.
We're going to have to take a break now, but we'll be back in about an hour with a flurry of more free agency updates, news and reactions. For now, thanks to all of our readers over the past five hours! Your support is very appreciated.
Michael Ryder goes to Dallas at $6.0 million over two years. Ryder, 32, had fallen off lately over the past few years in Boston but was very solid in the Bruins' Cup run this past spring. He should be very happy with that contract, but the Stars ought to be, too, nabbing an experienced player that's still somewhat productive.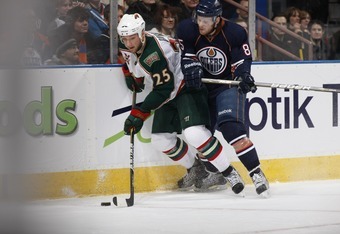 According to Cap Geek (though unconfirmed by other sources), Edmonton has made two mid-range signings, grabbing defenseman Cam Barker, waived by Minnesota earlier, and forward Darcy Hordichuk from Florida to one-year contracts worth $2.25 and $0.875 million, respectively. For two frankly awful players of those calibers, those contracts sound absolutely outrageous...the Oilers must simply need to reach the salary floor.
Ottawa has signed Alex Auld, last year's Canadiens backup goalie. Auld, 30, is 89-84-34 in 223 career games with a .905 career save percentage and was 6-2-2 last season. Could the Senators seriously be able to support a goaltending staff of only Auld and Craig Anderson?
The Canadiens take one of the biggest fish out of the pond in Erik Cole, perhaps the biggest signing of the day.
Cole, 32, will get $4.5 million for each of four seasons. He missed 42 games and scored just 11 goals and 16 points in '09-'10 but rebounded with an impressive 26 scores, including nine game winners, and 26 helpers in '10-'11. Cole's spent at least part of all 10 NHL seasons in Carolina, though, up to this point, and his one stint away from Raleigh - with Edmonton in late '08 - didn't go well.
Nevertheless, we're really keen on this one. Nice job by the Canadiens, who got a clear top five UFA forward.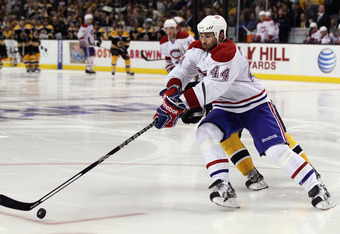 Washington gets two blockbusters at once: Joel Ward for four years, $12 million and Roman Hamrlik for two years, $7 million.
Ward, 30, had 17 goals for Nashville in '08-'09 and had 10 regular season and seven playoff (ended up with 13 pts in 12 postseason GP) in '10-'11. Hamrlik, from Montreal, is 37 but remains a nice, second-pairing playmaking defenseman.
However, it seems that both are quite overpaid. $3.0 and $3.5 million cap hits for those two guys looks very high to us.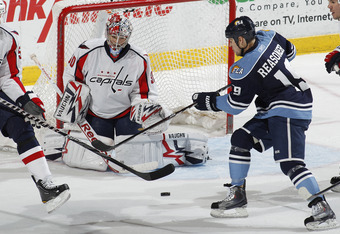 NY Islanders hook in 34-year-old Marty Reasoner to a two-year deal, giving them some leadership and experience in a very young and talented forwards group. Reasoner can contribute some on his own after scoring 14 goals and 18 helpers with Thrashers & Panthers in '10-'11.
If you're just tuning in, here's a recap of today's signings (without the contract details), so far:
-Semyon Varlamov traded to Colorado
-Jaromir Jagr signs with Philadelphia
-Still available: Vokoun, Richards, Kaberle, plenty more
-Phoenix grabs Torres, Smith, Gordon, Vrbata
-Florida adds Theodore, Upshall, Jovanovski, Goc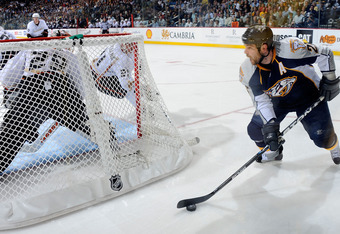 Penguins, who had just seen Rupp and Talbot leave in the past 30 minutes, get a player of their own in former Preds forward Steve Sullivan, age 36. Sullivan is a lot like an older version of Talbot but has a lot more of a scoring touch, even if it has begun to wear off with age. Pittsburgh gives him $1.5 million for one year.
A few updates from Twitter - Michal Handzus, headline of the first rumors of the day, has still not been signed. Erik Cole is reportedly close to signing with Montreal, but nothing done yet.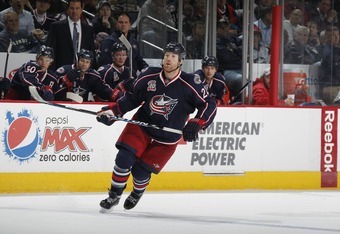 It's been confirmed a hundred times over now. Commodore gets $1.0 million for one season with Red Wings, can be a nice, tough player at times and will help round out Detroit 'D'. Commodore, 31, was bought out only a few hours ago by the Blue Jackets, where he played just 20 games this past season, but has a Cup ring from '06 with Carolina.
Looking for confirmation Twitter report of one year deal for D Mike Commodore in Detroit...
This article is
What is the duplicate article?
Why is this article offensive?
Where is this article plagiarized from?
Why is this article poorly edited?