NHL: 10 Biggest Showboats in NHL History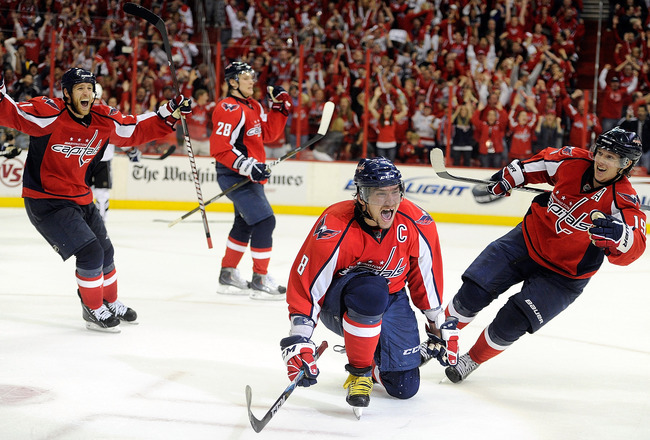 Greg Fiume/Getty Images
If there is one thing that hockey needs, it is more show offs. The sport would create an immense audience if players started riding their sticks after scoring a goal, like the great "Tiger" Williams.
We all saw how crazy an audience went for Terrell Owens' "Sharpie in the sock" routine and the time he used the popcorn as a prop after a touchdown.
Imagine how great it would be if hockey players could use props after a goal.
The greatest new attraction to the sports of hockey is the Green Men of Vancouver. Yet, after a very entertaining run, the two were told by the NHL to stop touching the glass of the penalty box or sparring verbally with the players. Those were the two things we viewers enjoyed.
The National Hockey League may be a little frigid when it comes to fun on the ice, but that is not stopping some of today's stars from their signature celebrations or showboating techniques.
Showing off in hockey can be traced back to the start, and although the NHL is a stickler for them today, the game could be better for it.
Here are the 10 biggest showboats in NHL history.
10. Joe Thornton
Joe Thornton is a big guy with a soft touch and killer attitude.
However, when it comes to showboating, Thornton is selective. When he does show off and tell the world how rare of a player he actually is, it makes headlines.
It may not be the best example, but Thornton blowing kisses to the crowd in these past playoffs is evidence.
9. Alex Kovalev
We cannot call Kovalev a repeat showboat offender, but his actions in 2010 will qualify him for this list.
Although, anytime a player scores four goals in a game, he can do whatever he wants.
Even an on-ice moonwalk.
8. Tie Domi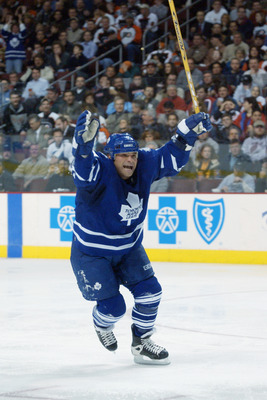 Doug Pensinger/Getty Images
Turns out, one of the greatest fighters the NHL has ever seen can be a showboat.
Who knew?
It was no secret that Domi liked to talk trash, as well as openly show players how good he really was.
7. Theoren Fleury
Fleury is as outspoken as there is in hockey history, which is why it is no surprise to see him on this list.
His way with words led right over into the way he conducted himself on the ice, and for that we can give him No. 7 on this list.
6. Ilya Kovalchuk
Sometimes his passionate play gets mistaken for showboating, which is why he is on this list.
However, when you are one of the best pure scorers in the game, you tend to do that.
5. Matthew Barnaby
There is no doubt that Barnaby was one of the most hated players the NHL has ever seen, but you have to give him credit for being one of the toughest players to play the game.
Still, his antics on the ice did make him a show off, but that was how he made a living in the NHL.
The video shows Barnaby in his finest moment.
4. Daniel Briere
Danny Briere is on this list solely for his celebration after he scores a goal.
His Tiger-esque fist pump is almost an "I'm better than you" shot at the opposing team's fans, which makes Briere a perfect candidate for this list.
3. Jaromir Jagr
Another player who is on this list primarily for his goal celebrations. For Jagr, it was the "salute."
As seen in the video, Jagr would take off his glove and salute after each and every goal.
It may be one of the best goal celebration antics the game has ever seen, but it qualifies as severe showboating.
2. Dave "Tiger" Williams
Along with being one of the greatest fighters the league has ever seen, Williams set the pace for showboating in the NHL.
The most memorable was his goal celebration in which he rode his own hockey stick. Classic.
1. Alex Ovechkin
When you think of showboating in the NHL today, the first player who should come to mind is Alex Ovechkin.
Yes, his goals are amazing, and, yes, he is one of the best players in the NHL, which may give him somewhat of a right to show off after an incredible goal.
However, antics like jumping into the glass and the classic "stick on fire" qualify as showboating, and for that, he sits at No. 1.
Keep Reading

Washington Capitals: Like this team?