Philadelphia Flyers: The 20 Hardest Hits of the 2010-11 Season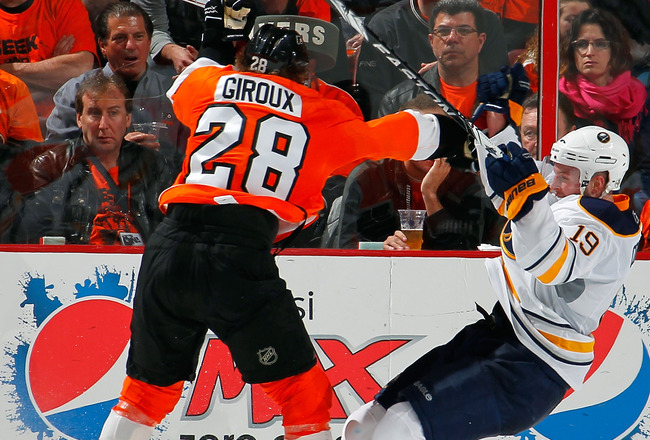 Paul Bereswill/Getty Images
The Philadelphia Flyers' history of being a tough and physical hockey team continued during this past season.
Highlight reels of the top goals and saves are available at the team's official website.
A countdown of the team's top 10 fights can be found here at Bleacher Report.
To wrap up the collection of Flyers action from this past season, here are the top 20 hits dished out by the men in orange and black.
No. 20: Claude Giroux on Milan Michalek (January 20, 2011)
Claude Giroux's emergence as one of the NHL's elite players continued during this past season.
Along with contributing a team-leading 76 points, Giroux developed into an effective body checker despite his small frame.
No. 19: Andrej Meszaros on Jason Chimera (March 22, 2011)
Andrej Meszaros was acquired by Philadelphia before this past offseason in order to add depth to the Flyers' defense.
Meszaros did not disappoint, winning the Barry Ashbee trophy, given to the team's most outstanding defenseman.
In addition to a team-leading plus/minus of plus-30, Meszaros led Flyers defensemen in game-winning goals.
Solidifying Meszaros' stature as an excellent all-around defenseman were solid hits like this one on Washington's Jason Chimera.
No. 18: Matt Carle on Chris Thorburn (March 31, 2011)
Former Hobey Baker winner and current linemate of Chris Pronger, Carle tied Meszaros for the team lead in plus/minus.
Here he took out Atlanta's Chris Thorburn with a hip check.
No. 17: Mike Richards on Jochen Hecht (January 11, 2011)
Skip to 0:50 for the hit.
Reading the play carefully, Richards anticipated Hecht gaining possession of the puck. Before he even had time to control the puck, Hecht found himself on the ice.
No. 16: Mike Richards on Brandon Dubinsky (March 6, 2011)
Sensing a lackluster effort from his team in the first period of this showdown between Atlantic Division rivals, Richards attempted to spark the Flyers.
This hit on Dubinsky led to the fourth fight between these two players.
No. 15: Claude Giroux on Alexander Semin (March 22, 2011)
As Semin attempted to poke the puck out to the point, Giroux launched into him from the side. Both All-Star caliber forwards ended up hitting the boards and falling to the ice.
No. 14: Jody Shelley on Brooks Laich (November 20, 2010)
After working for the puck along the boards, Brooks Laich looked up and had the unfortunate experience of seeing 6' 3", 230-pound Jody Shelley coming at him.
No. 13: Claude Giroux on Artem Anisimov (November 4, 2010)
When Giroux saw Dubinsky work the puck towards the back of the net, he hustled towards the area.
New York's Artem Anisimov skated hard at the puck as well. Giroux sensed him coming, put out an arm and sent the Ranger down hard.
No. 12: Mike Richards on Alexander Semin (November 7, 2010)
Skip to 0:13.
Semin acquired the puck with two Flyers defensemen in front of him. Having the advantage in numbers allowed Richards to attack the puck and take out Semin.
No. 11: Claude Giroux on Franz Nielson (February 24, 2011)
Once Giroux angled Nielson off to the side, taking him out of the play was simple.
No. 10: Braydon Coburn on Sidney Crosby (October 7, 2010)
Pittsburgh's new Consol Energy Center hosted its first regular season game with the Flyers visiting.
The night went pretty well for Philadelphia; along with spoiling the arena's grand opening, they put the city's hero flat on his back.
No. 9: Claude Giroux on Thomas Vanek (April 16, 2011)
Giroux's physical play continued throughout the postseason.
Vanek's attempt to gain possession of the puck with his head down ended poorly for him.
No. 8: Kris Versteeg on Mark Recchi (March 27, 2011)
After fanning on the shot, there was no time for Mark Recchi to look down and find it.
He found out the hard way.
No. 7: Claude Giroux on Jesse Winchester (January 20, 2011)
This hard hit resulted in one of the most entertaining finishes to a Flyers' hockey game this entire season.
Events following the hit led to five fights, including a three-on-three brawl highlighted by Shelley's beatdown on Chris Neil, who tackled Giroux and punched him twice after this hit.
(Full video of hit and ensuing fights here).
No. 6: Claude Giroux on Patrice Bergeron (May 6, 2011)
Yet, another hard hit from Giroux stood as a scarce moment of pleasure in a series filled with disappointment.
No. 5: Dan Carcillo on Milan Lucic (December 11, 2010)
Boston's high-scoring power-forward was surprisingly taken down by a much smaller Dan Carcillo.
No. 4: Andrej Meszaros on Benoit Pouilot (November 16, 2010)
Benoit Pouilot made a mistake no hockey player should make; he put his head down while puckhandling through the neutral zone.
No. 3: Jody Shelley on Tuomo Ruutu (November 11, 2010)
Shelley's hustle to get back into the play defensively caught Tuomo Ruutu completely off-guard.
No. 2: Darroll Powe on Josh Georges (November 16, 2010)
Darroll Powe skates hard and skates fast. The experienced forechecker's urgency took Josh Gorges by surprise, as the Canadien was caught completely off-guard.
The elbowing penalty here was simply a terrible call; this was clearly a shoulder-to-shoulder check.
No. 1: Sean O'Donnell on Evander Kane (January 14, 2011)
Kane crossed the blue line and entered the offensive zone with a plan to keep his head down until reaching the goal.
Once Kane was close enough to the net, O'Donnell vacated his side of the ice and drilled him with a powerful shoulder-to-chest hit.
Keep your head up.
Keep Reading

Philadelphia Flyers: Like this team?