NHL Realignment: What Will the Divisions Look Like in 2012-13?
June 29, 2011
Claus Andersen/Getty Images
For the 2011-12 NHL Season, the Winnipeg Jets will compete in the Southeast Division, though they're over 1,500 miles away from their closest divisional opponent.  
Seeing as Winnipeg will need to move to another division for the 2012-13 season, the NHL will institute a total realignment of the NHL's divisional structure, which will reportedly decrease the number of divisions in each Conference from three to two.
According to reports that circulated at the NHL Draft last weekend, each division will have at least seven teams, with two containing eight.  The question now is, which teams will be switching over to the Eastern Conference in order to compensate for Winnipeg's inevitable move to the Western Conference?
The leading candidates have to be Nashville, which would be a natural fit among the Southeast Division teams, Detroit and Columbus, who have each expressed a desire to be in the Eastern Conference.  Seeing as all three cities are located in time zones that are better suited for the Eastern Conference, they're all candidates to move when the NHL announces its realignment.
The Eastern Conference is reportedly going to be split into two divisions, a North and a South, with the Southeast division's remaining four teams being combined with Pittsburgh, Philadelphia, Detroit and Columbus to form the South Division.  The North Division is supposedly going to be comprised of the teams currently in the Northeast Division, plus the New York Rangers, New Jersey Devils and New York Islanders.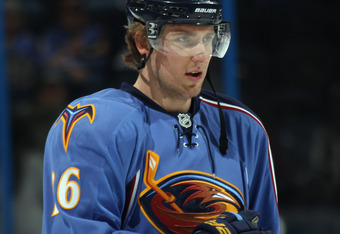 Bruce Bennett/Getty Images
Meanwhile, the Western Conference's new Pacific Division will contain the three Western Canadian teams, all three franchises based in California and the Phoenix Coyotes, leaving Winnipeg, Colorado, Minnesota, Chicago, St. Louis, Nashville and Dallas to make up the Central Division. 
The issue with this proposed system is that the Eastern Conference will have two divisions of eight teams, while those in the West have seven in each.  Obviously, this means it would theoretically be more difficult for teams in the East to qualify for the postseason, as there would be 16 teams vying for eight Playoff berths.
If this system is adopted, a way to level the playing field would be needed, as teams in the Eastern Conference would be at a disadvantage.  
It may be that the best solution is to keep either Detroit or Columbus in the Western Conference, though neither team would prefer that course of action.  Either way, in terms of structure, the league will have a very different look when the 2012-13 NHL season gets underway.