2011 NHL Draft Grades: Red Wings Earn an "A" with Tomas Jurco Selection
June 27, 2011
Claus Andersen/Getty Images
The Detroit Red Wings had been eyeballing Slovak prospect Tomas Jurco since his arrival to the North American Quebec Major Junior Hockey League. The Q—as it is affectionately referred to—produced some of greatest young prospects in 2011's NHL Entry Draft.
The Detroit Free Press goes as far to say that the Red Wings began tracking Jurco in 2009-10 as an underage junior. The team talked regularly this past season with Saint John Sea Dogs Head Coach Gerard Gallant who is a former teammate of Detroit Red Wings assistant general manager Jim Nill.
Jurco had 31 goals and 25 assists for 56 points in 60 games for the Saint John Seadogs in 2011.
The Saint John Sea Dogs as a team produced four players in the NHL Draft's first two rounds alone in '11.
In trading back into the second round with the Ottawa Senators the Detroit Red Wings both put themselves in prime position to select Jurco, and acquire additional second round picks.
Detroit's primary intentions this year was to stock pile young talent, and the trade with the Ottawa Senators allowed the Red Wings to do just that.
In regards to Jurco, Nill has been quoted in saying "He's as skilled as anybody in the draft, He can score, he's got good size. He's just a good player."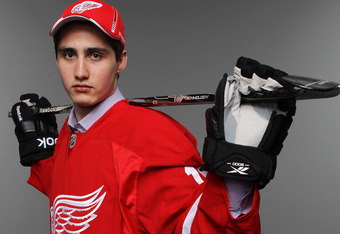 Nick Laham/Getty Images
Nill even elaborated by saying that "You don't like to make comparisons, but he has Hossa-type skills."
When projecting Detroit's 2011 first round targets in a recent Bleacher Report article, I listed Tomas Jurco as a possible Red Wings selection at 24th overall.
I wrote prior to the draft that Tomas Jurco was the dark horse. I said that he could be selected in the top 25 or that he could fall to the bottom 50.
Detroit drafted Jurco with the 35th overall selection in Saturday's second round of the draft.
Following the Jurco selection, Ansar Khan of Mlive.com elaborated by writing that Tomas was in the group of 10-15 players that could have gone late in the first round or early in the second.
Jurco's game is predicated on great hockey sense and exceptional decision making skills. Tomas is blessed with great size and blazing end-to-end speed. He has remarkable puck sense.
Abilities widely coveted at the NHL level.
Jurco has human highlight puck control ability. I have never seen a player with his puck handling capabilities.
2011 Third overall Florida Panthers draft selection Jonathan Huberdeau, a Saint John Sea Dogs teammate, will be the first to tell you that Tomas Jurco has some of the best stick/puck handling he has ever seen. In regards to his teammates prolific talent Huberdeau says that Jurco is "ridiculous."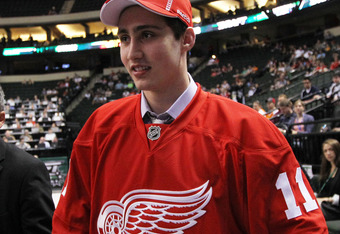 Bruce Bennett/Getty Images
Analysts and scouts alike attribute Jurco's fall into the second round to an off-season in 2011, despite scoring an aforementioned 31 goals for 56 points in only 60 games.
But Jurco was still ranked 20th among North American skaters by the Central Scouting Bureau.
"He had to take a backseat a little bit, because they had about six go-to guys," assistant general manager Jim Nill said. "He kind of came in and was going to be the go-to guy, and they had a very good team, so he had to learn the team concept, which is important. And he still put up a lot of points."
As a long time Detroit Red Wings fan I am absolutely elated with the Tomas Jurco selection. Though while watching the 2011 NHL Entry Drafts first round live I was disappointed with the teams decision to trade back, I am more than satisfied with the outcome.
Overall I graded the Detroit Red Wings with an A in terms of their 2011 draft performance.