NHL Power Rankings: 16 Best Coaching and Management Tirades in NHL History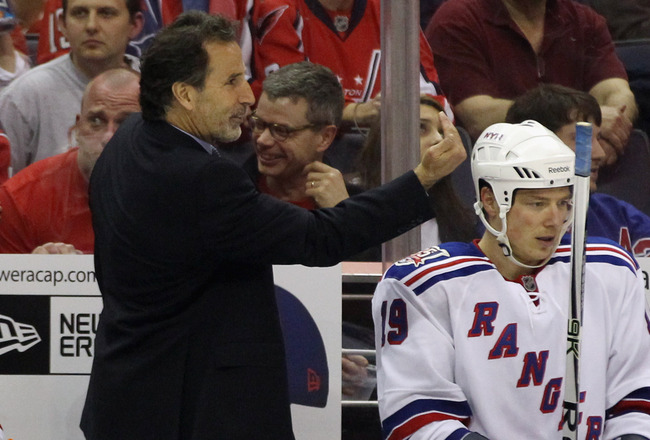 Bruce Bennett/Getty Images
There are a lot of famous sports figures that have tempers and have lost their cool on the odd occasion.
People like John McEnroe, among others; coaches famous for losing their cool include Bobby Knight, famous for throwing chairs.
Hockey has its share of loose cannons in the coaching and management positions too, John Tortorella to name one.
Here are the 16 best coaching tirades in NHL history.
16. Lindy Ruff on Officiating
The Buffalo Sabres did not blow a two-goal lead against the Boston Bruins, the referees blew it for them, as Sabres coach Lindy Ruff enlightens reporters.
The best part: "Case closed," followed by Ruff throwing the cap to his water bottle and exiting with the cap-less bottle.
15. Ron Wilson Shows His Displeasure at the Referee
Toronto Maple Leafs' head coach Ron Wilson is unhappy with the official and voices his displeasure.
He gets kicked out for his opinion.
14. Pat Burns
The Toronto Maple Leafs are involved in a scrum on the ice. Their head coach Pat Burns is right behind them, screaming.
If you're a lip reader, you can tell exactly how agitated Burns is.
13. John Brophy
The divider between the benches is there for a reason.
It's times like these though, that the wall doesn't seem sturdy enough.
Luckily, the official is there to climb up and keep it there, as John Brophy tries to get it down.
12. Ron Wilson
Ron Wilson has won over 500 games a coach in the NHL.
So don't question his integrity as a coach.
11. Kevin Lowe?
Kevin Lowe has had enough of Brian Burke criticizing him.
Lowe counters Burke's criticisms by saying "Number one he's a moron." Followed by "he loves the limelight."
He ends with "You want to count Cups?"
10. Michel Therrien
(1:20 mark)
Michel Therrien is upset by a player and clearly would like a piece of him.
9. John Tortorella Does Not Like Larry Brooks
Ah John Tortorella versus the New York media.
Not many people are willing to go toe-to-toe against Torts, but Larry Brooks is.
8. Lindy Ruff Angry After Game 2 Win
Lindy Ruff can't even celebrate a Buffalo Sabres Game 2 win over the New York Rangers, he's so upset at referees for not calling penalties at the end against the Rangers.
7. Robbie Ftorek Throws Bench
A lot of things have been tossed onto the ice before, but I'm not sure one of the benches has ever been one of them.
Enter Robbie Ftorek.
6. Mike Milbury Rant Against Official
(1:42 mark)
Mike Milbury goes outside the officials' dressing room to discuss something that happened during the game.
Money quote: "Just another day at the office. Just take your paycheck and go home!"
5. Ken Hitchcock Has a Message for Lindy Ruff
Buffalo Sabres head coach Lindy Ruff is not a fan of the Philadelphia Flyers' shenanigans.
Back when Ken Hitchcock coached the Flyers, Ruff talked about how the Flyers "acted like idiots."
Hitchcock took umbrage to Ruff's analysis of his team. In case you didn't catch the last part as Hitchcock was walking away, he said "Tell Lindy to ---- off."
4. Jim Schoenfeld Follows Official into the Tunnel
Jim Schoenfield would like to fight the official.
It's not often that a coach and referee need to be separated.
3. John Tortorella's Many Tirades
This could very easily be Best John Tortorella Tirades instead of all coaches.
Since Torts has had so many rants, it's difficult to choose just a few. So here's a video including 10 of Tortorella's gems.
2. Bruce Boudreau Tirade on HBO 24/7
NSFW Warning: Video contains mature language content
While HBO 24/7 was following the Washington Capitals as part of the Road to the Winter Classic, the Capitals were experiencing the worst losing streak in the franchise's recent history.
Their head coach took matters into his own hands, giving them his take on an inspirational speech.
In a span of just over a minute, Bruce Boudreau's rant includes 15 F-bombs and a couple of other swear words too.
This rant also inspired a parody Twitter account (read: not actually Bruce Boudreau): FBomb_Boudreau.
1. Brian Burke on the Detroit Red Wings
Brian Burke's best rant begins at the :28 mark.
It's almost like a stand-up routine. Here are his best one-liners.
"I just want to point out to the officials, Todd Bertuzzi does not play for Detroit. It just looks like that because he's wearing two or three red sweaters all the time."
"I didn't know that tackling was an acceptable tactic. I didn't see it in our rulebook."
"Sedin is not English for punch me or head-lock me in a scrum."
"Detroit has 12 captains and assistants to speak to officials. Do you find that unusual? Most teams have only two or three. It is amazing to me the number of players that are permitted to protest calls in Detroit uniforms."
Keep Reading