Winnipeg Jets: Recapping the 2011 NHL Entry Draft
June 26, 2011
Nick Laham/Getty Images
During their first NHL entry draft as the Winnipeg Jets, Mark Chipman, Craig Heisinger, Kevin Cheveldayoff and crew put on a great show of picking character players and talented youngsters.
Cheveldayoff repeatedly announced throughout the draft that he and the upper management were seeking out character players and not necessarily the best offensive of defensive talents available when their turn at the podium arrived.
That could not be more evident that with their seventh overall pick.
Mark Scheifle, Centre, Barrie Colts (OHL) (First Round, Seventh Overall)
At 6'3", 175 lbs, Mark Scheifele's development stock continues to rise at a rapid pace.  In his rookie season with the Barrie Colts of the Ontario Hockey League, Scheifele netted 22 goals and added 53 assists, which was tops for rookies.
His 75 points in 66 games as a rookie shows how far he has come from considering playing both Junior A hockey in Huntsville after playing Junior B.
Scheifele has shown promise in the under-17 tournament with Canada, and his personality and character was what sold the Jets organization on selecting him seventh overall, even before highly touted prospect Sean Couturier.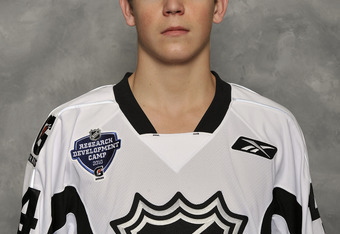 Graig Abel/Getty Images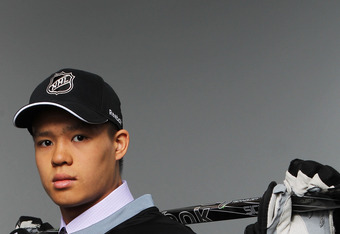 Nick Laham/Getty Images
Scheifele has the ability to be a two-way, playmaking centre in the likes of Mike Richards or even possibly Ryan Kesler.  His development in the coming years with Dale Hawerchuk's Barrie Colts will be the real test of how good this kid can get.
Adam Lowry, Left Wing, Swift Current Broncos (WHL) (Third Round, 67th Overall)
Son of former NHLer Dave Lowry, Adam stands 6'4", 184 lbs and is a rugged grinder in the Western Hockey League with the Swift Current Broncos.
In two seasons with the Broncos, Lowry has netted 34 and 45-point seasons, showing a steady improvement.
It will be his defensive, grinding style that the Jets will look to use in the future.  Lowry plays much like his father did when he played for the Vancouver Canucks, St. Louis Blues, San Jose Sharks, Calgary Flames and Florida Panthers.
Brennan Serville, Defense, Stouffville Spirit (OJHL) (Third Round, 78th Overall)
In two seasons with the Stouffville Spirit of the OJHL, Brennan Serville has shown a steady improvement as a puck-moving defenseman with a solid first pass.
With seasons of 15 and 30 points respectively the last two seasons, he will be playing for Canisius College in Haverhill, Massachusetts for the next scholastic year.  The Canisius Griffins are in the Atlantic Conference of NCAA Division I Hockey.
Though seen to be a project that will take a few years in college to develop, Serville's presence on the blue line will be challenged at the collegiate level.  His college success will alter his future greatly.
Zachary Yuen, Defense, Tri-City Americans (WHL) (Fourth Round, 119th Overall)
Zach Yuen has a background in figure skating, piano, and now mostly importantly to him, hockey.
The six-foot Tri-City Americans defenseman has shown big improvements in the last three years as a defenseman on the Americans blue line.
After scoring four points in 42 games in 2009-10, Yuen's output rose to 32 points (eight goals, 24 assists) in 72 games played.  His stock rose to be able to be selected in the fourth round of the draft.
Yuen will spend another year or two in the WHL to hone his skills on defense on both the offensive and defensive side of the puck.  He's not afraid to stay at home or stick up for a teammate.
Austen Brassard, Right Wing, Belleville Bulls (OHL) (Fifth Round, 149th Overall)
Traded midway through his rookie year in the Ontario Hockey League from the Windsor Spitfires to the Belleville Bulls, grinder Austen Brassard found a knack for scoring with his new club.
After only collecting 12 points in 37 games in Windsor in 2009-10, he notched 17 points in 26 games in Belleville.  In 2010-11, Brassard's point totals went up again as a grinding winger as he netted 34 points (19 goals, 15 assists) in 67 games.
Brassard's development needs at least two more years in junior before he may be ready to make the jump to pro.  His style of play is what made Winnipeg consider him—he's rugged, tough and can score.
Jason Kasdorf, Goalie, Portage Terriers (MJHL) (Sixth Round, 157th Overall)
A home-grown Winnipeg boy, Kasdorf was arguably the best goalie in the Manitoba Junior Hockey League with the Portage Terriers in 2010-11.
His 19-10-5 record combined with a 2.55 goals against average and .911 save percentage made him an easy choice as a goalie in the draft despite his development.
Kasdorf is a hometown boy, but his commitment to RPI shows his development has many more years to go before he will jump to the pros.
Aaron Harstad, Defense, Green Bay Gamblers (USHL) (Seventh Round, 187th Overall)
In three seasons with the United States Hockey League's Green Bay Gamblers, Aaron Harstad has developed on both sides of the puck.
His 21 points in 51 games in 2010-11 tripled his output from a year before in almost the same amount of games.  He also has shown to be clutch with seven points in 22 playoff games the past two seasons with Green Bay in the USHL playoffs as the Gamblers have made it to the Finals in both seasons, winning the Clark Cup in 2009-10.
Harstad was eligible for the 2010 NHL draft and was passed over in that draft, and Winnipeg took him with their final pick of the draft.
Harstad is committed to playing at Colorado College in the fall.
For more 2011 NHL draft coverage, stay tuned to Bleacher Report for updated NHL mock drafts, NHL draft rumors, NHL draft results and draft grades.