2011 NHL Draft: Canucks Select Nicklas Jensen with the 29th Pick
June 25, 2011
Bruce Bennett/Getty Images
The Vancouver Canucks selected Nickals Jensen from the Oshawa Generals with the 29th overall pick Friday night at the 2011 NHL Draft in St. Paul, Minneapolis.
Jensen, a Right Winger from Denmark had a nice season in the OHL with Oshawa. He had 58 points in 61 games, scoring 29 goals along with 29 assists. He also had 11 points in 10 games during the playoffs with 7 goals and 4 assists.
He has a bit of a lanky build, standing at 6'3'' and weighing 187 pounds, and he will need to fill out that frame while he works his way to the NHL.
Jensen is a solid skater, often seen going coast-to-coast and has the ability to make plays with little room to work with. Give him too much room to work with, and he'll put the puck in the net. Some of his goals in the OHL this year were some of the top goals of the year in the league.
Although lanky, he is learning how to use his size to his advantage, and has developed a talent for protecting the puck.
The main concern many have with Jensen is his consistency. While he does have many talents, not performing well game in and game out has always been a red flag. During the year, he was seen taking shifts off, and if he plans to contribute for the Canucks, he will have to fix that.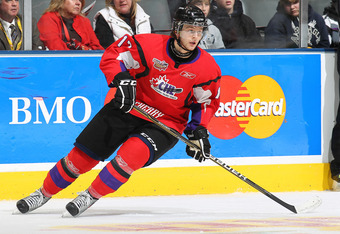 Claus Andersen/Getty Images
With a little bit of polishing up, Jensen could have a very promising career in the NHL. If he can fill into his lanky frame and become more consistent, we could see Jensen scoring 80 or more points for the Canucks in the near future.
For more 2011 NHL draft coverage, stay tuned to Bleacher Report for updated NHL mock drafts, NHL draft rumors, NHL draft results and draft grades.