Philadelphia Flyers: Blockbuster Trades Before the Draft Show They Mean Business
June 24, 2011
Paul Bereswill/Getty Images
The 2011 Draft is at our doorstep and the Edmonton Oilers have been talked about with rumours of a first-overall pick being traded gaining strength by the day—but it was the Flyers who made the headlines first with two unexpected moves.
Mike Richards and Jeff Carter have been faces of the franchise for the past few years and it came as a total surprise seeing their names related to trades. GM Paul Holmgren said, "Those are two hard phone calls to make."
That is a rather gentle way of putting it. We are not talking about trades involving Ryan Getzlaf and Corey Perry, but Richards and Carter are still the Flyers' captain and one of their top forwards, respectively, but you can't really disagree with his reasoning.
Claude Giroux and James van Riemsdyk have put up solid numbers for the Flyers in the last few years and the "overload in the middle" mentioned by Holmgren could certainly be a factor that would hold back their development. In acquiring Brayden Schenn they do get more size on the wing.
In fact, all the players acquired in both trades come with the future in mind—even the near future, with a No. 8 pick in this year's Draft. Jakub Voracek, Wayne Simmonds and Schenn are all under 23, so should any of them underperform, their young ages would definitely give the Flyers some room to work out a good deal in a potential trade. Of course, being so young gives them enough of a margin to develop and establish themselves as top NHL players.
The big reason these deals were made is Ilya Bryzgalov. It is known that good players are costly—this fact is even more true when we talk about goaltenders. The recent netminder issues teams all around the NHL have had has made good netminders invaluable assets to any roster. Bryz is no exception.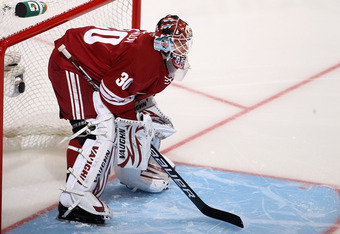 Christian Petersen/Getty Images
The Russian has taken the Phoenix Coyotes' crease by storm since leaving Anaheim and has become one of the most solid performers in net over the last few years.
Together with some unexpected issues from the Flyers' masked men—especially after last season's performances from Michael Leighton and Brian Boucher—Bryzgalov became a must have for them. The need to provide the defensemen with some support in their own backs was set as Holmgren's priority for next season and this deal fulfills exactly that.
Also, Sergei Bobrovksy's development is their other main concern. You can't really argue that Bobrovsky is set to become a solid goaltender in the future and, although having ice time is not seen as a negative thing, stepping up because of poor performances from the supposedly No. 1 goalie(s) adds unnecessary extra pressure—pressure a young goaltender can go without.
The Flyers are renewing their roster, trying to do things the right way—building up from goaltending to the forwards. The real question here is this: was it really necessary to "sacrifice" Mike Richards and Jeff Carter? Only time will tell.
Looking at it from a salary cap perspective, definitely. Bryzgalov would have become a free agent if Philadelphia hadn't signed the 31-year-old, and such a move also shows commitment in acquiring him.
The same goes for Giroux and van Riemsdyk. Paul Holmgren sees them as top-liners for the Flyers and freeing roster space for them to step up can only give them a confidence boost for the upcoming season.
From a roster depth perspective, it has to be considered a step back. Playing mentalities aside, losing Carter and Richards is a blow that can only be dealt with by changing the way the team will play—whether it's a successful change, is something yet to be seen.