NHL Power Rankings: The Most Useless Player on Each Team in the League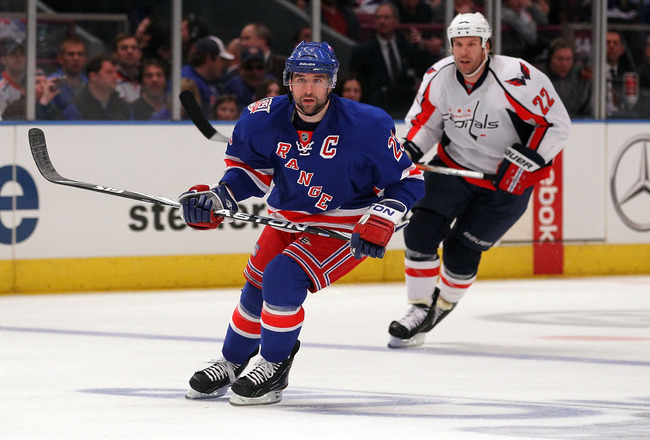 Bruce Bennett/Getty Images
Every team has one. That one player that fans just look at and ask, "Why is he on this team?" From players who repeatedly get injured to players who are just not that good; no matter how hard they try, they can't contribute to their team.
If you're a useless player in a place like Columbus, you don't have much of a problem, but if you're in a place like Toronto, you are pointed out and vilified to the greatest extent.
Keep in mind that some of these players aren't exactly useless, they're just the least useful on their team.
Anaheim Ducks: Andy Sutton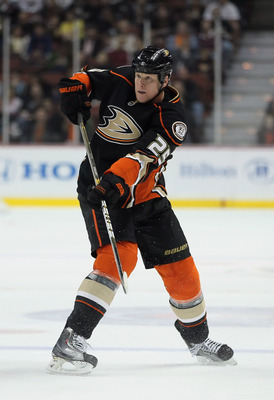 Jeff Gross/Getty Images
2010-11 Stats: 39 GP, 0 G, 4 A, 4 P
Andy Sutton joined the Anaheim Ducks when he signed with them prior to this past season. In his first game with the Ducks, he broke his thumb and missed the next 21 games. When he returned he was a healthy scratch for most of the season and the playoffs.
After the season, Sutton said, "It was the worst year of my career... It was frustrating. Really, I think I just didn't really recover after I had the hand surgery. I felt like I was constantly slipping down the mountain, couldn't regain my footing and lost a lot of confidence. It sort of left me not playing like myself."
Boston Bruins: Shane Hnidy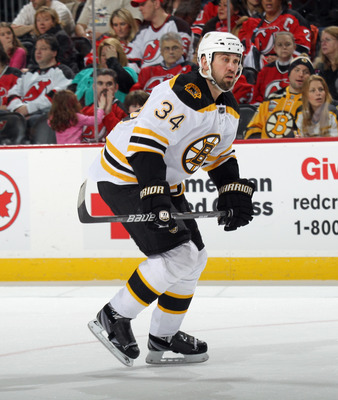 Bruce Bennett/Getty Images
2010-11 Stats: 3 GP, 0 G, 0 A, 0 P
When you play for the Stanley Cup champions and you only play six entire games the entire year, you can be pretty much sure that you're not of much use. Injured in training camp while on a tryout contract with the Phoenix Coyotes, he missed most of the season until he signed with the Bruins on February 26. After fully recovering from his injury, he was a healthy scratch for all but three games.
I understand depth signings, but in this case, I'm not so sure.

Buffalo Sabres: Patrick Lalime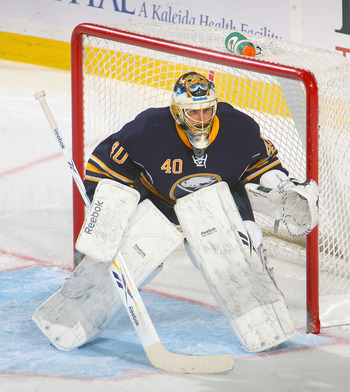 Rick Stewart/Getty Images
2010-11 Stats: 7 G, 0 W, 5 L
Patrick Lalime joined the Buffalo Sabres to have one of the most fun jobs in hockey: the backup to an elite goaltender. This season, when Ryan Miller played the least games than he ever had, Lalime was passed on the Sabres' goalie depth chart by Jhonas Enroth. With his contract up, Lalime might have trouble finding work in the NHL next season.

Calgary Flames: Raitis Ivanans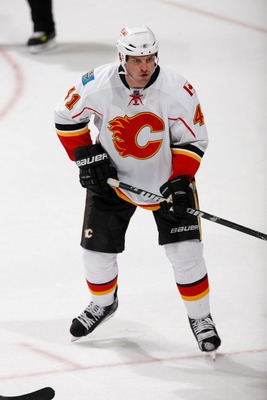 Dale MacMillan/Getty Images
2010-11 Stats: 1 GP, 0 G, 0 A, 0 P
Signing with the Calgary Flames in the offseason, Raitis Ivanans was employed to be the Flames enforcer. Fast forward to the third period of the season opener. Ivanans got into a fight with Edmonton's Steve MacIntyre and received a punch right to the face and left the game. He did not play again for the rest of the season.

Carolina Hurricanes: Jerome Samson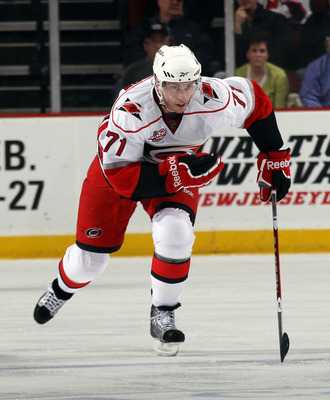 Bruce Bennett/Getty Images
2010-11 Stats: 23 GP, 0 G, 2 A, 2 P
Jerome Samson gets the honor of being the Hurricanes' most useless player mostly by default. He's on a two-way contract and only joined the 'Canes on February 13 after being called up from the AHL. The rest of the roster performed just well enough to not be named here.

Chicago Blackhawks: Jordan Hendry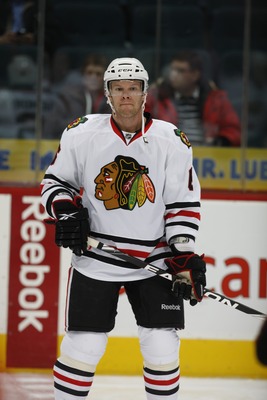 Dale MacMillan/Getty Images
2010-11 Stats: 37 GP, 1 G, 0 A, 1 P
Jordan Hendry, normally a defenseman, played a lot of games as a forward on Chicago's fourth line. After only playing 43 games in 2009-10, he expected to play a lot more after Brent Sopel left in the Chicago cap dump of last year. That didn't happen as Hendry suffered a torn ACL in February that cost him the rest of the season.
Another player heading to unrestricted free agency, Hendry could stick with Chicago or, if Chicago decides to go another way, he will have to find a new employer.
Colorado Avalanche: Matt Hunwick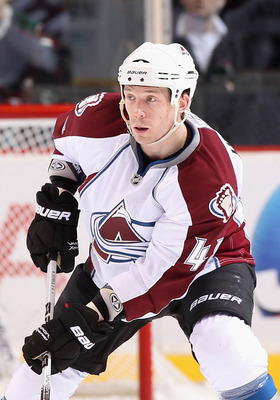 Christian Petersen/Getty Images
2010-11 Stats: 73 GP, 1 G, 12 A, 13 P
Matt Hunwick's 2010-11 season will be remembered for one thing: Putting Boston's Marc Savard back on the shelf with a concussion. As almost everyone in Colorado had a bad year, it was hard to find one player who could be called useless.
Columbus Blue Jackets: Andrew Murray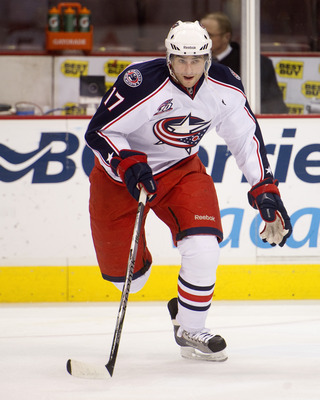 Rich Lam/Getty Images
2010-11 Stats: 29 GP, 4 G, 4 A, 8 P
Limited to 29 games because of knee and lower-body injuries, Andrew Murray heads toward free agency unsure if he'll be re-signed by Columbus. Only playing a total of 75 games and only 15 points in the past two seasons does not help his cause.

Dallas Stars: Toby Petersen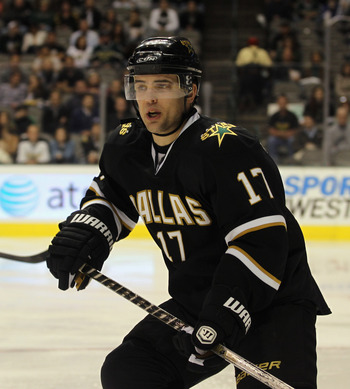 Bruce Bennett/Getty Images
2010-11 Stats: 60 GP, 2 G, 4 A, 6 P
Battling injuries all season long did not help Toby Petersen's cause of taking this honor home. Hand and leg injuries were the culprits, suffered in December and January respectively. When he was in the lineup, he didn't do very much of anything as his stats show.

Detroit Red Wings: Ruslan Salei
Jamie Sabau/Getty Images
2010-11 Stats: 75 GP, 2 G, 8 A, 10 P
Is being the most useless player in Detroit such a bad thing? I mean, sure you're not contributing that much, but as long as the Red Wings are winning, and they usually are, it shouldn't be a problem.
Perhaps the best player to ever come out of Belarus, Ruslan Salei has seen almost every corner of North America in his NHL stay. Making stops in Anaheim, Florida and Colorado before arriving in Detroit this past season, Salei might have to find a team in the Northwest to complete his travels as Detroit might not bring him back for a second season.
Edmonton Oilers: Colin Fraser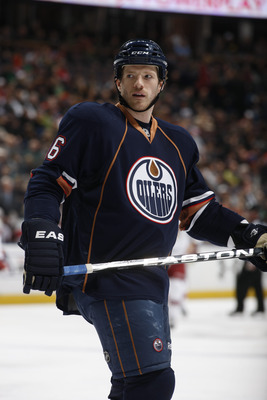 Dale MacMillan/Getty Images
2010-11 Stats: 67 GP, 3 G, 2 A, 5 P
Being a fourth-liner for one of the worst teams in the league can usually dictate that you will be the most useless for your team. Colin Fraser unfortunately gets the nod for Edmonton.

Florida Panthers: Ryan Carter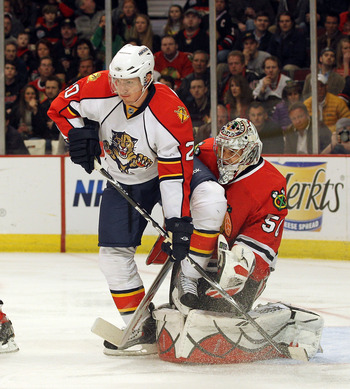 Bruce Bennett/Getty Images
2010-11 Stats: 62 GP, 3 G, 6 A, 9 P
The most useless for three teams, Ryan Carter was traded twice during the season. It sucks for him because he started the season with a team that made the playoffs in Anaheim before being traded to Carolina. Also, only three points for each team he played for is not good enough.

Los Angeles Kings: Trevor Lewis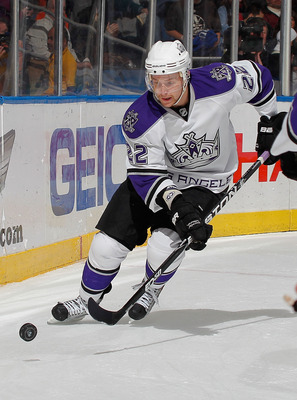 Paul Bereswill/Getty Images
2010-11 Stats: 72 GP, 3 G, 10 A, 13 P
Another team whose players did perform pretty well and no one is really useless, some one had to take the honor and Trevor Lewis is the unfortunate player.

Minnesota Wild: Eric Nystrom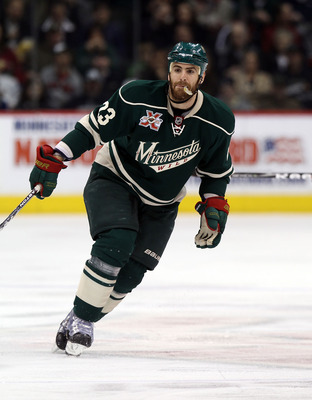 Bruce Bennett/Getty Images
2010-11 Stats: 82 GP, 4 G, 8 A, 12 P
Playing in all of Minnesota's games this season, it was revealed that he had been playing with a broken cheekbone since December 11th. Now, I'm not sure if that affected his game or not, but it probably didn't because he didn't get that many points in the first place.

Montreal Canadiens: Tom Pyatt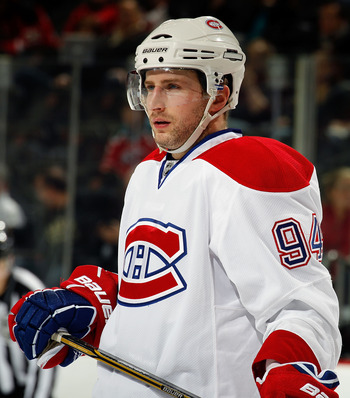 Paul Bereswill/Getty Images
2010-11 Stats: 61 GP, 2 G, 5 A, 7 P
Now, I could have gone with Scott Gomez with this one considering his performance last year, but he will more than likely rebound next season. Therefore, Tom Pyatt gets the nod. He performed well offensively in the AHL with the Hamilton Bulldogs but could not bring that game to the Canadiens.

Nashville Predators: Nick Spaling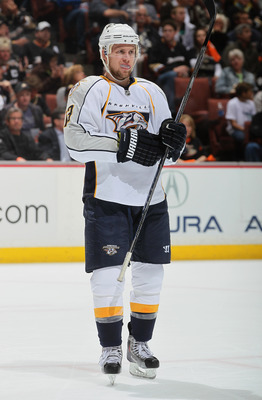 Jeff Gross/Getty Images
2010-11 Stats: 74 GP, 8 G, 6 A, 14 P
In another case of a player playing with an injury for the majority of the season, Nick Spaling had been feeling pain in his shoulder since January. Finally having surgery for a torn labrum after the season, Spaling should be ready for training camp next season after three months of recovery.
New Jersey Devils: Rod Pelley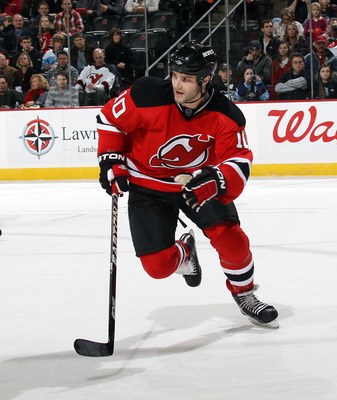 Bruce Bennett/Getty Images
2010-11 Stats: 74 GP, 3 G, 7 A, 10 P
I could say the whole roster of the New Jersey Devils was useless last season compared to what the Devils usually do in the regular season. Unfortunately, I can't do that. So another fourth-liner gets it in Rod Pelley.

New York Islanders: Matt Martin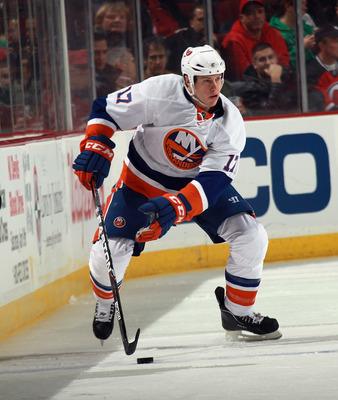 Bruce Bennett/Getty Images
2010-11 Stats: 68 GP, 5 G, 9 A, 14 P
In my opinion, other than a few young stars, the New York Islanders are a team that really has no identity. They continually get low draft picks and nothing comes of it. I have to give the most useless player honor to Matt Martin because of the low point total.
New York Rangers: Chris Drury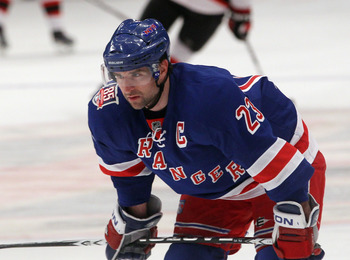 Jonathan Klein/Getty Images
2010-11 Stats: 24 GP, 1 G, 4 A, 5 P
It seems almost wrong that the New York Rangers most useless player is also the captain. With it looking like Chris Drury will miss all of next season after missing most of last season, he needs to be stripped of that "C" as soon as possible to stop tarnishing the captaincy.
Ottawa Senators: Pascal Leclaire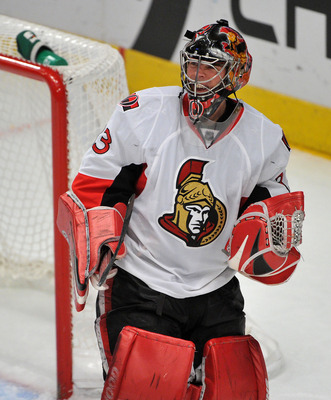 Christopher Pasatieri/Getty Images
2010-11 Stats: 14 GP, 4 W, 7 L, 1 OTL
Even though he's assured to leave in free agency and maybe even the NHL, I have to put Pascal Leclaire here because he has not lived up to his potential. He has come a long way from being drafted eighth overall in 2001 and it hasn't been good. He will have to be really lucky even to get an offer from an NHL team when free agency opens.
Philadelphia Flyers: Michael Leighton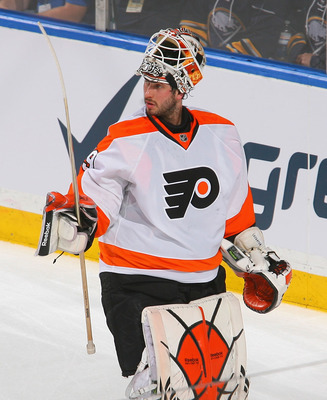 Rick Stewart/Getty Images
2010-11 Stats: 1 GP, 1 W
Michael Leighton is a good goaltender. He proved that when he brought Philadelphia within one game of the Stanley Cup in 2009-10. What did he get in return? Sent down to the minors for the majority of this season. From no fault of his own, Leighton is the most useless player on Philly because of their problems with finding the right goalie.

Phoenix Coyotes: Andrew Ebbett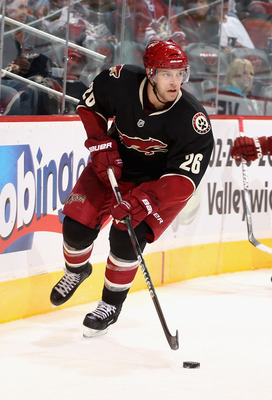 Christian Petersen/Getty Images
2010-11 Stats: 33 GP, 2 G, 3 A, 5 P
Almost everyone on Phoenix has overachieved the past two years. That's why they have made the playoffs. So the most useless player on Phoenix is the one who played the most and performed the least. That player is Andrew Ebbett in my opinion.
Pittsburgh Penguins: Matt Cooke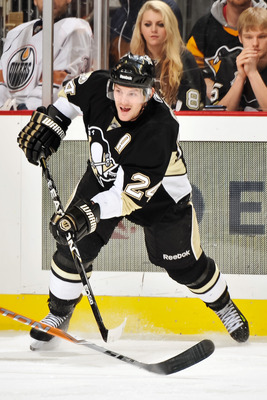 Jamie Sabau/Getty Images
2010-11 Stats: 67 GP, 12 G, 18 A, 30 P
The highest-scoring player on this list, his points can't protect Matt Cooke from being on this list. Matt Cooke should not be in the NHL and therefore he is useless in my opinion. If I were Ray Shero, I would have bought out his contract long ago. That way, he can't hurt the Penguins any longer.

San Jose Sharks: Niclas Wallin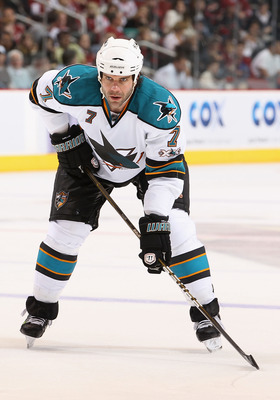 Christian Petersen/Getty Images
2010-11 Stats: 74 GP, 3 G, 5 A, 8 P
I can't really say that Nic Wallin the most useless player on the San Jose Sharks anymore because he recently signed a deal with a team in Sweden. Last year however, he was, only supplying eight points in 74 games. That is unacceptable for a player on a team who is a contender.

St. Louis Blues: Chris Porter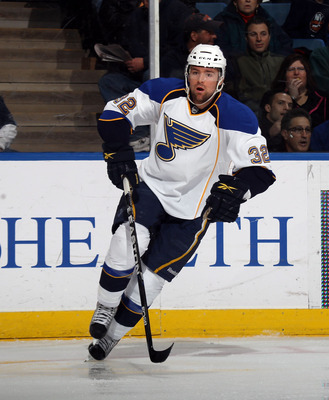 Bruce Bennett/Getty Images
2010-11 Stats: 45 GP, 3 G, 4 A, 7 P
Recently signing a two-way deal with the Blues, it is not a guarantee that Chris Porter will be back in the NHL next season. With his performance last year, it might be not be surprising to see him down in Peoria to start next season.

Tampa Bay Lightning: Dana Tyrell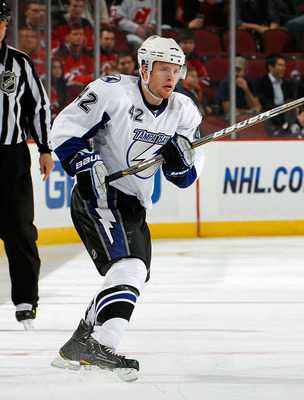 Paul Bereswill/Getty Images
2010-11 Stats: 78 GP, 6 G, 9 A, 15 P
Dana Tyrell was a minor contributor in the regular season, but only played seven games in the playoffs for the Tampa Bay Lightning. Missing all but one round of the playoffs didn't help him get off this list. Eventually, he could develop into something more, but for now he's useless.
Toronto Maple Leafs: Brett Lebda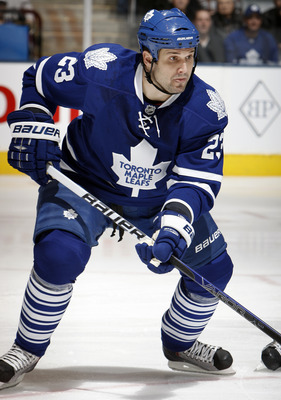 Abelimages/Getty Images
2010-11 Stats: 41 GP, 1 G, 3 A, 4 P
Being a healthy scratch for almost half of the entire season, Brett Lebda didn't exactly live up to expectations. Coming from Detroit, it was expected that he could bring valuable championship experience to a Leaf team that hadn't made the playoffs since before the lockout. He did not even come close to reaching them and the Toronto fans made sure he knew it.
Vancouver Canucks: Keith Ballard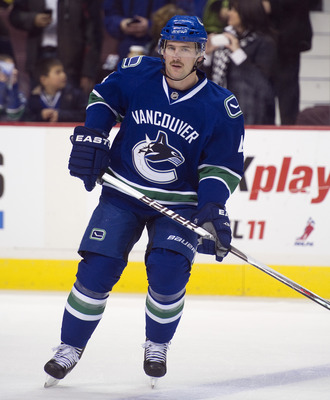 Rich Lam/Getty Images
2010-11 Stats: 65 GP, 2 G, 5 A, 7 P
After being acquired at last year's draft, Keith Ballard was expected to bring in another defenseman to bolster an already strong core. He did not do what was expected of him, ending up in the press box for most of the playoffs. One sign that you're useless: The team that acquired you wants to get rid of you before one year has passed.

Washington Capitals: Tyler Sloan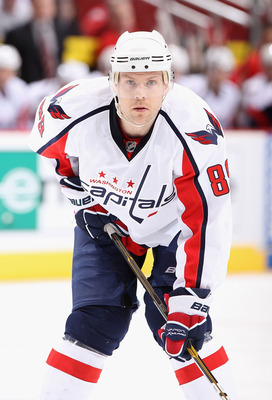 Christian Petersen/Getty Images
2010-11 Stats: 33 GP, 1 G, 5 A, 6 P
Tyler Sloan did not play even one game in the playoffs. Now I'm not saying that Sloan's presence would have changed the Capitals fate, but maybe they could have tried something new in order to not to choke once again. That being said, a player that only tallies six points in the regular season doesn't really instill a coach's faith in him.

Winnipeg: Tim Stapleton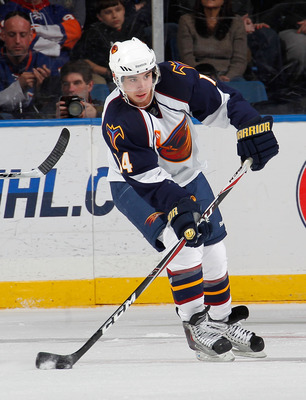 Paul Bereswill/Getty Images
2010-11 Stats: 45 GP, 5 G, 2 A, 7 P
Tim Stapleton is one of those fringe players that you never know what he is going to do each game. Maybe he'll score a big goal when they need it and maybe he won't even be noticed. Playing more games than he ever has in a season, Stapleton didn't exactly light up the scoreboard, and the new brass in Winnipeg will choose whether or not he will be playing with them next season.

Keep Reading