2011 NHL Draft: Carolina Hurricanes Complete Draft Preview & Predictions
June 22, 2011
Bruce Bennett/Getty Images
It's been more than two months now since we last saw the Carolina Hurricanes take the ice, and, while they won't be hitting the rink this weekend either, it's finally back to business for at least a few 'Canes.
Those 'Canes would primarily be GM Jim Rutherford, owner Peter Karmanos, and director of amateur scouting Tony McDonald. They'll have the task of making six—and perhaps more—selections in Minnesota on Friday and Saturday at the 2011 Entry Draft.
Carolina currently occupies the No. 12-overall pick in the first round and then the No. 12 pick in the second, third, fourth, sixth, and seventh rounds as well. The only trade Carolina made previously involving a 2011 draft pick sent its fifth-round selection to Florida (who eventually traded it to Atlanta/Winnipeg), along with Ryan Carter in exchange for Cory Stillman.
Will this finally be the year the Hurricanes take a defenseman with their first-round pick? They haven't drafted one in the first round since Jack Johnson, and he didn't last long in Carolina. While Rutherford still says he's simply going to take the "best player available", the need for defensive prospects and the defensive depth of this year's elite prospect group may finally bring a first-round blueliner to Raleigh.
Will the 'Canes live up to last year's active draft? Last year, the Hurricanes held a league-high 11 picks headed into the 2010 NHL Entry Draft and eventually drafted eight players and acquired three more, leaving quite a few spinning heads across Caniac Nation. This year, they might not have the quantity nor the incentive at the moment, but, knowing Rutherford, if the opportunities abound for trades, he'll jump on them.
Which areas of the world will Carolina look when drafting prospects this June? Over the years, the 'Canes have switched their favorite nationalities quite a bit. Last year, seven of the eight draftees were either Canadian or American. But in 2009, the Hurricanes balanced it out with just two Canadiens, one American, two Finns and one Swede. One trend that has always held true is the lack of Russian draft picks—Carolina has gone 57 draft selections since last choosing a Russian.
We'll take a look at which holes the 'Canes need to fill heading into the draft, how they might fill them, and also some other possibilities to watch for.
Holes To Fill
After 2006 top draft pick Jamie McBain graduated to the NHL last spring, the Hurricanes' pool of prospective defensemen was left very shallow. Even after drafting four-straight defensemen starting in the second round of the 2010 draft, the group of young blueliners shrunk again this year as Brett Carson was claimed off of waivers by Calgary and Bobby Sanguinetti, Brett Bellemore, Bryan Rodney, Zack Fitzgerald and Casey Borer all find themselves with expiring contracts (the latter three being UFAs, no less).
So, once again, defense will be a key for the Hurricanes as the draft approaches. They currently have 2010 second-rounder Justin Faulk, 19; 2006 seventh-rounder Justin Kreuger, 24; 2008 fourth-rounder Michal Jordan, 20; 2009 sixth-rounder Rasmus Rissanen, 19; and 2005 seventh-rounder Kyle Lawson, 24, all under entry-level deals. But, as you can see, none of those players were chosen very high and they all combine for just 86 games of AHL experience and zero NHL appearances.
Also lacking are the wings at the NHL level with Erik Cole, Chad LaRose, Jussi Jokinen, and the aforementioned Stillman all hitting the market as UFAs if not re-signed. However, it's unlikely the Hurricanes could find a player in the draft unless they were willing to spend their first-round pick on one or wanted to trade for an already established player.
We're betting on the trade.
If so, even though we're simply just throwing some names out there, someone like Scott Hartnell, Ryan Malone, or even Ryan Smyth might be available as the Flyers look to find space to sign Ilya Bryzgalov, the Bolts reportedly shop Malone around, and the Kings, without a first-round pick, hope to bulk up in other rounds of the draft.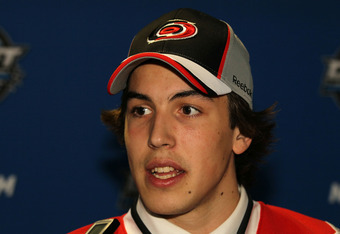 Jeff Gross/Getty Images
First-Round Pick
The most obvious attention-grabber on the 'Canes list of picks is their first-round selection, a mere five picks lower than last season's seventh pick in which Jeff Skinner was selected. After Minnesota picks 10th and Colorado, who also holds the second-overall selection, chooses 11th, it's the 'Canes turn to be on the clock for the first time.
There are a number of defensemen that are very likely to go in the top 15 this year: Adam Larsson, ranked second by the ISS; Dougie Hamilton, ranked fifth; Ryan Murphy, eighth; Oskar Klefbom, 10th; Duncan Seimens, 12th; Nathan Beaulieu, 14th; and perhaps even Jonas Brodin, 19th. All of those, even Brodin, would make very enticing options for the 'Canes; and, of course, keep in mind, these rankings are just from one source.
There's also the possibility that one of the few Class A forwards will slip unexpectedly far down the draft board just like a couple elite defensemen—Cam Fowler and Brandon Gormley—did a year ago.
Multi-position Ryan Nugent-Hopkins (ranked first), winger Gabriel Landeskog (fourth) and center Jonathan Huberdeau (seventh) won't fall far enough for the Hurricanes to grab them, but there's a chance that someone like centers Sean Couturier (third), Mika Zibanejad (sixth) or Ryan Strome (ninth) could slip to the 'Canes position.
If Carolina hopes to find an NHL-ready winger to fill its previously discussed potential hole there, it is either going to have to dream that Landeskog falls very far or put its trust in someone like Sven Baertschi or Joel Armia. We personally wouldn't want to be relying on either of those youngsters to be a difference maker in Raleigh in just Year One.
On a separate note, Rutherford has made is subtly clear he's not trading this selection, and there have been no rumors of any trade-up or trade-down situation, so expect him to simply take what he can find at spot number 12.
Later Rounds
As the draft gets further and further in, it becomes increasingly shot-in-the-dark-esque to call out particular players that may be top targets for the 'Canes five non-first-round picks: 42nd, 73rd, 103rd, 163rd and 193rd overall.
However, at least for that second-round pick, we're keen on a few names that will probably be drafted right in that range. With the Hurricanes typical choice of the OHL over the WHL, we like Sault St. Marie center Daniel Cartenacci, the 37th-ranked North American skater, who had 71 points in 67 appearances this past season, including point streaks of 13 and 14 games.
We also like Ottawa center Shane Prince, ranked 26th after finishing 35th at midterm, who had 88 points in 59 games this year.
Over in Europe, 12th-ranked skater Victor Rask, a center from Leksand in Sweden, catches our eye despite some off-the-ice issues, and fellow Swede and Rogle 'D'-man Rasmus Bengtsson (ranked 10th) could also be a nice target.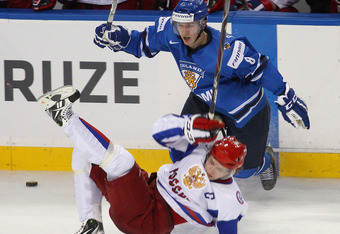 Rick Stewart/Getty Images
Other Possibilities: Trades?
Rutherford has expressed openness to dealing away the Hurricanes' additional 2012 second-rounder that came over when Ian White was sent to San Jose, and, if coupled with a decent third- or fourth-round 2011 choice, could be a could trade bait for a solid NHL veteran.
Since overpaid Joni Pitkanen is almost certain not to return to Carolina, the Hurricanes need another puck-moving defenseman to fill his place, and, preferably, one with a lick of sense of how to play defense, too.
Even though free agency is filled with those this summer—like Tomas Kaberle, Christian Ehrhoff, James Wisniewski or Anton Babchuk, for example—a trade route would be easier. Players like Colorado's John-Michael Liles, Philadelphia's Braydon Coburn or Matt Carle, Minnesota's Brent Burns and perhaps even Ottawa's Sergei Gonchar or Erik Karlsson might be acquirable. If two mid-range draft picks aren't enough, maybe adding in the rights to Pitkanen could become a big clincher.
Rutherford has also said that he's willing to deal away some of the youngster prospects down in Charlotte during the draft day deals in order to grab some crucial NHL players through the trading market. With just three NHL forwards under contract—Eric Staal, Tuomo Ruutu, and Skinner—under contract at the moment and players like Zach Boychuk, Drayson Bowman, Zac Dalpe and Jerome Samson all expected to be at training camp this fall, those four are likely off-limits.
On the other hand, though, some of the older minor leaguers such as Jon Matsumoto, 24, Nick Dodge, 25, Nicolas Blanchard, 24, or even Brandon's cousin Brett Sutter, 24, could be dangled as some nice bait for trades. Franchises looking to rebuild and infuse some younger talent into their lineup, such as Calgary, New Jersey, Ottawa or Dallas, may be quite enticed by one of those prospects coupled with a second round pick, even if it is in next June's draft.
Closing Thoughts
Be sure to follow the Hurricanes, as well as the rest of the league, at this weekend's NHL Draft. Friday night will have the first round, starting at 7:00 PM ET on Versus. The conclusion of the draft, including the second through seventh rounds, will be practically all day on Saturday, beginning at 11 AM ET and being covered on Versus and NHL Network.
We will have first round grades for all 30 teams up first thing Saturday morning and then a complete recap of the 'Canes draft ready for you to read on Sunday, so be sure to check in here for continuing 2011 NHL Entry Draft coverage.
Mark Jones is currently Bleacher Report's featured columnist for the NHL's  Carolina Hurricanes. In his two years so far with the site, he has written more 280 articles and received more than 290,000 total reads.
Visit his profile to read more, or follow him on Twitter.