NHL Draft 2011: 3 Teams That Should Trade Up for Oilers First Pick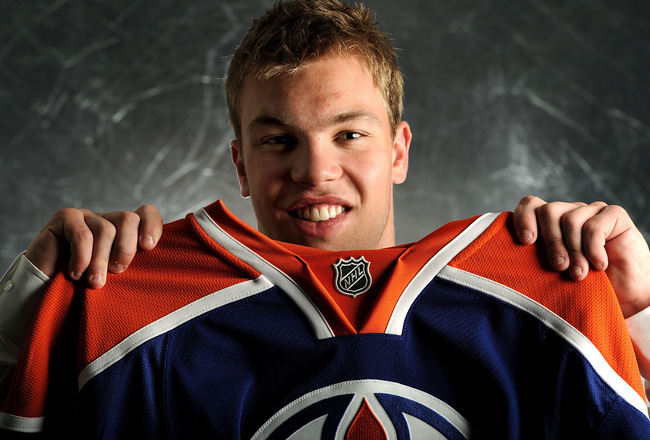 Taylor Hall, last year's first overall pick could use one or multiple veteran players on his squad.
Harry How/Getty Images
As a Detroit Red Wings fan, I hate remembering the 2006 NHL postseason. It was a year of upsets in the Western Conference first round, a round that saw all top four teams lose.
It was an utter embarrassment for Red Wings' fans, losing to the eighth-seed Edmonton Oilers. Those Oilers would go on to up-end the San Jose Sharks, and the Anaheim Mighty Ducks before eventually falling to the Carolina Hurricanes in seven games in the Stanley Cup finals.
Since then, the Edmonton's "oil well" (pardon the pun) has gone virtually dry. The Oilers went on to finish 12th, ninth, 11th in the Western Conference over the next three years, and the past two seasons were even worse. After finishing last in the NHL for two consecutive seasons, the Oilers are in desperate need of some rebuilding.
Last year, the big debate the Oilers faced with the first pick was the "Taylor vs. Tyler" debate (shown here).
The Oilers ultimately chose Taylor Hall last year with the first overall pick in the 2010 NHL entry draft and Boston graciously selected Tyler Seguin.
The rest as they say, is history.
Seguin now has a Stanley Cup ring, helping bring the Cup back to Bean-town for the first time since 1972.
Hall, and the Oilers, are left wondering how to best rebuild this offseason so as to move forward and not finish at the bottom of the heap once more.
Keep Reading

Edmonton Oilers: Like this team?