NHL: Free Agency Looms Large for Tampa Bay Lightning
June 17, 2011
Justin K. Aller/Getty Images
In his first season as general manager, his hockey team posted the second best season in franchise history. What will Stevie Y do for an encore?
To begin with, Yzerman has his work cut out for him.
Over half of his hockey team falls in the category of free agent. The list includes both his goalies, his superstar center and two of the big heroes of the Lightning's postseason run.
While he looks to retain key contributors, Yzerman will also be looking to upgrade the team that fell just shy of playing for the Stanley Cup.
Let's first go through who the Lightning need to retain and who they should jettison from their own free-agent group.
The Lightning currently have $36,546,916 committed to 12 players. The NHL salary cap has been reported to rise as much as $62,000,000. After accounting for bonuses and buyouts, Tampa Bay will have the fifth most available cap space in the NHL with $25,453,084.
Also, billionaire owner Jeff Vinik has already said that he won't be limiting Yzerman's ability to acquire talent by putting cash restraints on him.
The only limitation for the Bolts is salary cap.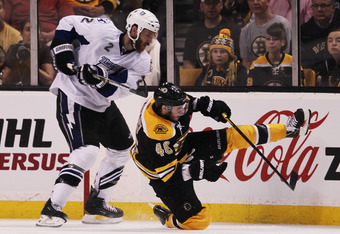 Elsa/Getty Images
Most teams retain their restricted free agents, so we'll assume that Lightning will keep theirs. We will only focus on RFAs that had extensive time with the big club. Minor League RFAs don't count against the cap.
Lightning's Restricted Free Agents (with projected salaries)

Steven Stamkos, F $7.5 million
Teddy Purcell, F $1 million
Blair Jones, F $600,000
Dana Tyrell, F $700,000
Mike Lundin, D $800,000
Matt Smaby, D $600,000
$11.2 million spent on free agency
Left over: $14,253,084
With the major RFAs addressed, the Lightning look toward their unrestricted free agents.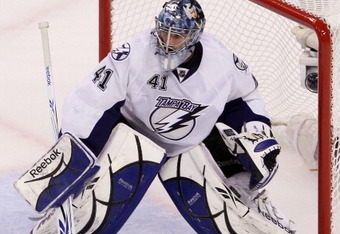 Bruce Bennett/Getty Images
UFAs: Who to Keep
Eric Brewer, D 
After coming over in a trade from the St. Louis Blues, Brewer quickly rose to become one of the Lightning's best defensemen. As a UFA, he may command big dollars on the free-agent market—perhaps too much for Tampa Bay's price tag. If he likes playing for the Bolts, give Brewer a nice raise to $5 million a season.
Dwayne Roloson, F
 At 41 years old, Roloson's career is winding down. He may be better suited for a backup roll at this point, but he did an admirably job leading Tampa Bay through the first two rounds of the playoffs. Still, it's hard to imagine Roloson will command his $3 million salary again. Pencil him in at $2 million.
UFAs: Maybes
Sean Bergenheim, F
 After having an unbelievable postseason run, Bergenheim is poised to cash in during free agency. Still, when you face facts—he only scored 14 goals during the regular season. Bergenheim could be in line for a modest raise at $800,000, but his playoff run may price him out of Tampa Bay.
Simon Gagne, F 
If he wants to remain in Tampa Bay, Gagne's going to need to come down from his $5,250,000 2010-11 salary. Whether he will or take his chances on the open market remain to be seen. The Lightning would like to see Gagne somewhere around $2.5 million.
UFAs: Who to Let Go

Randy Jones, D 
Jones played a lot games for the Lightning, but typically was one of the weakest links on the blue line. The Lightning can find a better answer at $1 million a season.
Marc-Andre Bergeron, D 
He was brought in to help out the team's power play, but Bergeron's defensive liability has proven to make him less valuable than his $1.5 million dollar salary.
Mike Smith, F 
The time has come for Mike Smith to move on. The kid isn't a bad goalie; he just had the misfortune of being the guy the Lightning traded Brad Richards for. That kind of pressure on such young shoulders plus his history of concussions made for an inconsistent history with Tampa Bay.
Wrap Up
Considering the re-signing of restricted and unrestricted free agents we identified here, we see the Bolts having around $6.5 million left over with 21 playings signed and in the fold.
In our next article, we'll discuss potential free-agent targets as well as some Lightning players who could be candidates for being traded away.