Stanley Cup Finals: Mason Raymond Out After Boychuck's Hit Fractures Vertebrae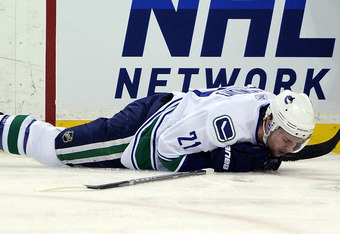 Harry How/Getty Images
In another stroke of misfortune for the Vancouver Canucks, Mason Raymond is now unavailable for Game 7 of the Stanley Cup Finals on Wednesday night due to a fractured vertebrae that will keep him out of action for three to four months.
This is a huge blow to the Canucks, who have already lost Dan Hamhuis to injury and Aaron Rome to suspension.
One thing I'm rather surprised has not been discussed by anybody at the NHL level is whether or not Boychuck should be suspended for his hit on Raymond (video can be seen here).
This hit was not only well away from the play, but it was also incredibly late.
This was just as late, if not later than the hit that Rome delivered to Nathan Horton earlier in the series.
This hit was an equally dangerous one as Raymond was clearly tangled up with Boychuck and was unable to defend himself.
Boychuck had the time and ability to not shove him as hard as he did into the boards, and should have known to not do so since Raymond's head was literally between his legs.
This was not the split-second play that Rome had against Horton, which was still clearly a penalty.
Terrible non-call on hit to Mason Raymond, who is now out with a fractured vertebrae
The worst part about this is that, at the end of the play, the referee is standing directly on top of the play and didn't even call a penalty.
Interference easily could have been called as the puck was up at the opposite point by the time Boychuck rammed Raymond into the boards.
Now, I would like to state for the record, once again, that I am neither a fan of the Canucks or the Bruins, but I am getting a little sick of the horrible inconsistency with officiating and doling out of punishments.
I'm not calling one injury more severe than the other, but I would like to see the NHL treat both teams equally in these situations, which has definitely not been the case.
The injury to Raymond hasn't hurt the confidence of the Vancouver Canucks, though. Earlier today, ESPN reported that Daniel Sedin has guaranteed a Game 7 victory for the Vancouver Canucks.
"We're going to win Game 7," Sedin told the Vancouver Sun.

"We're 3-3 and we won all three games at home and we have the fourth game at home," he said of the series, according to the report. "So we have the seventh game at home and we'll take that. We are confident."
Vancouver has had to overcome adversity before, throughout this season. This will only be different in the sense that it is one game for the Stanley Cup.
Whichever way you look at it, I think that if you told this Vancouver team, who was by far the best team in hockey during the regular season, that at the end of the day they would have to win just one game in order to win the Stanley Cup, they would take it.
Game 7 on Wednesday night, for all the marbles.
UPDATE: Joel Prosser, Vancouver FC, has written a great update to this discussion, slamming the NHL for it's constant inconsistency. Check it out here.
http://bleacherreport.com/articles/735666-nhl-breaking-a-players-spine-is-fine-as-long-as-there-isnt-a-concussion
This article is
What is the duplicate article?
Why is this article offensive?
Where is this article plagiarized from?
Why is this article poorly edited?

Vancouver Canucks: Like this team?