2011 Stanley Cup Finals: Roberto Luongo vs. Tim Thomas, Part Deux
June 13, 2011
Bruce Bennett/Getty Images
As was discussed in the first part of this story, the media refuses to let go of the rather benign comment made by Vancouver's Roberto Luongo on Friday evening after the Canucks shut out the Boston Bruins to move within one game of the coveted Stanley Cup. 
In summary, Luongo was asked to comment, from a goaltender's perspective, on the lone goal from the evening's contest.  Luongo did so in what appeared to be a sincere response, stating that for goaltenders, like Thomas, who venture out of the crease much farther than most, goals like that one are hard to save.  He also went on to say that there were also goals that he most likely couldn't save that Thomas could due to their different playing styles.
Things may have been put to rest even after a shot over the bow by Boston head coach Claude Julien who made reference to the fact that Thomas' stats are much more impressive than Luongo's in the Cup Finals. Meanwhile, there has been no microscope put over the head of Julien with his comment.  Remember, this was the guy who told his players, after Game 4, "You have to live by your words." Did the media make Julien live by his words? Did they question him further?  No, they simply chuckled at his response.  
Yet Saturday, before boarding the plane to Boston, Luongo was confronted by the media yet again regarding his comment. Luongo did his best to explain his position and was apparently a little confused by the fact that the media didn't seem to want to let it go.  He went on to say that he had been "pumping his (Thomas') tires," since the series started and Thomas, as far as Luongo knew, hadn't said one positive comment about him.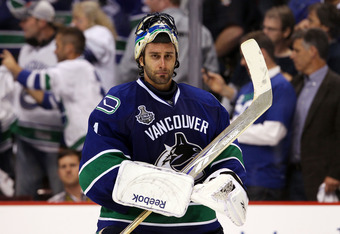 Bruce Bennett/Getty Images
If Roberto had just left the "pumping his tires" line out of his response, everything would have blown over.  Yet, the media finally got what they wanted, some back-and-forth banter from the two Vezina Trophy finalists; the two focal players of this amazingly entertaining final.   
The media banter continued Sunday as the Canucks arrived in Boston for Monday's potentially definitive Game 6.  Boston's Tim Thomas was the first to respond, after conveniently not being made available to the media on Saturday.  That delay gave Thomas plenty of time to come up with a charmingly effective retort.
With a Cheshire cat-like grin on his thickly bearded face, Thomas, rather playfully, had this to say, "I didn't realize it was my job to pump his tires, ya know, so I guess I'll have to apologize for that.  I still think I'm on the goaltender union side and I still stick with all the other goalies, being one, and knowing what it takes to perform at this level with this amount of pressure.  I understand to a certain extent what every other goaltender goes through so, I guess that's it."  
Again, the media laughed along with Thomas.  Did they question what Thomas mean by "all the other goalies" or "a certain extent"? Apparently there is a double standard when it comes to interviewing the Boston Bruins vs. The Vancouver Canucks.  
Luongo was a bit more unnerved by having to clarify himself yet again on Sunday and while still in control of his emotions, he was not as comfortable and confident as he was when he made his initial comment on Friday.
"Well, listen, I know we're in the Stanley Cup Final and everything is under the microscope and gonna get blown out of proportion.  Obviously, my whole comment wasn't, I think, a negative comment.  But at the end of the day, you know what? I'm one win away from the Stanley Cup and that is all I really care about right now.  All the other stuff is noise to me and doesn't really affect, ya know, what's going to take place for me tomorrow night and to be honest, I really don't care."
Oh, Roberto!  We need to get you a public speaking coach!  There is no "I" in "team" and yes, you really do care. Being Italian myself, I know how hard it can be to maintain composure when you feel like you are being made to explain yourself multiple times; we are passionate and often time defensive folks.  Yet, he had to know that the fewer words you use in a brewing controversy, the less you have to defend later. 
 I know that he means well and while having no intention to be malicious, his attempts at gamesmanship always seem to backfire.  He was so close to making this all go away and now, he has opened the proverbial can of worms.
Reporters and commentators are renting boats and rushing to buy fishing permits in the State of Massachusetts to go fishing on Lake Luongo. They have the hook that they can toss at Luongo regardless of the results of Game 6 or, if need be, Game 7.   
One has to wonder if, because of Boston's blue-collar image, the media is giving them a pass on comments compared to their more cosmopolitan counterparts in Vancouver? Why is Vancouver being held to a higher standard?  Did Colin Campbell suddenly get transferred to media relations for the NHL and is continuing his nepotistic ways via the media now? 
The only truly poignant questions are: While Luongo says he doesn't really care, does he really?  Will he allow it to affect his game?  Will it have an effect on the outcomes of the Finals?  
With a little luck, Luongo will not take anymore bait from the media and we can soon have a new Stanley Cup Champion Monday...or will fishing season stay open for a few more days.