NHL Rumors: Who Will Not Be Back for the Toronto Maple Leafs?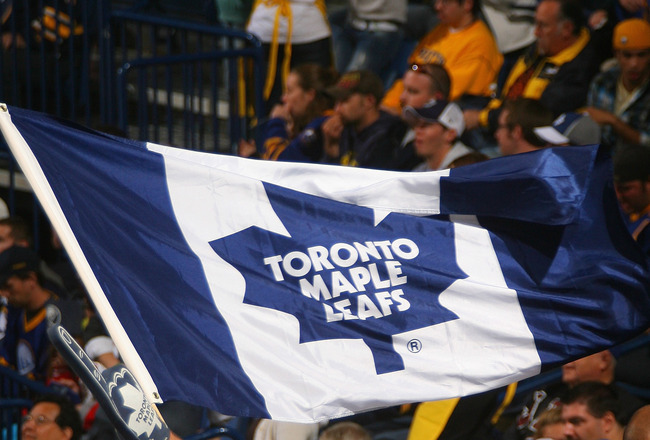 Rick Stewart/Getty Images
Brian Burke has some very crucial decisions to make in the next two to four weeks in terms of free agent signings.
He will need to sign his own restricted and unrestricted free agents, and decide which current roster players to walk away from altogether.
A lot of moves will depend on which of his prime free agent and trade targets he is able to land early on, and so many factors are unknown at this point.
The following slides list the players that I believe will not be back with the Maple Leafs this season.
Frederik Sjostrom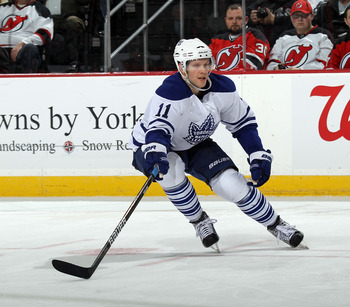 Bruce Bennett/Getty Images
Frederik Sjostrom was part of the Dion Phaneuf trade and is known as a solid penalty killing forward, but has provided little else for the blue and white.
Furthermore, the Leafs penalty killing has not improved since Sjostrom came aboard so I sense that Brian Burke will decide to go in a different direction here.
Darryl Boyce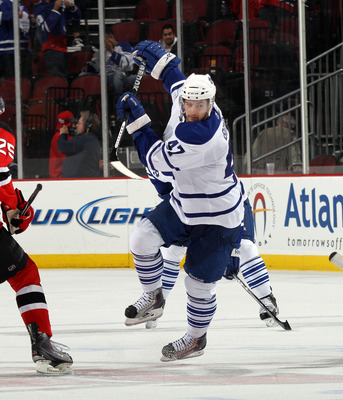 Bruce Bennett/Getty Images
Darryl Boyce did an adequate job in a checking role with the Leafs, but my gut feeling here is that Burke will either sign somebody as a UFA to play on the third line alongside Armstrong and Bozak or go with a youngster like Matt Frattin.
It wouldn't shock me to see Boyce back, but I'm thinking he's played his last game as a Leaf.
Joey Crabb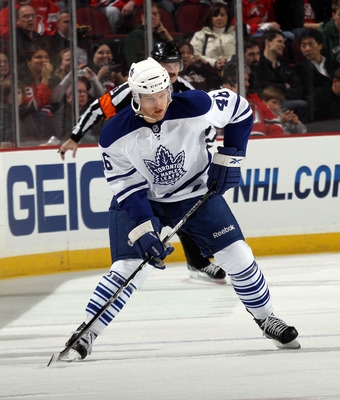 Bruce Bennett/Getty Images
Jean-Sebastian Giguere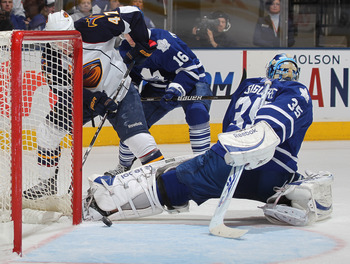 Claus Andersen/Getty Images
This one is up for debate and much has been said by Giguere and Burke that would lead one to believe that Giguere may very well be back.
Maybe this is my personal opinion here more than anything, but paying Giguere the likely $2 million that it will take to keep him as a backup with a chronic groin problem doesn't make much sense to me.
The Leafs are better off looking outside of the organization for a backup who has had some success over the past few seasons rather than hoping Giguere miraculously becomes healthy.
In my opinion, this is a case of both sides hoping for a desired outcome, but I don't see it being in the Leafs best interest and I don't think he will be back for 2011-2012.
Jonas Gustavsson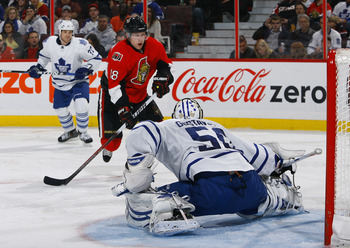 Phillip MacCallum/Getty Images
Now that James Reimer has clearly taken over as the Leafs number one goalie, I believe this paves the way out of town for The Monster.
With Reimer, Ben Scrivens, Jussi Rynnas and Mark Owuya in the organization, it seems like the Monster no longer fits into the long-term plans of Brian Burke at all.
With one year remaining on a fairly reasonable contract and with reasonable upside still present, it makes way too much sense to package Gustavsson with some other assets to pick up a player that will fill a need for the Leafs (perhaps Paul Stasny???).
Keep Reading

Toronto Maple Leafs: Like this team?