NHL Trade Rumors: Will Your Team Be Buying or Selling This Summer?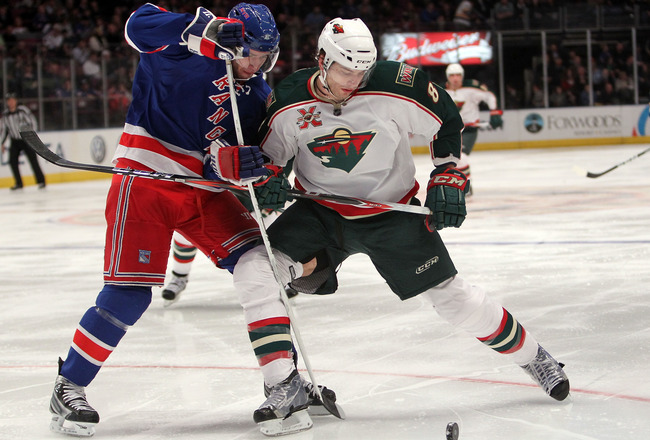 Nick Laham/Getty Images
The NHL offseason is an exciting time for fans, as they fantasize about the potential moves their favorite teams will make in order to be better prepared for the upcoming season.
While Stanley Cups, or even playoff berths for that matter, aren't won during July and August, teams can seriously improve their chances at success by making the right acquisitions during the offseason. For franchises in rebuilding modes or facing financial problems, they'll likely be looking to move high-priced or older players during the summer months. For teams that expect to make playoff runs, this is a time to bolster their lineups and add whatever pieces they believe are missing from their team's Stanley Cup puzzle.
Since the NHL lockout, trades and free agent signing have become even more important, because an ill-advised roster move can be devastating for a team's salary cap situation.
With that being said, here's a look at which teams will be buying and which will be selling once the Stanley Cup Finals end in a week's time.
1. Anaheim Ducks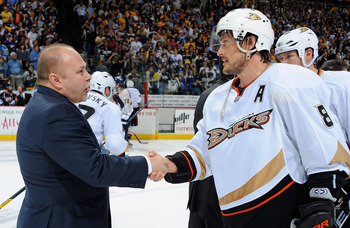 Frederick Breedon/Getty Images
While the Ducks suffered a disappointing first round playoff loss to Nashville in this year's postseason, they have most of their key players locked up for at least the immediate future.
In goal, Anaheim is set, as they have All-Star Jonas Hiller and Dan Ellis locked up through the 2011-12 season. On the blueline, the Ducks' only free agent is Andres Lilja, so they're in pretty good shape there as well.
However, depending on whether or not Teemu Selanne decides to return, the Ducks may be in search of a top-six forward to replace the aging sniper. If he decides to hang up the skates, the Ducks will be in need of some scoring help in the offseason in order to take some pressure off of Ryan Getzlaf, Corey Perry and Bobby Ryan.
2. Boston Bruins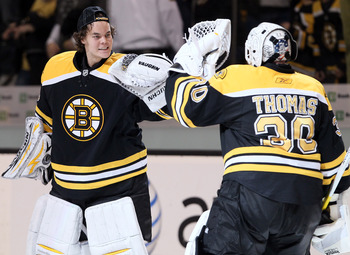 Elsa/Getty Images
Coming off a berth in the Stanley Cup Finals, the Bruins look to be in good shape entering next season, as their only key unrestricted free agents are Michael Ryder, Tomas Kaberle and Mark Recchi. If Boston wins the Stanley Cup, Recchi has already said he'll retire, and Kaberle has been disappointing since coming over from Toronto at the 2011 trade deadline.
With that in mind, the Bruins probably won't be major buyers or sellers in the offseason, as they'll want to keep the nucleus from this year's team intact. However, if Marc Savard is unable to play in time for the season, the Bruins may be on the market for a center, as they don't have a bona fide number one center at this point.
Another interesting possibility is a team taking a run at promising young netminder Tuukka Rask, who lost his starting job this year as Tim Thomas returned to form.
3. Buffalo Sabres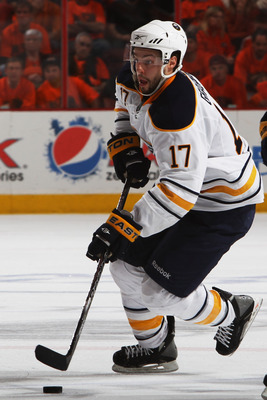 Bruce Bennett/Getty Images
New owner Terry Pegula has vowed to bring more talented players to Buffalo, which suggests that the Sabres will be a big buyer on the trade market this summer.
The Sabres have a number of players eligible for free agency such as Tim Connolly, Mike Grier and Rob Niedermayer, but it's more than likely that Buffalo will splurge on at least one marquee free agent. They also have a number of intriguing restricted free agents, such as young defenseman Marc-Andre Gragnani, that could be used as trade bait.
If Buffalo's offseason goes according to plan, they'll make at least one high-priced addition to their roster in time for the start of the 2011-12 campaign.
4. Calgary Flames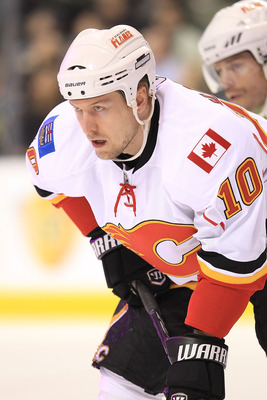 Ronald Martinez/Getty Images
Though the Calgary Flames may lose some key players to free agency, such as Brendan Morrison and Alex Tanguay, they'll likely be in sell mode this offseason.
If the salary cap moves up to $62 million as expected, Calgary will have just over $7 million to replace two top-six forwards and two defensemen from their lineup. With so little cap room, Calgary will probably have to trade one of their high-priced players in order to ice a competitive team next year.
They've handcuffed themselves by signing so many aging players to long-term deals with no trade clauses, so dealing an expensive player like Niklas Hagman or Mark Giordano may make sense for the Flames' management.
5. Carolina Hurricanes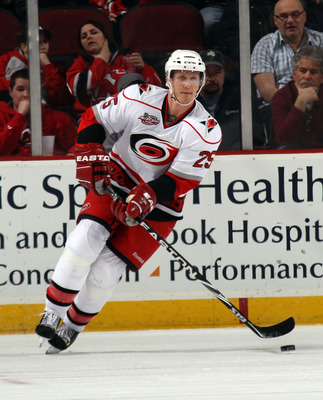 Bruce Bennett/Getty Images
With a ton of cap room to burn, and at least five important players eligible for free agency come July 1, the Hurricanes will be a buyer on the trade market this offseason.
Key forwards Erik Cole, Cory Stillman, Jussi Jokinen and Chad Larose all remain unsigned, so it's likely Carolina will be on the market for some scoring support for Eric Staal and Jeff Skinner. The Hurricanes have a tendency for bringing back players who've experienced success with the organization in the past, so it wouldn't be a big surprise if general manager Jim Rutherford takes a run at Winnipeg's restricted free agent Andrew Ladd if he remains unsigned well into the offseason.
Additionally, if the team can't find a way to retain Joni Pitkanen, look for the team to try and acquire a top-four defenseman either via free agency or the trade market.
6. Chicago Blackhawks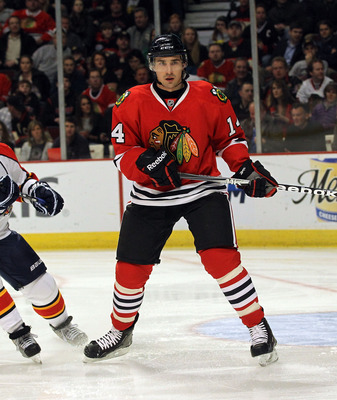 Bruce Bennett/Getty Images
After selling off some of their high-priced assets last offseason, Chicago is in a slightly better cap situation than they were a year ago. That being said, they have very little financial flexibility as of now, but have yet to sign some of their most valuable restricted free agents.
Seeing as the Blackhawks will likely have around $7 million in cap room on July 1, they'll probably have to deal one of their coveted restricted free agents such as Michael Frolik, Chris Campoli, Troy Brouwer or Viktor Stalberg.
Out of that group, Brouwer is probably the least likely to go, and seeing as Frolik had a solid postseason for the 'Hawks, Stalberg or Campoli may be on their way out of town before the offseason's over.
7. Colorado Avalanche
Doug Pensinger/Getty Images
After a surprising run to the playoffs in 2009-10, the Avalanche collapsed down the stretch last season, exposing many of the holes in their roster.
Fortunately, they have a host of free agents and loads of cap room to burn, so Colorado will have the opportunity to make some moves during the offseason. They also hold the second overall selection in the draft and could turn that into a nice package of players and prospects if they so choose.
While they have the room to add a couple of high-priced veterans through free agency or trades, it's more likely that the Avalanche will continue to try to build from within, as they did in the early 1990's when they assembled the team that captured two Stanley Cups in five years.
However, with Tomas Fleischmann eligible for unrestricted free agency, look for Colorado to try and add some offensive firepower to their roster in order to provide help for franchise cornerstones Matt Duchene and Paul Stastny.
8. Columbus Blue Jackets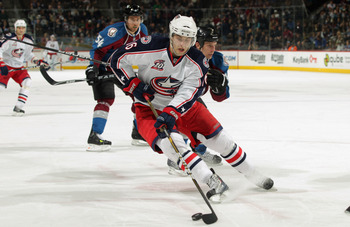 Doug Pensinger/Getty Images
The Blue Jackets enter the offseason with four forwards from their lineup who eligible to become free agents. Of the four, the only one that seems to be a lock to return is also the only restricted free agent, Jakuk Voracek.
This means that the Blue Jackets will be in need of some help up front, specifically in the form of third line grinders, in order to replace the likes of Chris Clark, Scottie Upshall and Ethan Moreau if they aren't retained.
What Columbus needs more than anything is more offense from the blueline, so don't be surprised if a high-priced, underachieving forward such as Derick Brassard is dealt, as the Blue Jackets have been waiting for his breakout season for a couple of years now.
9. Dallas Stars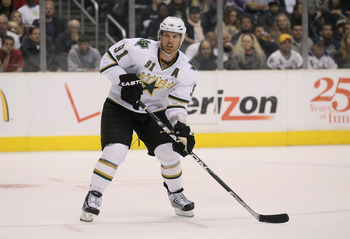 Jeff Gross/Getty Images
The Dallas Stars have been handcuffed by the uncertainty regarding their ownership situation, as they've already had to say goodbye to their best player, Brad Richards, and the offseason hasn't even really begun.
From here, Dallas needs to replace Richards and potentially Jamie Langenbrunner, unless he decides to take a pay cut to return. The Stars have an abundance of cap room, but until they have the backing of an owner, they won't be able to take on any high-priced contracts, unless they're on one or two-year deals.
Once the ownership situation is resolved, look for Dallas to deal for a scoring forward, as they've lost both James Neal and Brad Richards within the last four months. It's unlikely that they'll be selling off more assets, unless Joe Nieuwendyk believes that beginning a rebuilding process is the way to go.
10. Detroit Red Wings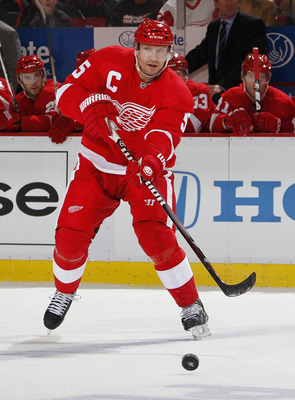 Gregory Shamus/Getty Images
Detroit will almost undoubtedly be on the market for a defenseman this offseason, as they need to replace All-Star blueliner Brian Rafalski, who recently announced his retirement.
General Manager Ken Holland will be in an even tougher predicament if captain Nicklas Lidstrom decides to call it a career as well, but assuming he returns, finding a defenseman to replace Rafalski's minutes will be the priority. If Detroit is unable to sign Jonathan Ericsson, the need for a top-four defensemen will only increase.
With virtually no impact forwards eligible for free agency, the Red Wings will have some serious cap room, so it's likely that they'll make some kind of significant trade in the coming months.
While the Wings have been rumored to be linked to Brad Richards, it would be very unlike Detroit to splurge on a high-priced free agent, especially with Henrik Zetterberg and Pavel Datsyuk already occupying the top two center spots.
11. Edmonton Oilers
Dale MacMillan/Getty Images
With an array of tantalizing young talents up front, the Edmonton Oilers must now find some stability at their own end of the rink.
Currently, the Oilers have just three defensemen under contract for next season, so it's becoming increasingly likely that they'll try to acquire a defenseman through a trade. Someone like Cam Barker wouldn't be a bad fit, especially because he appears to be on the way out in Minnesota.
Edmonton also possesses the first overall pick in the upcoming draft, which they'll more than likely use to select electrifying winger Ryan Nugent-Hopkins. If that is indeed the case, it's possible that Edmonton will make one of their other young top prospects available, but it's tough to imagine the Oilers parting ways with Taylor Hall or Jordan Eberle, so that would leave Magnus Paajarvi.
Either way, the future is bright in Edmonton, but for the present to be a little less painful, the Oilers need to look at adding a capable goaltender as well, because Nikolai Khabibulin doesn't appear to be the answer.
12. Florida Panthers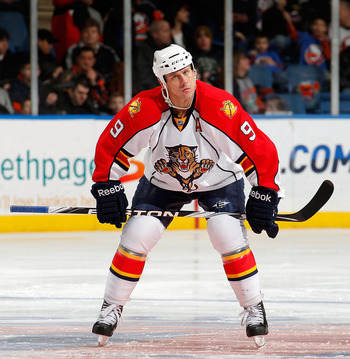 Paul Bereswill/Getty Images
The Florida Panthers will almost undoubtedly have a much different looking team next season, as they currently have 12 players under contract and over $40 million in cap space going into the offseason.
WIth Tomas Vokoun set to hit the free agent market, the Panthers will be on the prowl in search of a goaltender and at least one top-six forward, even if they manage to sign the majority of their restricted free agents.
One player who has been mentioned in recent trade rumors is Stephen Weiss, but he reportedly wants to be part of the rebuilding process in Florida. The Panthers' general manager Dale Tallon has a proven eye for talent, as he was the architect behind the Blackhawks' Stanley Cup winning roster, so if the right player's out there, he'll make a splash.
13. Los Angeles Kings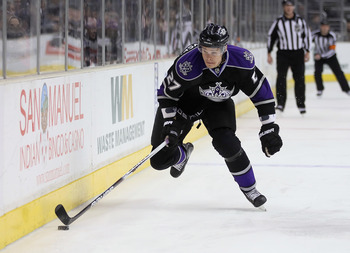 Jeff Gross/Getty Images
The Kings made waves at the deadline, orchestrating the trade that brought Dustin Penner to Hollywood, but they're hoping to do more to bolster their offense in the offseason.
After making a serious run at Ilya Kovalchuk last summer, the Kings are in the market for a scoring winger, as they don't really have a pure sniper on their roster. One prime target for the Kings may be the Capitals' Alexander Semin, though his availability is not yet clear.
The team's first priority will be to lock up restricted free agents Wayne Simmonds and Drew Doughty, but after that, another offensive weapon is next on the wish list, especially because the Alex Ponikarovsky experiment turned out to be a total disaster.
14. Minnesota WIld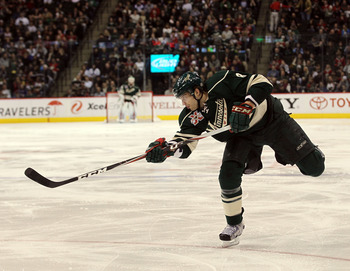 Bruce Bennett/Getty Images
Minnesota is another team that may have a drastically different look coming opening night this season. General Manager Chuck Fletcher reportedly said recently that nobody on his team is safe outside of captain Mikko Koivu (although Matt Cullen has a no-trade clause in his contract), which suggests that big changes are on the way for the Wild.
Fletcher is also reportedly considering buying out defenseman Cam Barker, though he may be able to get picks and prospects for the former third overall selection. Another defenseman who may be on the trade block is Brent Burns, seeing as he is an unrestricted free agent next July. Burns is a dynamic offensive rearguard who will attract offers from a variety of teams.
The Wild vowed to be a more offensive team when Jacques Lemaire stepped down as coach two seasons ago, but that hasn't happened yet. Look for Fletcher to either sign or deal for some scoring help up front, possibly in a deal involving Burns.
15. Montreal Canadiens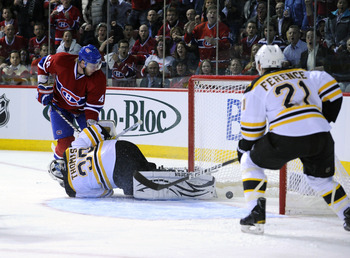 Phillip MacCallum/Getty Images
Now that the Montreal Canadiens have found their franchise goaltender in Carey Price, it's time for general manager Pierre Gauthier to find some scoring help up front.
The Canadiens have a plethora of talented offensive weapons, but none are physically imposing, which doesn't bode well for their postseason chances. They currently only have 10 players under contract for next season, but they'll almost assuredly sign at least a handful of their restricted free agents.
Almost all of their players under contract through next season have no movement clauses, so their trade options are limited. It's more than likely that the Canadiens will have to dip into the free agent market to restock for next season, though one restricted free agent who may attract an offer sheet or two is Andrei Kostitsyn If another team's offer is out of Gauthier's price range, they may have to deal him.
16. Nashville Predators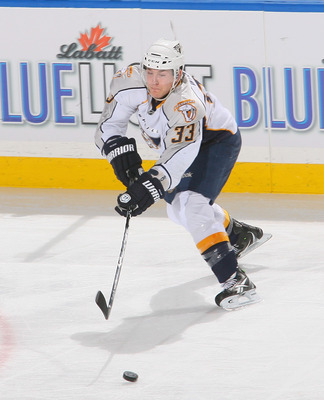 Rick Stewart/Getty Images
Coming off the most successful season in franchise history, the Nashville Predators' top priority this offseason is inking captain Shea Weber to a long-term deal. Once that's taken care of, the Predators next task is to find a way to find Pekka Rinne some scoring support up front.
The Predators play a defense-first system under coach Barry Trotz, but when Sergei Kostitsyn is leading the team in scoring with 50 points, it's clear that some more offensive weapons are needed.
Nashville will have around $20 million in cap room, and once Weber and playoff hero Joel Ward are signed, they'll be on the market for some talent up front. The Predators have a couple of good offensive prospects in Blake Geoffrion and Colin Wilson, which they could use to obtain some goal scoring support for the present.
17. New Jersey Devils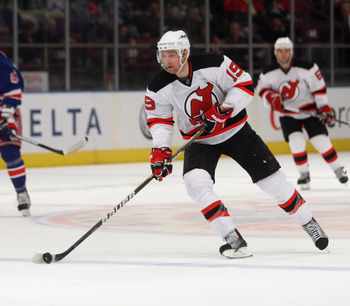 Jonathan Klein/Getty Images
After splurging on Ilya Kovalchuk last summer, the Devils find themselves dangerously close to the cap with a bunch of key players to sign.
First of all, arguably the team's best player, Zach Parise, is a restricted free agent, so reaching an agreement with him is the top priority. However, in order for that to happen, New Jersey will likely need to clear some cap space, probably via trade. Some potential trade bait could be Travis Zajac or Danius Zubrus, who both make over $3.4 million annually.
The Devils may also be on the market for a goaltender in order to lessen aging Martin Brodeur's workload. The Capitals are rumored to be willing to part ways with restricted free agent Semyon Varlamov, so that could be an intriguing option for General Manager Lou Lamoriello.
18. New York Islanders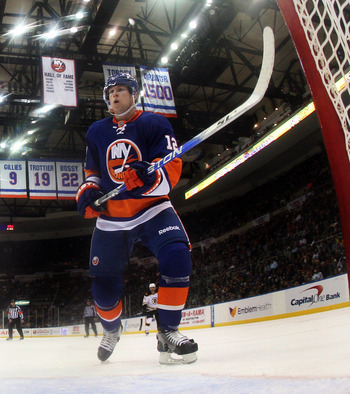 Bruce Bennett/Getty Images
The Islanders' future appears to be in better hands than it was a year ago, as many of their top young players have begun to blossom, and the team appeared to gel in the later stages of the season.
While they have two key restricted free agents in Blake Comeau and Josh Bailey, the Islanders will be looking to acquire some veteran talent over the summer. The retirement of Doug Weight opens the door for another proven offensive player to come in and mentor young guns like John Tavares, Michael Grabner and Kyle Okposo.
Another priority has to be signing a goaltender, because it's becoming increasingly clear that Rick DiPietro is unable to stay healthy long enough to be considered a legitimate number one goalie.
They also possess the fifth overall pick in the upcoming draft, which is a nice bargaining chip for general manager Garth Snow. The Islanders have an abundance of young, unproven players up front, so it's possible that Snow will move the pick in order to get a calming, veteran presence.
19. New York Rangers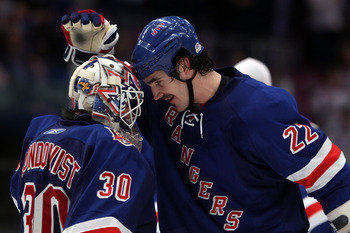 Bruce Bennett/Getty Images
As usual, the Rangers are tied down by a couple of high-priced, over-valued players that General Manager Glen Sather signed to long-term deals.
Yes, they have roughly $20 million in cap room, but they still need to sign at least 10 players, including vital restricted free agents Ryan Callahan, Brandon Dubinsky, Artem Anisimov and Brian Boyle.
At the top of the Blueshirts' offseason wish list is a top-line centerman to play with enigmatic superstar Marian Gaborik, who was a big disappointment. However, unless they're willing to part with one of their talented young defensemen or coveted restricted free agent forwards, they'll likely have to acquire a pivot via free agency.
Coach John Tortorella admitted during the playoffs that his squad isn't as talented as many of the contenders in the East, so it's time for Sather to try to orchestrate a trade to fix that problem.
20. Ottawa Senators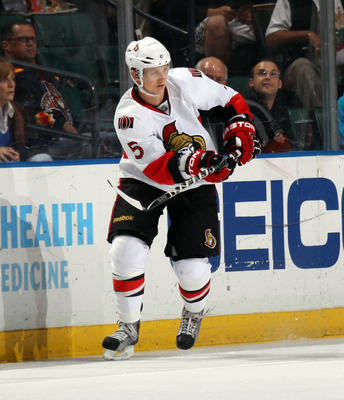 Bruce Bennett/Getty Images
The 2010-11 season was a disaster for the Senators, minus the fact that they locked up the sixth pick in the upcoming NHL Draft.
Going into the offseason, their top priority has to be adding some offense to the roster, seeing as they do have the cap room to invest in a high-priced scorer either via free agency or trade. Jason Spezza proved last season that he's still a capable number one center when healthy, so General Manager Bryan Murray has to be on the market for a goal scorer.
One prospect who may be on the trading block for Ottawa is defenseman Brian Lee, who hasn't developed as quickly as management hoped. He's a former first round pick and could be used in a package to obtain some talent up front.
21. Philadelphia Flyers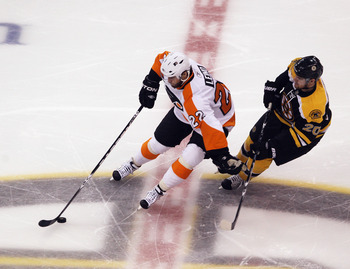 Bruce Bennett/Getty Images
The Flyers may have made their biggest offseason trade already, as earlier this week, they acquired the exclusive negotiating rights to former Vezina nominee Ilya Bryzgalov from Phoenix.
However, the Flyers currently have roughly $3 million in cap space, which would make it tough to sign the Russian netminder, who could command upwards of $6 million on the free agent market. That, coupled with the fact that management would like to retain unrestricted free agent Ville Leino, could mean that Philadelphia will be dealing one of their more expensive players this offseason.
They have five defensemen making over $3 million a year, so it's possible that someone like Andrej Meszaros or Matt Carle will be on the move in order to make room for Bryzgalov or another bona fide starting netminder.
22. Phoenix Coyotes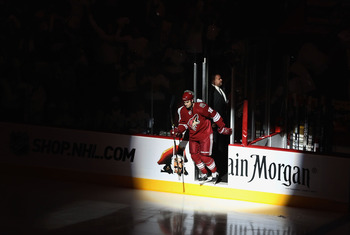 Christian Petersen/Getty Images
The Coyotes' best player for the last two seasons has been goaltender Ilya Bryzgalov, so Phoenix's number one priority this offseason has to be replacing the 2010 Vezina nominee, as they traded him to Philadelphia earlier this week.
It's more than likely that they'll opt to move for a young, less expensive goaltender, so it's possible they'll take a run at the Caps' Semyon Varlamov or an unrestricted free agent like the Wild's Josh Harding.
Up front, the Coyotes are in need of some help, especially because youngsters Kyle Turris and Mikkel Boedker have not developed as quickly as management had hoped. If they're able to sign their pending free agent defenseman Keith Yandle, look for the Coyotes to try to move Rotislav Klesla for some offensive talent, as he's the only defenseman of significant value on the roster without a no-movement clause.
23. Pittsburgh Penguins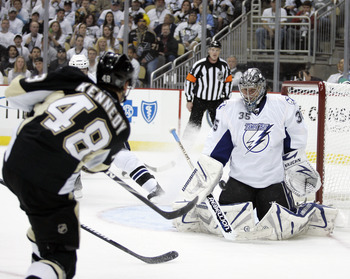 Justin K. Aller/Getty Images
The Penguins' biggest additions will assuredly come from within this offseason, as they hope to get superstars Sidney Crosby and Evgeni Malkin back from injuries in time for the start of the 2011-12 campaign.
With that being said, the Penguins will likely be in the mix for a scoring forward, as they currently have just six impact forwards under contract through next season. Mike Comrie and Alexei Kovalev won't be retained, according to general manager Ray Shero, and with around $6 million in cap room, the Penguins could look to continue their trend of adding aging veteran snipers to their roster.
One restricted free agent who might receive some offer sheets from other teams is Tyler Kennedy, who elevated his game in Crosby's absence. With little cap room, the Penguins may be forced to deal Kennedy if the offer is too rich for their taste.
24. San Jose Sharks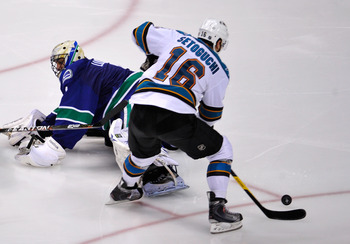 Rich Lam/Getty Images
After another quick exit in the Conference Finals, the San Jose Sharks have some decisions facing them during the offseason.
The first of which is deciding what to do with Devin Setoguchi, who will be a restricted free agent on July 1. The Sharks have an abundance of offensive talent, but have been torn apart by the forwards of the Canucks and Blackhawks in each of the last two playoffs. If the Sharks are serious about making a run at the Cup this year, they may need to add another defenseman.
Another hole the Sharks need to fill is the role of checking line center. They missed Manny Malhotra's defensive abilities and faceoff prowess dearly last season, so that has to be another item on Doug Wilson's shopping list.
The Sharks' core will be intact for at least another season or two, but some supporting players are needed if San Jose is serious about making a run at the Cup next season.
25. St. Louis Blues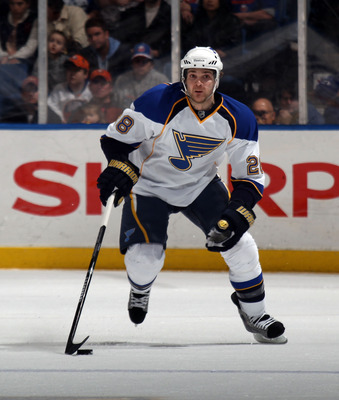 Bruce Bennett/Getty Images
The Blues are in good shape with regards to their cap situation, as they have the majority of their best players locked up through next season with a lot of cap space for roster moves this offseason.
Their only impact forward eligible for free agency is T.J Oshie, who could very well attract some serious offers if he's not locked up by July 1, so signing him has to be the top priority for Doug Armstrong.
If they allow Ty Conklin to leave via free agency, adding a backup for Jaroslav Halak will be another area of interest for the Blues, but they'd like to have him back.
The Blues also need to acquire some more scoring depth, as they have a collection of solid forwards, but no real triggermen on their roster. An interesting option may be moving rearguard Carlo Colaiacovo, as they already have a steady top-four defensemen on their roster.
26. Tampa Bay Lightning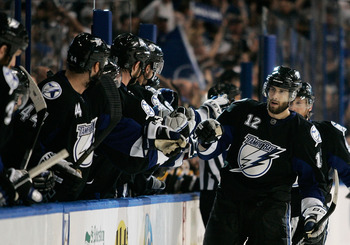 Justin K. Aller/Getty Images
After a surprising run to the Eastern Conference Finals, the Lightning have some business to take care of this offseason. Their top priority by a long shot is signing 2010 Rocket Richard winner Steven Stamkos to a long extension, which doesn't appear to be a problem.
From there, the Bolts have some decisions to make regarding their blueline, but one would assume that they'd like to keep their current group together. If they allow Eric Brewer to walk as a free agent, they'll be on the market for a top-four shutdown defenseman, and possibly a power play quarterback, seeing as it's unlikely that Marc-Andre Bergeron will return.
In addition, if Steve Yzerman allows Simon Gagne to leave as well, the Lightning will need to add another scorer to the roster if they expect to replicate last season's success.
27. Toronto Maple Leafs
Bruce Bennett/Getty Images
As they have been for each of the last two years, Brian Burke and the Toronto Maple Leafs will be buyers this offseason as they continue to try to build from the ground up.
Their most glaring need is help putting the puck in the net, which could be addressed if they manage to sign the top free agent on the market in Brad Richards. The only restricted free agent who Burke absolutely must extend a qualifying offer to is Clarke Macarthur, who blossomed as a Leaf last season.
From there, the Leafs may look to add another defenseman, particularly a puck mover, since the team dealt both Tomas Kaberle and Francois Beauchemin last season.
Either way, Burke has never been afraid of executing blockbuster deals, so it would not be surprising to see another one take place this summer.
28. Vancouver Canucks
Harry How/Getty Images
Coming off their first Stanley Cup Finals appearance since 1994, the Canucks have some important decisions to make this offseason, as much of their roster is eligible for free agency come July 1.
Of their top-six defensemen, Kevin Bieksa, Sami Salo and Christian Ehrhoff will all be unrestricted free agents, so Vancouver will undoubtedly be on the market for some rearguards to replace at least one or two of the three, assuming they aren't signed to new deals.
In addition, three forwards who were key components of the Canucks' playoff run will be free agents (Raffi Torres, Chris Higgins and Maxim Lapierre), so Vancouver will need to replace the grit and secondary scoring that they brought to the table.
In order to do so, the Canucks may have to clear some cap space, and Keith Ballard appears to be a prime candidate to be on the move, as he was a $4.2 million healthy scratch for much of the playoffs.
29. Washington Capitals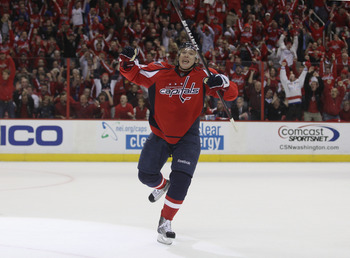 Bruce Bennett/Getty Images
After another disappointing playoff exit, one has to believe that at least one serious change will be on tap for the Capitals this offseason.
Of their star players, the only one who seems to be even a remote possibility for trade is Alexander Semin. Though he's one of the most talented forwards in the league, he's been virtually invisible in each of Washington's last two playoff series losses, so he could be on the move, especially because the team needs to create cap room if they intend on signing pending free agents Brooks Laich and Karl Alzner.
On Washington's wish list has to be some defensive help, which could be acquired in exchange for Semin or young goaltender Semyon Varlamov, who appears to have lost his starting job to fellow youngster Michal Neuvirth. If they do indeed decide to trade either of the two, look for them to take a run at Minnesota's Brent Burns or even Winnipeg's Zach Bogosian, as each has been rumored to be available.
30. Winnipeg (Team Name to Be Determined)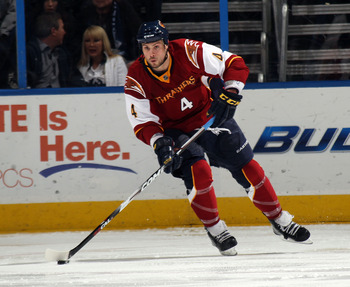 Bruce Bennett/Getty Images
Now that the NHL has finally returned to Winnipeg, it's time to see what new General Manager Kevin Cheveldayoff can do to improve this roster. First on his list of priorities must be deciding what to do with restricted free agents Andrew Ladd, Blake Wheeler, Anthony Stewart and Zach Bogosian, as each could serve as attractive trade bait.
On the blueline, Winnipeg appears to be at least somewhat solid entering the offseason, with a strong top-four locked up through next year. However, up front, the team is in need of some serious help, as they don't have a single dangerous goal scoring threat, unless you count defenseman Dustin Byfuglien.
The franchise's ownership group has said that the team will attempt to build through the draft, which is a sensible strategy for a new team in a small market, but surely they'll need to acquire some offensive help for the present. If that's the case, a package including Bogosian would surely draw interest, as some other teams believe he hasn't yet scratched the surface of his potential.
Keep Reading