Pittsburgh Penguins: Exploring Their Free Agent Shopping List for the Offseason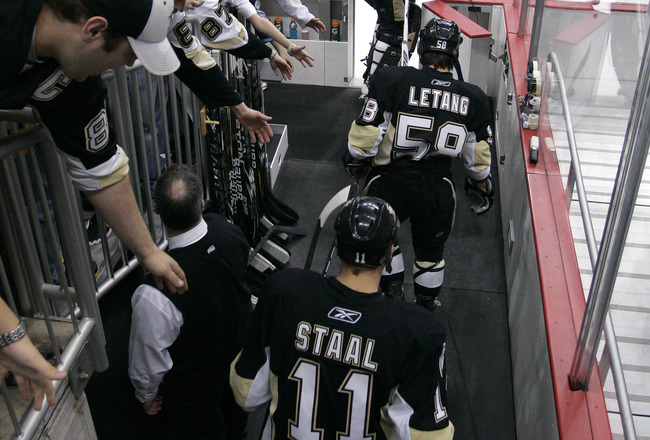 Justin K. Aller/Getty Images
The Penguins already have a strong team, winning eight of their last 10 regular season games, even without Sidney Crosby and Evgeni Malkin on the ice. But who are five players, both already on the Penguins' bench and other unrestricted free agents that the Penguins' may want to have on their bench next season? Let's take a look.
Arron Asham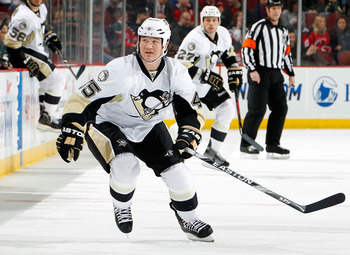 Paul Bereswill/Getty Images
Arron Asham didn't have the best of regular seasons in the scoring department with just 11 points but he led the Playoffs team stats with three goals and one assist for four points. He was a strong player all year and seemed to fit in with the rest of the team.
His success on the ice in all roles shows that he has the ability to help lead the team. It would be no surprise if the Pens gave him a longer contract this summer.
Erik Cole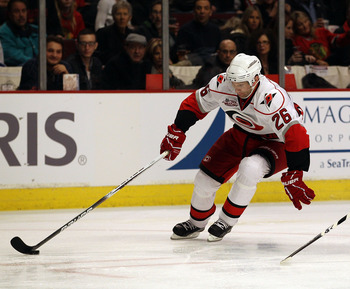 Jonathan Daniel/Getty Images
Erik Cole isn't incredibly young but he does play a wing position (right wing), which is something the Penguins are having trouble finding when it comes to finding a good winger for Crosby. He also earned 52 points with 26 goals and assists this season, showing he knows how to find his way to the net..

The hard part will be grabbing Cole from the Hurricanes where he has played all but 63 of his NHL games (he played 63 games for the Oilers in the 2008-09 season).
Pascal Dupuis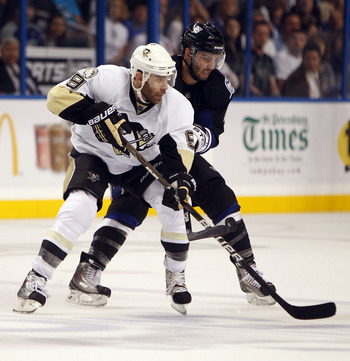 Eliot J. Schechter/Getty Images
It has been said by many Penguins players that Pascal Dupuis is a team leader. The Penguins management wants to keep that leadership in the locker room. In addition, Dupuis is a big presence on the ice (he is tied for second on the team with 18 hits) so he'll probably be the main target to sign back to the team for next season.
Ville Leino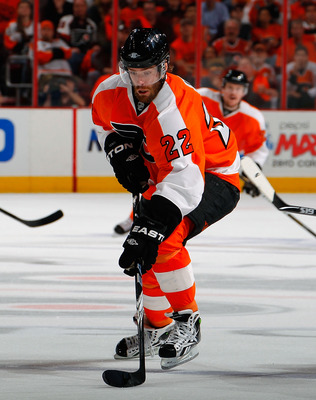 Paul Bereswill/Getty Images
Ville Leino is another shot for the Penguins management to find big chemistry with Crosby, playing left wing, although he also brings in the dreaded ex-Flyer rep. However, it looks like it worked with Asham and it could be the same with this 27- year- old. Leino is a talented player, earning 53 points during the regular season with 19 goals for fifth place on the team in points.

Leino brings in the scoring the Pens need in addition to another chance to find chemistry with Crosby and to make his line even scarier than it already is. Plus, for those that are scared he's already been too Flyerfied, he has only played for them for two seasons (spending the other two in his NHL career with the Red Wings, but that's a small detail).
Max Talbot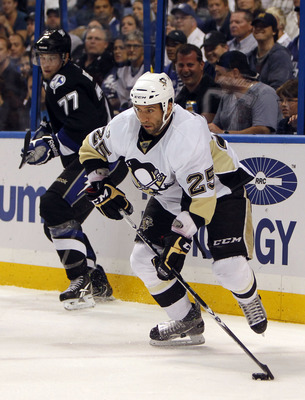 Eliot J. Schechter/Getty Images
While Max Talbot isn't the strongest Penguins player, he has shown the ability to make big moves when it is needed most. He scored eight goals for 21 points during the regular season but stepped up in the playoffs, earning three assists and a goal and tying for second in playoff points.

Talbot may have taken a little bit longer to develop than the Pens expected but his moments of brilliance may inspire the Pens management to take some more time on him. The energy he brings to the team and his willingness to drop the gloves to change the momentum of games may also add points in his favor when renewing his contract.
Keep Reading

Pittsburgh Penguins: Like this team?