NHL: Arena Already an Issue for Winnipeg Franchise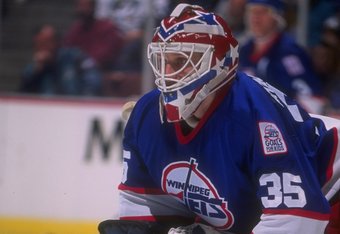 Al Bello/Getty Images
It hasn't been bluntly stated, but indirectly the size of the MTS Center in Winnipeg has already become a cloud hanging over the future of the (Jets?).
And (refreshingly for me) the pressure is now on the Manitoba Mythbusters and similar groups/colleagues.
On the very day of rejoicing, a column in the Winnipeg Sun (published in its counterpart in Toronto) was warning of the problems of having to sell 13,000 season tickets and commit to four years to impress the NHL.
The CBC aired similar news bulletins on the national news last night.
An interview with NHL Commissioner Gary Bettman confirmed that Winnipeg needs to consistently reach those figures in order to be a financial success.
They also ran a story of a Manitoba Moose season ticket-holder who only had to pay under $350 and now has to face a bill of over $7,000 which he can't afford.
In other words, Mythbusters (and those echoing similar sentiments), who have consistently denounced me for writing Bleacher columns heavily criticizing Winnipeg for trying to get an NHL team without building an NHL size arena of over 18,000 seats, it's time to put your money where your mouths have been.
To recap the loss of the original Jets: Winnipeg lost them because of a combination of not rich enough owners; high operating costs, especially salaries; a low Canadian dollar; a small market; and a too-small arena.
Is the size of Winnipeg's arena a threat to long term success?
Of the five factors, only the first one has really been solved. The main reason the NHL is giving Winnipeg a second try (other than satisfying the behind-the-scenes demand of Detroit owner Mike Ilitch who wants to move the Red Wings to the eastern conference, which a switch from Atlanta to Winnipeg will provide) is the deep pockets of owners Mark Chipman and Dave Thomson.
They are well equipped to operate a team in small-market Winnipeg.
The salary problem has at least been blunted, and the Canadian dollar is at least temporarily in Winnipeg's favor.
The market problem is grudgingly better. Winnipeg and Manitoba will undoubtedly have a larger population than they had in the 1990s, but it's not good when the whole picture is viewed.
Though the results of the current census have yet to be publicized, if the trend of the past decades continues, Winnipeg will continue to fall in stature compared to the rest of Canada.
Of the nine major cities in Canada, Winnipeg has had the smallest population growth.
Once the fourth largest city in Canada (through the 1950's), Winnipeg dropped to eighth when Quebec passed them in the 2001 census. It is likely that Hamilton will pass them this time around.
That leaves the arena problem which is unimproved since the Jets left town. Back then, their old arena seated 15,000 and their new one keeps the same mark. If Long Island and Edmonton build new arenas, Winnipeg will be 2,000 seats smaller than the smallest current NHL arena.
This means that the price for Winnipeg's tickets will be $82., the third highest of all the Canadian franchises. Are you ready to pay up, Mythbusters?
This flies in the face of Winnipeg's sports philosophy, to get by running things on the cheap.
When it was decided to build a new arena, Winnipeg decided to defy the ominous trends in professional sports and build a "community" arena that would satisfy its own needs and not the NHL.
Instead of building an arena of NHL size 18000+, that caters to rich ticket holders, Winnipeg built the finest minor league arena in hockey, and ended up with the AHL Manitoba Moose. Management openly proclaimed that it was a minor league arena and nothing more.
Now that same arena is being asked to be able to operate a hockey team at the highest level.
The result is the demand for 13,000 season ticket holders committed to four years, the third highest ticket prices in Canada, and a jump from $350 to $7,000.
There is little long term thinking in Winnipeg. When the economy turned bad in the 1990s, small market teams like Edmonton, Calgary, and Ottawa were able to survive in part because they had proper NHL arenas to fall back on to get them through tough times.
Meanwhile, Quebec and Winnipeg, which refused to upgrade their arenas, lost their teams.
Quebec learned its lesson and will be building a proper NHL arena to ensure long term stability.
But as it has been indirectly publicized, both on the CBC, and in the local paper (and in too many of my Bleacher columns), the arena issue is already a dark cloud hovering above the returned Winnipeg team.
It may be fitting that Winnipeg has acquired its team from twice-failed Atlanta. It will be a long time before the NHL makes another attempt to return to Georgia.
And if the arena issue, which is already threatening the team's future in Winnipeg proves fatal a second time, it will also be a long time before the NHL would return to Winnipeg again.
This article is
What is the duplicate article?
Why is this article offensive?
Where is this article plagiarized from?
Why is this article poorly edited?

Winnipeg Jets: Like this team?