NHL Entry Draft: Why I'm Not Sold on Ryan Nugent-Hopkins as the First Pick
June 8, 2011
Claus Andersen/Getty Images
The NHL Entry Draft is now less than three weeks away and most around hockey believe that the Oilers have locked in on Ryan Nugent-Hopkins as the first overall pick, and that they may send him back to Red Deer for another year so that he can put on some weight before playing in the NHL. 
I, however, still remain wary of Hopkins joining the Oilers.
Before the 2010-2011 season began Sean Couturier and Adam Larsson were in a dead heat at the top of Bob McKenzie's draft rankings. Ryan Nugent-Hopkins was ranked third. In January Larsson was the consensus first pick according to the scouts McKenzie interviewed while Hopkins had leap-frogged to No. 2. Then, in April, Hopkins finally knocked Adam Larsson from the top spot.
As the season wore on, the opinion on the draft became that there is no one player who is heads and tails above the rest. There is no Taylor Hall or Steven Stamkos among this year's crop of prospects.
In hockey there is a stat called shooting percentage. It is defined as the percentage of shots on net that go in for goals. We don't know why, but sometimes shooting percentage will spike or dip, seemingly at random, and a player's goal scoring will either increase or decrease.
Looking at Ryan Nugent-Hopkins' goal scoring, I wonder if he is suffering from this effect. From the start of the WHL season through the end of January, Hopkins had scored 14 goals in 49 games played for a goals-per-game rate of 0.286 GPG. Then in a six-week span from the beginning of February through the end of the regular season in March he went on a tear.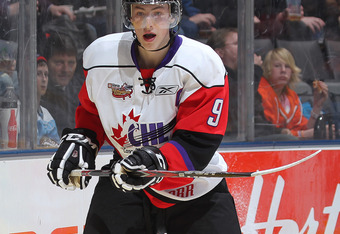 Claus Andersen/Getty Images
In the 20 games that he played in from February through to the end of the season, Hopkins scored 17 goals for a goals-per-game rate of 0.85 GPG.
The WHL does not track shots or shooting percentage so I have no way of proving my hypothesis, but I can't shake the feeling that Hopkins' jump in goal scoring is more the result of a six-week run of good luck where everything he threw at the net went in, than it is Hopkins proving that he can be an elite goal scorer.
The scouting reports that I have read all say the RNH does have a good shot, but that he does not use it as often as he should. Let's assume that Hopkins did begin shooting the puck more in February than he had previously and see what some hypothetical numbers can tell us.
If Hopkins averaged two shots on net through his first 49 games, it would mean that he took 98 shots that hit the net and 14 went in for a shooting percentage of 14.29 percent. This would jive with a player who has a deadly release, but does not use it as often as he should.
Now, lets say that during February and March Hopkins focused on shooting more and averaged four shots on net per game. This would mean that in those 20 games he had 80 shots on net. Of those, 17 went in, which equals a shooting percentage of 21.25 percent. Even with those two extra shots-per-game, an almost seven percent increase in shooting percentage strikes me more as a product of luck than it does Hopkins suddenly becoming an elite goal scorer.
Like I said, I have no way of proving any of this because I do not have access to shot totals from the WHL, but the fact that Hopkins ascension to the top of the ranks was strongly predicated on the back of this six-week hot streak makes me nervous.
I can't help but wonder if Hopkins is truly the best player available or if he is simply the streakiest player available. I can't help but wonder if Hopkins is topping the draft rankings because of his strong play or because of the perceived lack of a better option in the form of a different top prospect.
I've written before about Hopkins' lack of even strength scoring and this remains a concern. At even strength Hopkins scored 0.67 PPG. This ranks behind Jonathan Huberdeau (1.03), Ryan Strome (0.97), Sean Couturier (0.91), Gabriel Landeskog (0.87), and other not so highly ranked prospects such as Ty Rattie (0.87) and Michael St. Croix (0.76).
Projected over an 82-game season, Hopkins is only on pace to score 55 even-strength points. Huberdeau is on pace to put up 84 points at even strength and Sean Couturier projects to score 75 even-strength points. For the supposed consensus top pick, this gap continues to bother me and I have not heard a satisfying explanation for this phenomenon yet.
I'm currently reading Moneyball by Michael Lewis, and in it Billy Beane likes to say that players "are who they are." Right now, in my mind, RNH is looking like an average goal scorer who struggles to score at even strength. That is not what I want out of a first overall pick, and I just don't think that another year in junior and 15 more pounds is going to change anything. He is who he is.
I hope that I'm wrong because right now I would bet money that Ryan Nugent-Hopkins is the player chosen by Steve Tambellini, but I fear that I'm right.