NHL Playoffs: A Pragmatic Perspective on Realignment
February 12, 2017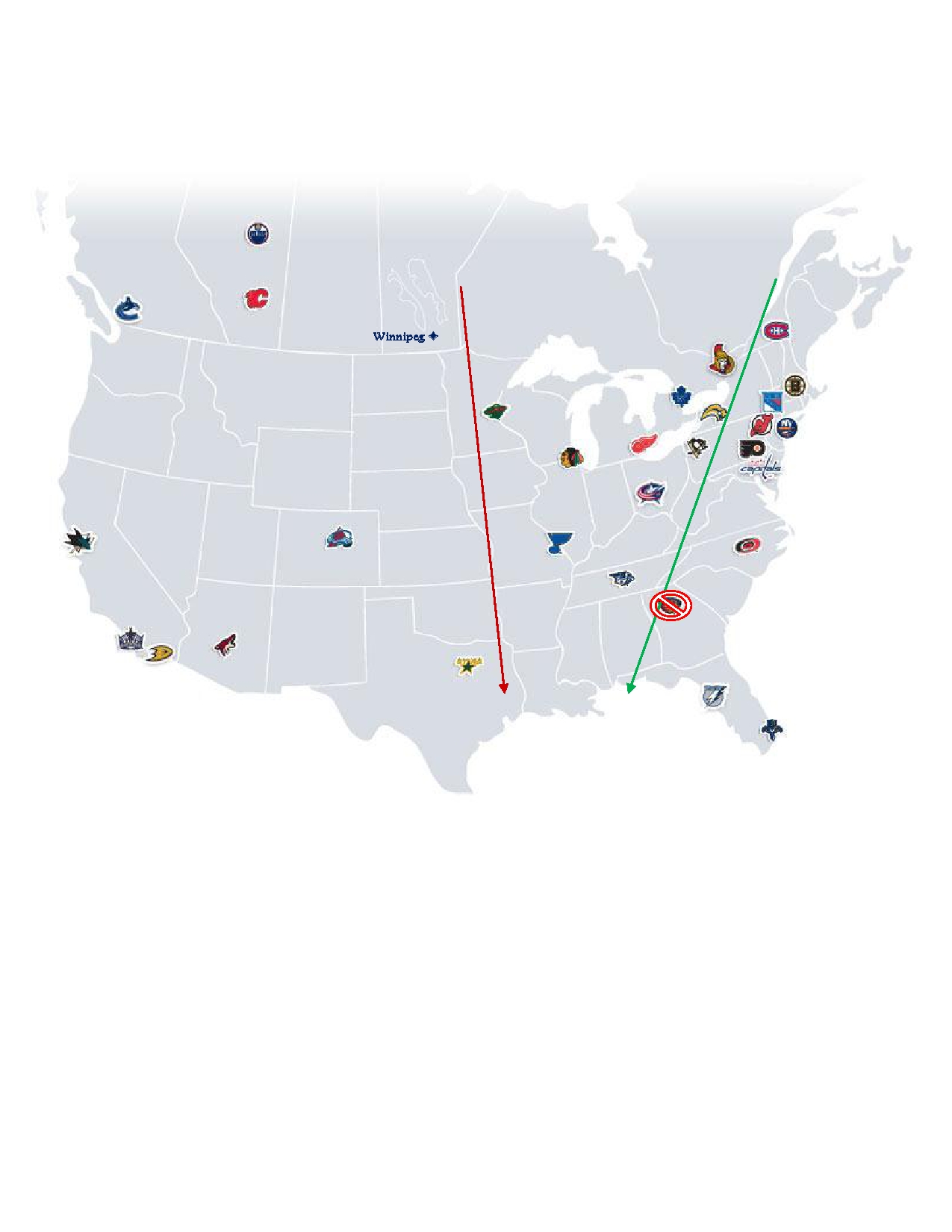 Last week the NHL was named Professional Sports League of the Year by the Sports Business Journal/Sports Business Daily; an acknowledgement of the league's growth over the past few years, particularly in markets like Chicago, Nashville and some respectable growth in non-traditional markets. 
Yet, the NHL has a lot of dirty business that it needs to attend to this offseason once Lord Stanley's Cup is awarded and the NHL Awards have closed the curtain on another phenomenal season.  Many are still not happy with the ineffectiveness of the head shots/concussion rules, the pending move of a franchise and the possibility of realignment.
With the huge speculation of the move of the Atlanta Thrashers to Winnipeg/Manitoba, the hockey world has been up in arms over the "what-ifs" of the potential need for realignment due to this move from the Southeast Division of the Eastern Conference to what might be, geographically, the Northwest Division of the Western Conference.
Looking at the history of realignment, one thing stands out; in recent history the league has insisted on making small changes rather frequently while a few decades ago, bigger changes were made, yet less often.  My perspective, which I am sure many might not agree with, is that if we are going to realign right now, let's go big or go home. 
Looking at the big picture from a purely geographical perspective, taking into consideration time zones and travel expectations for various teams, it will not be a surprise to see that the Western Conference is paying quite a price.  Due to the density of teams in the Eastern Conference and the fact that all of their teams are in the Eastern Time Zone, the Eastern Conference has it much easier than the Northwest and Pacific Divisions in particular whose divisions cross three time zones. 
Many fans and even some writers are concerned about major moves because they don't want to destroy long-time rivalries that are always revenue generators both in ticket sales and TV viewership.  Yet, if you were to take a longitudinal look at some of the present day rivalries that we enjoy, many are regional in nature; teams that are in each others' backyards and divisions.
Rivalries also develop due to playoff histories as we have seen of late between Chicago and Vancouver and Detroit and San Jose, for example.  With that said, no matter what changes take place, rivalries will always develop over time—that is the nature of competition.
Maintaining rivalries is not a strong enough argument to not start moving some pieces around the board and start correcting some blatant inequities that have existed for more years than they should have.  Is it time to start considering three conferences instead of two?  Is it time to look at how teams are clustered geographically to even out markets and travel considerations?  We can almost bank on the fact that within the next few years the Phoenix franchise will be relocating as well.  That probable move needs to be considered with this year's realignment as well.
While NHL Commissioner Gary Bettman has stated that his three primary concerns for new franchises are market, owner and building, he may need to add a fourth concern—geography.  Moving the Thrashers to Winnipeg is a positive because it takes a team from the dense East Coast and moves it farther west.
There needs to be more of a balance geographically and if that means adding teams to Canada's Pacific coast then so be it.  I think we have taken Manifest Destiny as far as it is going to go my fellow Yankees; so, let's just ease up a bit on the US v. Canada debate.  With the inclusion of Winnipeg, the number of Canadian teams in the NHL is a mere seven, hardly anything to reawaken the Lake Placid "USA! USA! USA!" chant over.
I am sure some of you are thinking, "Ok, three conferences, ten teams each—How are the playoffs going to be decided?"  Now remember, this is devil's advocacy at its best in an attempt to generate discussion—do away with divisions and use conferences only; top four teams in each conference go to the playoffs.
Then those 12 teams and the next four teams with the best records overall all get ranked, regardless of conference and let the games begin.  Imagine the possibilities!  Chicago could play Detroit for the Stanley Cup, the Rangers could play the Flyers and the Capitals could play Pittsburgh.
| | | |
| --- | --- | --- |
|  Pacific Conference | Central Conference |  Atlantic Conference |
| | | |
| | | |
| Winnipeg | | |
| Vancouver | Pittsburgh | Washington |
| San Jose | Detroit | Philadelphia |
| | | |
| | Chicago | NY Islanders |
| Phoenix | Saint Louis | NY Rangers |
| | Nashville | |
| | | |
In summary, this is an idea, an exercise and is not without its issues—This is just one of those "thinking outside the box" ideas that is presented simply to mix things up a bit and generate some interesting discussion.  I'd like to get readers out of their comfort zones and looking at the conferencing and geography of the game through an entirely different and unique lens.  What are your thoughts?
(Please, do your best to comment appropriately—this was written to really shake up the realignment idea and get fans thinking in a different way)