Chicago Blackhawks and Tomas Kopecky To Part Ways This Summer?
May 25, 2011
Bruce Bennett/Getty Images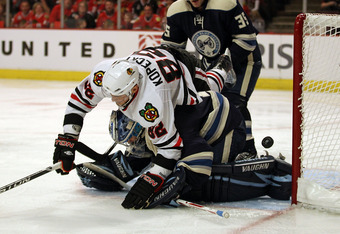 Jonathan Daniel/Getty Images
Tomas Kopecky's name has been thrown around for trades essentially since Stan Bowman signed him in July of 2009.
The majority of fans were hot and cold with Kopecky, but most Chicago fans need a player to pick on. Miserably for Kopecky, he was a main target after the dismantling of the Stanley Cup roster.
Loads of people thought he should have been traded to tender more money to Antti Niemi.
Niemi was a remarkable goaltender who helped bring the Stanley Cup to Chicago for the first time in 49 years. When he was a rookie, most sportscasters and NHL fans figured that the Blackhawks were still going to go another season without hoisting the Cup.
Boy, were they wrong. 
Unfortunately, Niemi's astounding performance and the contract extensions of Duncan Keith, Jonathan Toews and Patrick Kane left a number of players to be traded or walk away.
Not only did the Blackhawks drop the goaltender that aided them hoist the Stanley Cup, but they lost key players who fans considered to be a part of the Blackhawks core, like Kris Versteeg, Dustin Byfuglien and Andrew Ladd.
Instead of getting rid of these players, nearly everyone threw around the opportunity to drop Kopecky. Some even dared to mention trading Patrick Sharp. 
Kopecky was a sight for sore eyes this Blackhawks season. He had 42 points (15G, 27A) in 81 games. One more thing Kopecky suited up for was his net presence. Not many took note of the way he put himself in front of the goaltender because everyone was wishing for Byfuglien to magically appear.
Rather, they should have appreciated the Slovakian who planted himself right in front of the net already in a Blackhawks sweater.
His playoff run was cut particularly short after being injured by Keith Ballard in Game 1 versus the Vancouver Canucks.
One could only be dim-witted to think this two-time Stanley Cup champion is not talented. Sadly, his ability is mainly what is running him out of Chicago. Kopecky is certainly expected to get a raise this upcoming season, which will most likely not be able to fit in the Blackhawks books.
The kids like Jeremy Morin, Ben Smith and Brandon Pirri all deserve a chance. With the extension of Brent Seabrook and Corey Crawford, Kopecky is basically left in the dark to walk away.
Kopecky was an imperative piece of the Blackhawks team this season to make it as far as they did. Regrettably, it is time for fans and teammates to say goodbye.
Marian Hossa's heart may be broken once Kopecky formally walks away from Chicago, but that is just a part of the game.