NHL Power Rankings: 15 All-Time NHL Players We'd Love to See in WWE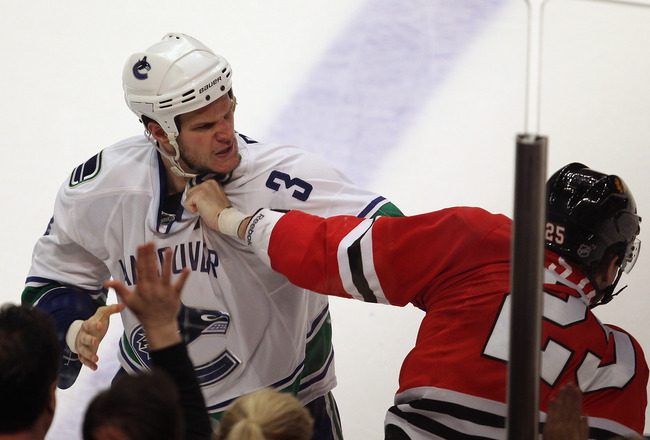 Jonathan Daniel/Getty Images
We have seen pro players such from various pro sports jump into the WWE ring over the years. The NFL's Kevin Greene, the NBA's Karl Malone and Dennis Rodman are just some of the athletes that have spent time in the squared circle.
What about NHL players, past and present? Who could make the jump to WWE?
Now remember wrestling, or sports entertainment, is more than just being the biggest or baddest around. While fighting ability is important, also keep in mind the character side.
The following NHLers could fit right into the WWE. Some make the list on the basis of their fighting, others on character or gimmicks angles.
Bob Probert and Joey Kocur

http://www.youtube.com/watch?v=K40fPZxxcTU

These two played together in Detroit for several seasons and were known as the Bruise Brothers. Seems to be a perfect name for a tag team, and it is only fitting that these two should go in together.
When the best hockey fighters of all time are discussed, Probert is on the short list. He was known for dropping the gloves with anyone and winning more often than not.
Kocur was a few inches shorter than most of the people he fought but that didn't stop him. His devastatingly hard right hand punch was known to break helmets.
These two would be a formidable duo. Could they be the new Legion of Doom or Demolition?
Sydney Crosby

http://www.youtube.com/watch?v=sboI7oS9iZg

Now there have been many characters throughout the history of WWE that have done more whining than fighting. Crosby would fit into this role perfectly.
While a great talent, he does spend way too much time chirping at the refs begging for help. He would easily be the bad guy who would often have the WWE commissioner intercede on his behalf. He would also be a master at playing the refs during a match to gain an unfair advantage.
As the smart, sneaky wrestler type, he would also be wise in surrounding himself with other top-notch wrestlers. Often letting them do most of the dirty work before he swoops in at the last second to snatch the win.
Of course we all know how those types of groups end up in the wrestling world. Who else sees Evgeni Malkin giving Crosby a chair shot in the end?
Joe Thornton

http://www.youtube.com/watch?v=PR9n15Axsbw

While an immense talent on the ice, Thornton would be the ultimate heel. He is known for his cheap shots on the ice. Just looking at his round two series play against the Detroit Red Wings, he was seen playing harder after the whistles with his cheap hits then he played between the whistles.
While bad on the ice, this persona would make him great for WWE. He would be the sneaky bad guy who tried to avoid the face-to-face fight while opting for the sneak attack.
While a reasonably successful tactic, many would wonder, with his talent, how great could he really be if he better focused himself?
Of course these tactics only get you so far. In the ring Thornton would be known as the guy who gets close but can never secure the title.
Zdeno Chara

http://www.youtube.com/watch?v=HFrX-dLQ_pQ&feature=related

hara would walk in the famous footsteps of some of the wrestling giants, Andre the Giant, The Big Show, Big John Stud and now The Great Khali.
Now the big question on Chara would be if his height was all there was to him?
In the WWE world there have been plenty of wrestlers who try to get by on just being so much taller than everyone else. Would Chara fall into that trap or would he be able to do more.
He has the hardest, fastest slap shot in the NHL so it seems natural that his finishing move should be called the slap shot.
Gordie Howe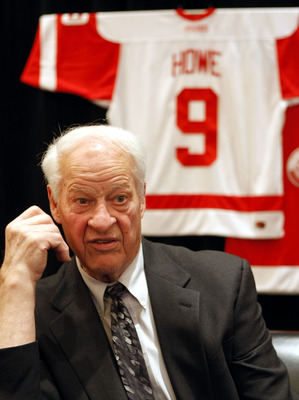 Dave Sandford/Getty Images
Howe is the fighter that all others are compared against. Even today, he could still be a tough match for many in the NHL. His long playing career is outstanding.
Now while he wouldn't have the same character he would be WWE hockey version of Ric Flair. Two old school guys that would fight anyone at anytime and that wouldn't let another year on the calendar slow them down.
He would be the cagey veteran, maybe mentor some up-and-comers, but he would never, ever take a back seat to anyone else.
Dave Semenko

http://www.youtube.com/watch?v=DBfgx5xebrI&feature=related

Semenko was known as the bodyguard for Wayne Gretzky in both in the WHA and NHL. At 6'3" and 215 lbs., he was an incredibly strong and mobile fighter.
He even fought Muhammad Ali in an exhibition bout in 1983. He was impressive in the bout which Ali took very seriously.
His role as a bodyguard would be a great intro into the WWE. Kevin Nash/Diesel became a major player in the wrestling world when he joined the WWE as Shawn Michael's bodyguard. Perhaps a battle of the bodyguards would be a good start.
Another option for Semenko would be to join forces with Nash; they could be the foundation of a new Four Horsemen. Chyna could easily be the third member. They would then need to find a fourth.
Tie Domi/Marty McSorely

http://www.youtube.com/watch?v=w15irRTk0mw

Since we have the Bruise Brothers, we need to have some tag team to face them. Domi and McSorely, along with Probert and Kocur, all played during the same period.
Between them they had some epic fights, so why not continue that into the ring?
These two would be the ultimate goons. They rank third and fourth on the all time penalty list.
McSorely would take over the Gretzky bodyguard role from Semenko, both in Edmonton and later in Los Angeles.
McSorley is known for one of the worst on-ice cheap shots. He swung a stick at Donald Brashear, striking him the head and causing a grade three concussion that knocked Brashear out.
He was suspended for a year from the NHL, and once the ban was up no team wanted him.
Domi was known for his hard hits, although many were cheap shots (his numerous suspensions attest to that).
He was also a part of a famous incident where he ended up fighting a fan. He sprayed water at a fan while he was in the penalty box. The fan tried climbing the glass but it broke and he fell into the penalty box where Domi took some swings. He would be great at getting a crowd fired up in anger.
These two would be the ultimate bad guys and would love every second of it.
Stu Grimson

http://www.youtube.com/watch?v=GyqLIg1ARoM

Now Grimson could have easily joined the Domi/McSorely tag team, however, he already has a built in nickname for the ring. Grimson was known as the Grim Reaper during his playing days and that is a great name for the ring.
Grimson improved in his fights over his career. Looking into the WWE, we see the Undertaker as the perfect matchup. Undertaker is also someone who's fighting got much better as his career went on.
Also what better matchup could there be then the Grim Reaper vs. Undertaker? The only question is what type of match would it be? A casket match, buried alive or just to the death?
Dave Schultz

http://www.youtube.com/watch?v=B4e5c0HaIQ4

Schultz is another guy who will come in with a nickname in place. He was known as The Hammer when he led the Philadelphia Flyers and their notorious Broadstreet Bullies to two Stanley Cup Championships in the mid 1970s.
One helluva bruiser who would just keep swinging, he would be a tough match for anyone. But he would first have to fight for his name. Another Hammer has roamed the ring in the past, Greg The Hammer Valentine. Valentine had the same relentless, smashing focus that Schultz did, and I'm sure neither would want to share the Hammer name.
It would be Hammer vs. Hammer, to prove who the true Hammer was.
Sean Avery

http://www.youtube.com/watch?v=r0-_py_yKjI&feature=related

No shocker here in that Avery would be a bad guy.
He would have the Stone Cold Steve Austin say whatever he wants, whenever he wants attitude, and would start trouble all the time.
However unlike Austin , he wouldn't have the ability to back up his talk.
He would be the lone wolf in the locker room as he would tick everyone off. Anyone who would befriend him, would soon turn enemy. Despite his lack of in-ring ability, he would be the perfect agitator on the microphone as he would incite fans and wrestlers alike. He would also enjoy every minute of it.
Donald Brashear

http://www.youtube.com/watch?v=Q-xRdXtGffQ&feature=relmfu

Brashear, much like Triple H, would be the cerebral assassin. Always a ferocious fighter he had as many people run from fights with him as he did those that actually stepped up.
While a top-notch fighter, he didn't resort to dropping the gloves all of the time. Like Triple H, he chose the right moments when to jump in. He could often use the intimidation of a possible fight with him to scare opponents off of their game.
Henrik and Daniel Sedin
of course one would need to shave to pull of the trick
Jeff Vinnick/Getty Images
While some might consider this a surprise entry to the list, the Sedins would be a great fit in the WWE.
Their start in the ring would be as a single wrestler. In fact, nobody would know that they were twins.
During a match one of the twins would start in the ring. At some point, likely after taking a heavy beating, the Sedin One would roll out to the floor then under the ring. After disappearing for a few seconds Sedin One would reappear. Of course it would actually be Sedin Two, who would be fresh and ready to fight.
The stunned opponent in the ring would be surprised at the comeback and would eventually fall to the trickery. They could even do the swap multiple times during a match if needed.
Eventually they would be exposed, leading to a run as tag team partners. In the end, one of them would turn on the other which would lead to the great sibling rivalry battle.
Keep Reading