NHL Playoffs 2011: Tampa Bay Lightning vs. Boston Bruins Game 7 Live Blog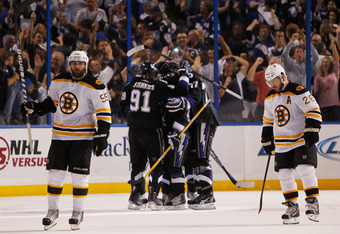 Eliot J. Schechter/Getty Images
It's here.
The 2010-2011 season for 15 Eastern Conference teams has come down to just one game to decide which team will represent the conference in the Stanley Cup finals.
It's Game 7 between the Tampa Bay Lightning and Boston Bruins, tonight at 8 p.m. ET.
The Bruins, the constant top seed that can never make it to the finals, and the Bolts, the team that's finally back into the elite group after the drought following their 2004 Cup victory, will battle it out on this Friday evening for the Prince of Wales trophy in their respective 100th games of the season.
Boston has won 57 of those games; Tampa Bay has won 57 as well. They're separated by two positions in the seeds, but by nothing in terms of record. But that doesn't matter anymore. The only thing that matters now is how they compare tonight.
Up to this point, the matchups have been all but predictable.
Tampa Bay took Game 1 in Boston with a lopsided 5-2 win. Boston evened it up in Game 2 with a high-flying, chaotic 6-5 victory. The Bruins captured the advantage in Game 3 with Tim Thomas' only shutout of the playoffs to date, 2-0. The Bolts evened the series this time by returning to the high-flying style and winning 5-3.
Back in Massachusetts, the Bruins went one win away from a Finals berth with a quiet 3-1 edge. Nonetheless, they were unable to hold it as Dwayne Roloson improved to 4-0 in elimination games when Tampa Bay held on for a 5-4 win Wednesday night to set up the date here this evening.
This time, we're back at TD Garden, where we might see a great battle between two great veteran netminders, Thomas and Roloson, or a great battle between a slew of talented forwards for both sides. We might see 76 shots and 11 goals, as we did in these two teams' second meeting, or 56 shots and two goals, like in the third meeting. But, for a moment, let's just forget our predictions for how the style of the contest will turn out. Because, really, all we know right now is that we will, no matter what, be watching a truly great game.
Stay tuned for live updates throughout the entire game for those of you who are unlucky enough not to be able to watch it. Since the majority of us hockey fanatics will be glued to our TVs, though, we'll be focusing on reactions, analysis and statistics to go deeper than just the game itself from the pregame to the trophy presentation.
With the confetti all around, we're going to sign off for the evening. What a game, what a performance, and what a celebration to come for the Bruins. This one will leave us with some memories for some time. Good night, folks.
Party time for the Bruins fans now! Welcome to the Stanley Cup Finals, Boston! Horton is already looking ahead to Vancouver, and we are too; Game 1 is Wednesday, June 1 at 8 p.m. ET in British Columbia on NBC. Any immediate predictions? We have one. If Thomas plays like he does tonight, it's Boston in 7. If not, it's Vancouver in 5.
The Prince of Wales Trophy is about to be brought out for Boston. They won't touch it, but they won't mind it, either.
The handshake line now for these two opponents. What a hard-fought game, and props to both goaltenders. Roloson saved 37 of 28, Thomas all 24 of 24. Emotional scene for Thomas and St. Louis, U of Vermont teammates.
It's over! Final score: Boston Bruins 1, Tampa Bay Lightning 0! The Bruins are headed to the Stanley Cup Final! Amazing!
Offside by the Stamkos-St.Louis-Lecavalier pairing with 44 seconds to play, Roloson back to the net. It's deafening in the TD Garden right now. It's desperation time for the Bolts, who need to hit the net but first get through Boston's D.
1 minute to go! Boston clearing everything back in!
How soon will Tampa Bay be pulling the goalie? Just 2 minutes to play, and the Boston D is holding strong.
The Lightning are showing some promise with just shooting the puck, though, especially on Thomas's stick side. After replay, we see that Roloson stopped the 2-on-1 that kept Tampa alive.
3:16 to go, 1-0 Boston, and it's getting intense in the Garden. Is the last remaining commercial break before Boston is in the Cup Finals for the first time since 1990?
Does Boston want this kind of pace with a 1-0 lead? Up and down the ice they go, and suddenly the Lightning has some offense.
At least Stamkos wants to win - we're seeing a lot of energy from him with under 5 to play. Great save by the side of the goal on a promising Boston 2-on-1 a moment ago.
A couple of offsides for the Bolts in their first breakouts after the goal show us how much that rattled them as much as it did the scoreboard. Ference gets the second assist on the goal that came against the Brewer-Ohlund D pairing for TB.
Nathan Horton tips the centering pass from Krejci from 2 feet out to give Boston the lead with 7:30 to go! A slip-up by the Tampa Bay defense and that play was just too much for Roloson to stop! Are we 437 seconds away from the Bruins in the Cup Final?
Thomas almost paid for his aggressive style there. Tampa just needs to get that one cross-ice pass across and they can make him pay. Step one for getting that play set up, though, is getting some sustained offense.
Timeout for Boston now. Bruins going to rest up and attempt to get a play set up to finally break the 0-0 with under 9 minutes remaining. Shots are 34-21 for the home team. None have gone in for either side.
A little glimpse of the end-to-end pace right there similar to what we saw in the first 5 minutes of this match. Jaw-dropping move by Marchand leads to icing and a Tampa Bay timeout. The TO needs to do more than just rest up the players on the ice - it needs to give the Bolts a plan to take control of the final 10:38 of this game.
Still no penalties tonight, but we can't argue with the referees about anything. As we mentioned way back when, still not much "extra-curricular" scuffles, either.
We've seen practically no dump-ins from either side during this one. They each trust their passing game and zone entries. However, a couple neutral-zone slap-in shots have started to pop up here in the third, probably a sign of fatigue for both lineups.
Sensing some confidence now for Boston. They think they're going to win. At this rate, they probably will - all the offense is on Roloson's end.
Unbelieveable save by Roloson there on Marchand, who was wide open! Lapse by TBL, bailed by Roloson. What's new?
Boston is getting behind the net early here in the 3rd and finding men openn in the slot. Is a just a matter of time? Oh, wait, there's Roloson to deal with, too.
3rd Period is underway in Game Seven! What will be the result in 20 minutes? Or will we even have one?
Predictions for 3rd Period: Goal by Tampa Bay first, shocking the Bruins and the crowd, but continous pressure, this time with a purpose, from the Bruins eventually ties the game and sends it to OT 1-1.
Hopefully that shot in the dark will be better than our first one.
This article is
What is the duplicate article?
Why is this article offensive?
Where is this article plagiarized from?
Why is this article poorly edited?

Tampa Bay Lightning: Like this team?