Alexander Ovechkin, Sidney Crosby and the Best Trick Shots in Hockey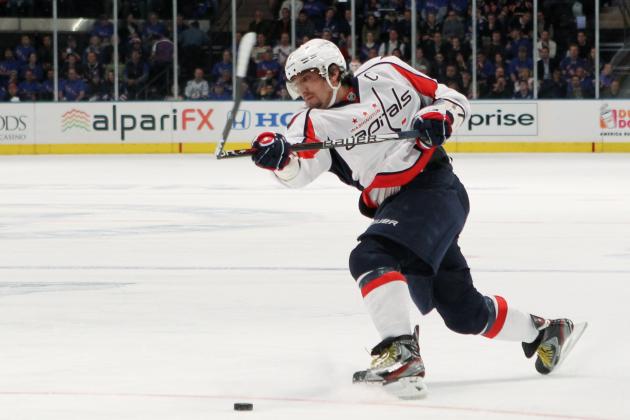 Bruce Bennett/Getty Images

You do not have to look far to find football and basketball trick shots. Full-court heaves and quarterback target practice are nice, but it all pales in comparison to shooting a small puck past a fully padded goalie on ice.
These hockey trick shots include the best in the world and some young budding stars that we will definitely see in about 10 years.
These trick shots are a much higher degree of difficulty than any other sport and have much more creativity.
Here are the best hockey trick shots in the world, by the best athletes there are.
Begin Slideshow

»
Sid the Kid shows us why he is so good. He can hit a moving target that is about an inch wide with ease and makes it look seamless.
Although they are not using a goalie, there are some pretty cool and interesting tricks from these guys.
When you have done everything humanly possible with the normal side of the stick, try it all with the butt. It looks like there is a magnet attacked to his stick he is so talented. This was a great trick shot.
The goalie was so utterly confused when he hit the ice and went to his knees. Then he slowed it down and just made him look stupid.
Oliver Wahlstrom entered a one-on-one tournament at TD Garden in Boston without realizing that he would become an Internet sensation. The nine-year-old's trick was tremendous and the kind of shot you can watch over and over.
Here is an interview with Wahlstrom himself.
Hockey is Canada's game, but few know that lacrosse is the country's national sport. Schremp wanted to remind us all of that.
Linus Omark shows us why sometimes it sucks to be the goalie. You just get embarrassed.
Mike Legg scored this 1996 goal that would eventually lead to a Wolverines victory. He took a page from the Fab Five and dunked the puck right in the back of the net.
Not only was this one-timer shovel pass amazing, but it was also an overtime game-winner.
Mikael Granlund couldn't seem to find anyone to center the puck to, so he did it himself. If you want something done right, you have to do it on your own.
That is just dirty. The goalie had no idea what was coming.
This clip was shown on the jumbotron during the All-Star game skills competition. NHL players were trying the same move to no avail.
By the 15th round of a shootout, you see players out there no coach wants to see. Rangers defensman Marek Malík was one of them. He shocked the world…with style.
One of the best goals you will ever see. Even on his back he had the presence of mind to flick the puck towards the net and hope something good would happen.