2011 NHL Stanley Cup Playoffs: San Jose Sharks Hold off Red Wings and Survive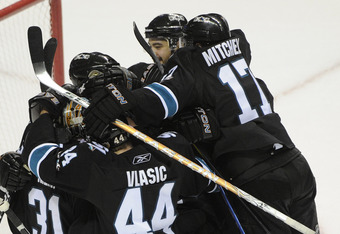 The Sharks oust the Detroit Red Wings to advance to the Western Conference Finals for the second year in a row.
Thearon W. Henderson/Getty Images
The San Jose Sharks are advancing to the Western Conference Finals for the second time in two years by having defeated the Detroit Red Wings in a seven game classic that surely will be talked about for years to come.
Someone looking from the outside might say that history repeated itself with the Sharks outlasting the Wings for one more season. However the feeling experienced by San Jose and its fans is much different these playoffs compared to one year ago.
In Game 3, both in 2010 and 2011, the San Jose Sharks were able to take a three games to none lead over the Red Wings with this season's win coming on the one year anniversary of the 2010 Game 3 win. The score in both games, one year apart, were identical: 4-3.
Yet that is precisely where the similarities ended. True, the Red Wings won Game 4 both years, but this series, Detroit truly showed why they are the Red Wings. They played much better this series than last year despite numerous injuries to key players like Johan Franzen and Pavel Datsyuk.
A turning point was the hard fought comeback that the Wings had in Game 5 in San Jose. The Sharks, holding onto a two goal lead in the third period with less than twenty minutes remaining in a series victory, let their lead slip away and Detroit took full advantage of it and won 4-3.
At the center of the devastating loss was the longest tenured Shark, Patrick Marleau. Criticized after the game for his lackluster efforts by former teammate, now analyst, Jeremy Roenick, Marleau's play hardly resembled the efforts put forth by him during the regular season.
While Marleau struggled in Game 5 and on into Game 6, the Red Wings continued their surge in momentum, using their perennial playoff heroes like Pavel Datsyuk, Nicklas Lidstrom, and Henrik Zetterberg. Those were the names a hockey fan would expect to hear in a Detroit series and for good reason. After a decisive win during Game 6 in Detroit, the Red Wings held all the momentum in the series and many analysts across the country and North America counted the Sharks all but eliminated.
But that did not happen.
Game 7 of this series proved to be a classic between two evenly matched teams boasting plenty of talent and depth. It was only fitting that it would be decided by one goal. Patrick Marleau, among plenty of other Sharks who had been criticized during the series, scored what proved to be the game winning goal. That is the way movies are made, right? It had to be Marleau who, aside from his goal, played a solid game from start to finish. Maybe Roenick's previous comments lit a fire under Marleau at the precise time needed.
Had the Sharks lost Game 7, most hockey fans would not have given due credit to the talented Red Wings for mastering a terrific comeback, but rather they would have labeled the Sharks again as the perennial postseason underachievers who seem to snatch defeat from the jaws of victory each playoff season. The criticism against Marleau might have carried much more legitimate weight and no one knows how far the frustrations felt by Sharks ownership might have carried over into another heartbreaking offseason.
Had the Sharks lost Game 7, they would not be able to shake the moniker of "playoff chokers" for years. San Jose fans would be forced to endure the knowledge that their beloved team had made history for all the wrong reasons, becoming the fourth team in Stanley Cup Playoff history to lose a series after taking a three games to none lead. If underachieving has a poster child, the Sharks would have been it.
But that did not happen.
This series, a matchup between two teams so evenly matched and talented, was truly a classic. Fans on both sides will remember how the Red Wings came back from almost insurmountable odds to force a Game 7. They will also remember how, somehow, the Sharks put on enough effort to hang on for a game seven win.
Ahead for the Sharks lies another series against President's Trophy winners: The Vancouver Canucks. That series will not be an easy task for San Jose. But the Sharks will worry about that tomorrow.
This article is
What is the duplicate article?
Why is this article offensive?
Where is this article plagiarized from?
Why is this article poorly edited?

San Jose Sharks: Like this team?