NHL Power Rankings: Datsyuk, Gaborik and the 20 Biggest Ankle-Breakers in NHL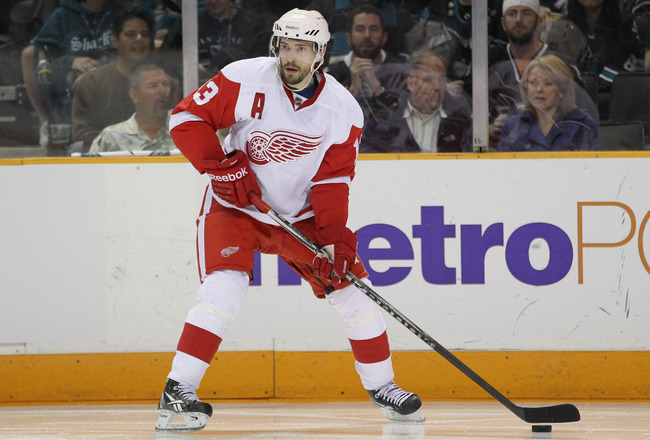 Ezra Shaw/Getty Images
Watching these guys play is mesmerizing.
There are a lot of ugly things about hockey:
Giant scars.
Missing teeth.
Stench of equipment.
Brent Sopel's hair.
However, there is nothing more beautiful than a well-executed dangle.
The following are the 20 greatest danglers in the NHL today.
20. Vincent Lecavalier
Vincent Lecavalier was born to score.
(Although, recently, he hasn't been doing it as often.)
19. Marian Hossa
Marian Hossa spites one of his former teams with this goal.
18. Alex Ovechkin
He's considered more of a sniper, but Ovie has great hands.
17. Martin St. Louis
Crazy to think that two players as gifted as Martin St. Louis and Tim Thomas could go this overlooked.
St. Louis was never drafted.
Thomas was one of three goaltenders to be drafted in the ninth round of the 1994 draft and go on to make a major impact in the NHL.
The other two?
Evgeni Nabokov and Thomas Vokoun.
15. Ilya Kovalchuk
Ilya Kovalchuk is known more for his booming shot than soft hands, but the man can dangle.
This is still one of my favorite videos ever (I know... he doesn't dangle).
14. Steve Sullivan
Steve Sullivan has been dangling forever.
At least long enough to let karma run its course.
13. Matt Duchene
Ryan Getzlaf is one of the greatest danglers in the game, but gets a taste of his own medicine from Matt Duchene in this clip.
12. Mikko Koivu
A pass-first guy who doesn't score as often as other superstars, Mikko Koivu has great hands that the Wild hope will produce more goals as time goes on.
11. Tim Connolly
Overshadowed by Thomas Vanek in Western New York, Tim Connolly is one of the most underrated danglers in the league
10. Mike Ribeiro
Amazing hands allow Mike Ribeiro to do this.
Suave, creamy, filthy; call it whatever you like.
9. Ales Hemsky
If the Oilers were more relevant, Ales Hemsky's name would ring a bigger bell among hockey fans.
However, this goal is pretty unforgetable.
8. Jason Spezza
Jason Spezza may go a little overlooked as a dangler because the Sens have become irrelevant and he's a center who usually has talent to pass to.
However, goals like this will remind the NHL community that he's got some of the greatest hands in the league.
7. Anze Kopitar
He may have great hands in regulation, but Anze Koptiar puts his best on display in the shootout.
6. Ryan Getzlaf
Ryan Getzlaf has the greatest toe-drag in all of hockey.
Hands down.
5. Sidney Crosby
Sidney Crosby was born to play.
His ability to handle the puck puts him among hockey's elite.
4. Rick Nash
Columbus is a struggling expansion franchise, but team captain Rick Nash gives the people of Columbus reason to fill Nationwide Arena.
I've seen this video maybe 20-30 times and it still makes my head spin.
Simply amazing.
3. Alexei Kovalev
Alexei Kovalev's body of work over his career speaks for itself.
2. Marian Gaborik
Marian Gaborik's magical hands have earned him some love in New York.
His stick-work was on display when he netted four against Toronto in January.
1. Pavel Datsyuk
This man is the greatest dangler in the NHL.
Somehow, at age 32 and with a hand injury he is still able to humiliate the best players in the NHL.
His fancy play against Patrick Marleau in Game 5 added insult to injury for the former Shark captain, who was called "gutless" by a former teammate after the game.
Keep Reading