NHL Playoffs 2011: The Red Wings vs. Sharks: Game 7: One Game to Decide Them All
May 12, 2011
Gregory Shamus/Getty Images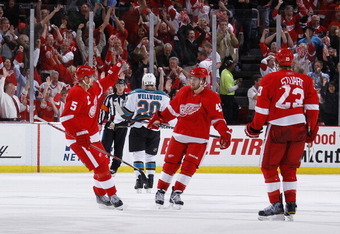 Gregory Shamus/Getty Images
The Detroit Red Wings have accomplished a lot in this 20 year run of consecutive playoff appearances. 
Some of these accolades have lead to numerous banners raised to the rafters of Joe Louis Arena.
Now, Detroit has accomplished the nearly impossible feat in coming back from a 3-0 deficit to the San Jose Sharks in the Western Conference Semi-Finals to force Game 7 Thursday night. 
However, the series is still not over.
Just because Detroit has won the last three games in a row does not mean Game 7 is guaranteed. They still have to fly to San Jose and play this last game of the series in the Shark Tank. 
The fans in San Jose will not be quiet for the game.
Detroit did win the last game there on Sunday, 4-3 after trailing 3-1 in the third period. The game did feature San Jose captain Joe Thornton pulling off a blatant dive after being hit on his skate by Johan Franzen's stick. The refs were not amused and threw him in the penalty box to offset Franzen's slashing penalty.
For an encore, Thornton took a blatant swipe with his stick to Henrik Zetterberg's skate after a pile-up in front of the Detroit net near the end of Game 6. Both Zetterberg and Jimmy Howard both wanted a piece of Thornton. Mike Babcock kept Zetterberg off the ice for the rest of game in case San Jose went after him.
This loss of composure is a good sign for Detroit. In playoffs past, whenever the opposing team starts getting stupid with their decisions, it meant that Detroit has gotten in their heads.
The end result is that San Jose might attempt some stuff Thursday night. However, after Thornton's actions over the last couple of games, he is not just going to be targeted by Detroit; the refs will also keep an eye on his actions. 
Detroit does have some heavy hitters in Niklas Kronwall, Brad Stuart, Darren Helm, Todd Bertuzzi and Justin Abdelkader. But these guys will have to be more concerned about making sure Detroit has more goals at the end of Game 7.
Abdelkader especially, as he has made some poorly timed penalties when he has lost composure. He has inherited the Kirk Maltby role to be a pest. However, he has to tone it down a bit to avoid his usual ill-timed trips to the penalty box.
Thornton and the rest of San Jose will try to start stuff, but Mike Babcock will remind his team to keep their heads up and avoid any skirmishes that could get them tossed. 
Let San Jose lose control.
Detroit has the edge as their poise and discipline. This is what has aided them in pulling off this monumental comeback. They have kept their composure as they rebuilt their confidence to get stronger and stronger after each victory in this series.
Now with Game 7 awaiting them in San Jose, Detroit will have to take control of the game and maintain it. Just like in Game 6 when they out-shot San Jose 45 to 25, Detroit has to pepper Annti Niemi with a machine gun salvo of shots.
The more shots from the more angles Niemi faces, the greater the chances that some of those shots will go in. Also, the greater the amount of shots he keeps facing, the greater the chances Niemi will get rattled.
Therefore, the penetration of the San Jose defense will be a paramount focal point of Detroit, but not just in the basic up the ice moves and set plays in the San Jose zone. They will need to keep up their highly talented passes from the defense and forwards when Danny Cleary or Helm have an angle to go full throttle and get a breakaway. 
Given another chance, Cleary will put the puck in the net.
Detroit will have to capitalize on the power play much better. With the signs that San Jose is losing its composure, Detroit might have more chances on the power play and will have to score on them. 
However, this can only happen if Detroit stops having offsetting penalties. 
Even though four-on-four hockey does open up the ice, it doesn't give either side much of an advantage. No matter what junk San Jose pulls with Thornton, Douglas Murray and others, Detroit will have to turn their cheek.
Nicklas Lidstrom's leadership as Captain will be put to the test to keep his guys focused on winning this game and not getting drawn into these penalties. He still has his great scoring touch which has lead to a couple of goals his way as well as set up others players on their scoring chances.
He has defended Thornton quite well. However, with San Jose getting last change, the rest of the Detroit defense will have to pick it up. 
Brian Rafalski has been good on defense and he is great on deep passes to the forwards as well as effective with his own shots on goal.
Kronwall and Stuart have both been a big presence on the ice for Detroit. They have collected points and a great tally of hits to keep San Jose on their toes.
Kronwall's hits on Dany Heatley and Ryane Clowe have gotten under San Jose's skin. Clowe wanted a piece of Kronwall after the Heatley hit in Game 4.
Kronwall obliged him in Game 5. Clowe didn't play in Game 6 supposedly because of the flu. It is understandable as Kronwall's hit on him in Game 5 must have messed up his immune system.
Jonathan Ericsson and Ruslan Salei will have their work cut out for them. Ericsson is the same height as Thronton. Salei is the newest guy on the defense for Detroit. 
With San Jose getting last change, they might target them with Thornton and a line involving Patrick Marleau, Heatley, Couture or Devon Setoguchi. Babcock will make sure the pairings on defense don't leave holes for San Jose to exploit.
However, Thornton and the rest of San Jose might not have many chances if Detroit can keep the forward position in their favor.
Pavel Datsyuk and Henrik Zetterberg have both proven why they two of the best players in theNHL during this series. In Game 6, Datsyuk assisted on Valterri Filppula's goal and Zetterberg got the deflection off of Kronwall's shot for his 2nd goal of the series. 
But their play has not been the only reason why Detroit has forced Game 7.
The emergence of Filppula, Cleary and Helm in this series has been a big factor in this comeback.
In Game 6, Filppula scored a sweet goal from a pass by Datsyuk to take the lead. 
Cleary nearly scored in front of the San Jose net and on a breakaway. 
Helm scored an empty goal late in the third period from nearly center ice to ice the victory.
Tomas Holmstrom and Jiri Hudler took on different roles in Game 6 which has shown that the Detroit players are readjusting to what is presented and take advantage of the opportunity.
Holmstrom nearly scored a couple of times shooting the puck instead of his usual way of deflecting it while parked in front of the goal. He also showed his flexibility with that sweet somersault after one of the scoring chances in the second period.
Hudler replacing Kris Draper in Game 6 was a concern as Hudler's play hasn't been the greatest in this series. However, he did get some scoring chances and blocked a puck so well that it ended up in his pants.
Drew Miller has also been a good performer for Detroit. He has gotten some shots on goal and will play in Game 7.
However who else plays in Game 7 will be a big decision. Franzen, Draper, Hudler and Modano have two spots to work with.
Even though Frazen has been one of Detroit's best scorers in the playoffs, his ankle is a concern—especially if it flares up during the game and he ends up sitting on the bench just like in Game 5. 
Draper brings the leadership and the experience to be a factor on both sides of the ice as well as great on face-offs. 
Modano is a living legend but does he have enough to be a factor in Game 7?
Hudler is the least experienced of the four and he did decent during Game 6, but will it be safer to turn to the veterans?
This decision will be left to Babcock. He being Babcock won't say anything until he is ready to say it.
Saving the best for last. The X-factor for Detroit in Game 7 will be Jimmy Howard.
Howard has been beyond great during the comeback. He has shown the poise of a veteran in only his second playoffs as the starter. He has faced a lot of shots from a very talent San Jose lineup. 
Each game, he gets more and more focused on not letting that puck get past him, no matter from what angle or degree of crowding in front of him. He has also done a much better job than Niemi in not giving up a ton of rebounds. 
However, a concern is if San Jose tries to get under his skin and resort to doing snow showers again. When they did it earlier in the series he was called for roughing in response to one. Also, he was ready to drop his own gloves when Thornton whacked Zetterberg near the end of Game 6. 
Howard will have to keep his cool. Don't be surprised to see the San Jose fans doing their "Howard" chance from the start.
Game 7 is going to shut down the City of Detroit. Even non-hockey fans will be watching. The superstitions by the Detroit fans will also be in full force.
Not many Detroit fans will be working well on Thursday. Their nerves and stomachs will be a mess.  
The game will not start soon enough. However, once it does, nothing else will matter.
Game 7
Detroit - 3
Cleary, Lidstrom, Miller
San Jose - 2 
Setoguchi, Couture