NHL 2011 Playoffs: Ranking the "History Will Be Made" Moments of the 1st Round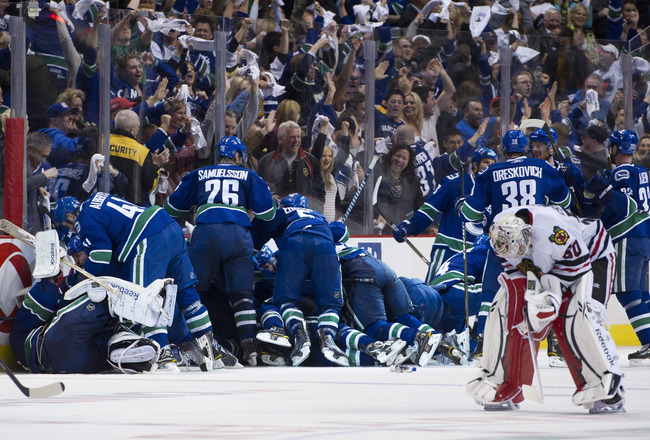 Rich Lam/Getty Images
The NHL is running a brilliant ad campaign this spring, titled "History will be made."
Defining moments of playoff games are reduced to a highlight reel sequence, and set to music as the images fade to sepia tones to give it a "classic" sports highlight feel. These ads then start running the following day after the game.
Each moment also has its own individual tag line:
"History ________. History will be made. 2011 Stanley Cup Playoffs."
These ads are being run on TV, and can also be found on the NHL's YouTube channel. I think that they are great for existing hockey fans, but they also serve as a creative way to get non-hockey fans interested.
There were 15 "History will be made" moments from the first round of the playoffs, and I've ranked them in order of significance to the series, as well as how good the video itself was. They are all fun to watch though, and it condenses the first round into an enjoyable eight minute highlight package.
Of course, this is a subjective list, so feel free to post your own version in the comments.
*An interesting note is that the Detroit Red Wings vs Phoenix Coyotes series was the only first-round series to not produce one of these defining moments.
No. 15 History Just Takes One
No. 14 History Believes in Firsts
Nashville Predators vs. Anaheim Ducks
Game 5
Jerred Smithson scores the overtime winner as the Predators take a decisive 3-2 series lead on the way to winning their first playoff series in franchise history.
No. 13 History Stands Up to Its Rivals
Boston Bruins vs. Montreal Canadiens
Game 1
Gionta scores the winning goal and Cary Price produces a shutout as the Canadiens steal the first game of the series in yet another meeting between the two Original Six clubs.
No. 12 History Can't Be Kept Quiet for Long
No. 11 History Stops Everything
Pittsburgh Penguins vs. Tampa Bay Lightning
Game 1
Marc-Andre Fleury serves up a shutout, putting the Lightning on notice that despite missing Crosby and Malkin, the Penguins don't intend to go quietly.
No. 10 History Rises to the Occasion
No. 9 History Finds a Way
No. 8 History Ain't over Till It's over
San Jose Sharks vs. LA Kings
Game 3
In one of the best comebacks in the modern era, the Sharks erase a four-goal deficit to win the all-important Game 3 by a score of 6-5 in overtime.
No. 7 History Takes the Leading Role
San Jose Sharks vs. LA Kings
Game 2
Drew Doughty scores a pair of goals and adds another pair of assists, as he leads the Kings to a 4-0 victory over the Sharks to even up the series at 1-1.
No. 6 History Answers the Call
No. 5 History Doesn't Quit
Vancouver Canucks vs. Chicago Blackhawks
Game 6
Frolik scores on a penalty shot to tie the game, and then Smith scores in overtime as the Blackhawks refuse to quit, tying the series at 3-3.
No. 4 History Happens in Double OT
No. 3 History Comes Up Jumbo
San Jose Sharks vs. LA Kings
Game 6
Joe Thornton goes a long way to shaking his playoff reputation as he scores his second game-winning goal of the series.
One of the best goal celebrations, but one of the worst titles as well.
No. 2 History Gets Better with Age
Pittsburgh Penguins vs. Tampa Bay Lightning
Game 7
Dwayne Roloson matches Marc-Andre Fleury's heroics from Game 1, pitching his own shutout as the Lightning win Game 7 and complete their comeback from being down 3-1 in the series.
No. 1 History Breaks Through
Vancouver Canucks vs. Chicago Blackhawks
Game 7
A hated rival, who beat you in the playoffs the last two years.
And who just happens to be the defending champions.
A last minute short-handed goal by the defending Conn Smythe winner to force overtime.
An overtime winner in Game 7 of a Stanley Cup playoff series.
It just doesn't get any better than that.
Keep Reading

Vancouver Canucks: Like this team?