2011 NHL Playoffs: The Red Wings vs. Sharks, the Eve of a Non-Sweep?
May 6, 2011
Jamie Sabau/Getty Images
It's not every season that the Detroit Red Wings go from sweeping one team to being on the brink of being swept just one series later.
Their play against the Phoenix Coyotes was a well-oiled machine.
Their play against the San Jose Sharks looks as though that machine rusted.
There's intensity, but not enough.
Sure, Niklas Kronwall decked Danny Heatley in Game 3, but Heatley came back from the quiet room to be a thorn in Kronwall's side for the rest of the game.
Normally, anyone decked by Kronwall isn't heard from again.
The Wings didn't do a good job of protecting their own zone. San Jose scored two of their four goals on the power play.  
What's more, Detroit's failure to properly defend their own end allowed the Sharks to put up even more goals. Devin Setoguchi was rewarded two of these goals en route to his hat-trick.
In the second period, for instance, for his second goal on the power play, Setoguchi didn't get a good stick on it, so it flopped to the net and got past Jimmy Howard—expecting a much more normal shot.
The change of speed threw off Howard's reaction and it flopped past him. 
Setoguchi's third goal, which was the OT winner, was deflected off Henrik Zetterberg's stick.
The goal was the third consecutive game winner in the series for the Sharks that came off a deflection from a Detroit player. 
Detroit did put in a better effort than in the first two games in San Jose.
Nicklas Lidstrom, Patrick Eaves and Pavel Datsyuk scored Detroit's three goals on rebounds. 
It's good to see Detroit crashing the boards to score.
The three losses should not be seen as Howard's fault—not completely. True, his job is to stop the puck from going in. However, he can't keep doing it if he has to deal with deflections off his own players, or deal with the puck not getting cleared out of the Detroit zone.
Kris Draper was brought in to spell Drew Miller and his presence was felt as he assisted on Patrick Eaves' goal. He put in almost nine minutes of ice time. 
However, Detroit scratched Mike Modano while Jiri Hudler was outplayed.
It's not that Hudler is a bad player, it's just that he can be rattled, which in turn makes him a problem on both offense and defense. 
Therefore, there is no reason to not have Modano play in Game 4—he has the playoff experience to not get rattled like Hudler. Modano is such a pro that he should stop the trend of being thrown out of face-offs, too.
Modano may not be the same player he had been a decade ago, but he still deserves to be on the ice—especially if Detroit is swept as it might be the last ever time that Modano plays in a game.
The face-offs are getting to be a joke. The refs are kicking everyone out of face-offs so frequently that it's becoming insulting. There is always a degree of cheating in the face-off, but the amount of times that referees are calling it makes one wonder if the refs even know what they're calling.
Regardless, Detroit has an uphill battle on their hands. To come back from 3-0 is not impossible—Philadelphia did it last season against Boston. Chicago almost did it this season against Vancouver, but lost in OT in Game 7.   
The simple motivator is to focus on one game at a time. Detroit needs to burn the Sharks, not just on the scoresheet, they also need to get to Niemi enough to pull him. This means a blow-out. 
They also need to protect their own zone better and keep their lead intact. They need to believe in themselves again. 
If they do lose, it's going to be the second time on the bounce that they lose to San Jose in the playoffs. The only other time this occurred to Detroit during their 20-straight years of playoffs takes us as far back as 1998 and 1999, to Colorado.
Detroit owes it to the fans to not let them see handshakes on Friday night. They have all they need to defeat San Jose, they just need to pull it together in a rabid fury to break San Jose down and not just take Game 4, but also leave the San Jose players sore from all the hitting.
The Detroit Red Wings are not out of it. They have a chance and it's time to make it happen. Hockeytown needs to play it loud.
Prediction
Game 4
Detroit:      4
Goals by Lidstrom, Datsyuk (2) and Kronwall.
San Jose:  1
Goal by Marleau.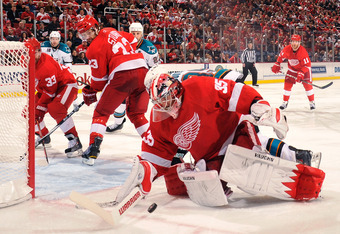 Jamie Sabau/Getty Images