NHL Officiating: Diving Penalties and Lack of Enforcement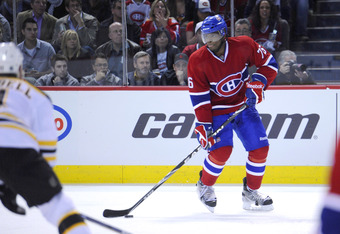 Phillip MacCallum/Getty Images
64.1 Diving / Embellishment – Any player who blatantly dives, embellishes a fall or a reaction, or who feigns an injury shall be penalized with a minor penalty under this rule.
We've all seen players take a dive on the ice and sometimes successfully draw an unfair penalty. It is a very rare occasion when the officials make the diving call. I think we can all agree that it's about time the officials start making the call more often.
When I read the word "embellishment" the very first thing I thought of was Mark Recchi when he spoke in regards to Max Pacioretty's injury back during the regular season.
"I believe, yeah, [the Canadiens] were trying to get Zdeno suspended and they embellished it a little bit."
Once those words left Recchi's mouth and found their way to the press, Montreal did not hesitate to express their feelings about the veteran's comment.
Anyway, I'm getting off topic. My point is while Max Pacioretty absolutely suffered from a fractured vertebrae and "severe" concussion; the Montreal Canadiens exhibited some of the most blatant diving and injury embellishment during their series against the Boston Bruins.
A prime example of their diving was P.K. Subban during Game 7. After taking a hit from Bruins forward Gregory Campbell, Subban chicken-winged (as Jack Edwards would say) Campbell's arm. When Campbell attempted to pull away, Subban "stumbled" backward and fell to the ice. Now, I will never doubt the ability of the Montreal rookie. He is a phenomenal player and a great contribution to their defense, but that type of play is just unacceptable.
There is no need for a man who possesses that much talent to dive in attempts to draw a penalty.
Tim Thomas couldn't have said it any better: "I have respect for the Montreal Canadiens team and the way they played that series and the way that they battled, but to be completely honest, I don't have respect for actions like that. That's a travesty to the game. That's not the way the game is supposed to be played. When I saw that happen in the first period, when he threw himself back on Campbell, it can be infuriating."
Prior to Chris Kelly's third period goal, the Bruins forward came barreling up the ice and had a small collision with Montreal defenseman, Roman Hamrlik. After viewing the play again, it looked as if Kelly's stick could have made contact with Hamrlik's face. Hamrlik lay on his stomach, and watched the entire play unfold. He sat there waiting for a penalty to be called and watched Chris Kelly tap the puck into the net.
That is where the diving/embellishment came back to bite the Canadiens in the butt. While embellishing a hit is deplorable in itself, the fact that Hamrlik gave up a goal because of it is pathetic. It's a different story when the player has actually suffered an injury. If he wasn't injured, Hamrlik should have gotten back to his feet and did everything in his power to prevent Kelly from scoring.
Hamrlik got back on his feet alright, after the goal, but it was only to the whine to the ref about the non-call during which he looked perfectly uninjured.
Canadiens fans reacted in a very extreme way upon discovering the ruling on Chara's hit. By calling the cops on the Bruins captain they seemed to be trying to send the message that head injuries are a serious matter to them. If it is, then why do they constantly feign their injuries? That's the part that truly perplexes me. It's almost hypocrisy.
The Montreal Canadiens are not the only hockey club with players that take dives. It absolutely happens throughout the league with many other teams. The recent series between the Canadiens and Bruins highlighted the need for stricter enforcement.
Now the NHL already has their hands full with the whole player safety situation, and I'm not saying this will happen, but it wouldn't hurt for them to crack down on the diving rule more often.
This article is
What is the duplicate article?
Why is this article offensive?
Where is this article plagiarized from?
Why is this article poorly edited?