2011 NHL Playoffs: Home Teams Struggle in First Round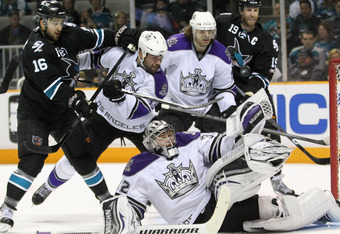 Jonathan Quick was a great equalizer getting the Kings another road win in their series vs. the Sharks
Ezra Shaw/Getty Images
After play Easter Sunday, home teams are 18-24 (.429) in the first round of the 2011 Stanley Cup Playoffs.
This is nothing new for the NHL—it is not even the worst record they have ever had through one round. But it is among the worst, and before the weekend home teams had won just two of five.
In fact, only one series has a winning record for home teams—in the Capitals-Rangers series, eventual winner Washington had the lone home win.
On the flip side, Saturday the Tampa Bay Lightning made it four wins for the road team and it took the Boston Bruins double overtime to get the first home win in five games in their series against the rival Montreal Canadiens. The Los Angeles Kings earned the fourth road win in five games later that night against the San Jose Sharks (see the game recapped here).
Why so much road success? There have been a lot of theories bandied about with varying levels of credibility...

1. Parity

There were a lot of teams in the league that were close to one another this season—nine teams in the Western Conference were separated by 10 points. A total of 22 teams finished over .500 this season thanks to a whopping 148 games being completed in overtime and 149 more in a shootout.
How much does home ice matter in the NHL playoffs?
But how does this help only the road team? If we were explaining why so many games were going into overtime or so many series going to seven games, this would make sense. But teams being close in talent has nothing to do with road success, or the Vancouver Canucks-Chicago Blackhawks (the biggest disparity at 20 points) would not have home teams 3-3 while the Caps-Rangers (14) home team went 4-1.

2. Identical rinks

A lot has been said of how all rinks are now uniform, but this has been the case for years and teams used to win at home before the lockout. It is also the case in the NFL and NBA, where home teams have much higher levels of success.

3. Distractions at home vs. focus on the road

There is something to this in every sport, and it is why coaches have often taken to putting their teams up in hotels at home in the playoffs. But again, this issue exists in other sports and does not see the same level of results it does in hockey.
So what makes hockey different?
Len Redkoles/Getty Images
For one, the pressure to win at home is a factor. Hockey is a game in which strange bounces can make or break a team—enough to change the home team from intense to tense, making it hard to perform at one's best. Teams are constantly trying to do too much or shoot too fine, causing them to waste scoring chances.
For another, line matchups are overrated. A road team actually dictates the matchups by making first choice, and can keep a team's best line off the ice by merely sending out their shutdown forward line or defence pair if the home team is too intent on keeping that line away from those defenders.
The best thing to do is send out the line best for the situation, but coaches sometimes outsmart themselves.
Another thing that is different is the combination of skill and physicality in hockey that only football can hope to match. But a loud crowd at a hockey game does not interfere with the opposing offence calling plays.
Additionally, no position in sports is as important as goaltender, making them the great equalizer since they get no advantage playing at home. Pitching comes close in baseball, and the home-field advantage is not strong in baseball either, despite variable configurations and conditions that the home team can be tailored to play in.
Finally, it is important to remember that even 42 games is a small sample size. It is possible the trend already has changed over the weekend when home teams were 4-3; they could finish as well as 26-24.
How many lower seeds besides Nashville will advance to the second round
Furthermore, a closer examination of this phenomenon reveals that home ice can still be a pronounced advantage.
In looking at the Western Conference that spans four time zones, the only series in which the road team has a winning record is in the one series that not only is being played within the same time zone, but the same state: San Jose and Los Angeles are a mere one-hour flight apart, so the road team suffers little from travel.
This distance is much those in the Eastern Conference series, and it is getting similar results. Thus, home ice is much more of an advantage the more one travels.
It typically becomes more of an advantage later in the playoffs, and it is not on a game-by-game basis as much as over the course of the series and the playoffs as a whole.
Since the lockout, higher-seeded teams have a 24-16 series record in the first round and 44-29 in subsequent rounds. Four Stanley Cup champions have been No. 1 or No. 2 seeds (the other was fourth-seeded Pittsburgh in 2009).
True, higher seeds should win more often. But comparing the conferences' records show once again how much more pronounced it is the more traveling that is involved.
In the Western Conference, the higher seed won the opening-round series three of four times in each of the last four seasons, as opposed to the 8-8 combined record among Eastern Conference teams. They went 2-1 in the two rounds after that each year, compared to a composite 5-7 in the less-traveled conference.
In other words, the main culprit for the road team success appears to be proximity, not any of the explanations being given nationally.
This article is
What is the duplicate article?
Why is this article offensive?
Where is this article plagiarized from?
Why is this article poorly edited?

San Jose Sharks: Like this team?