LA Kings: 5 Reasons Why They Won't Make It Past Round 1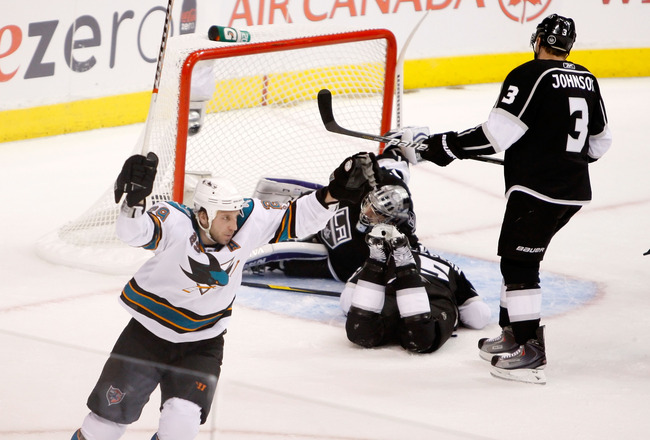 Harry How/Getty Images
For a team that held the Western Conference lead for a bit of the regular season, it's a surprise to think they would make such an early exit out of the postseason, especially when they are playing against the Sharks, a team notorious for being seemingly cursed in the playoffs.
As exciting as the matchup seemed to be—who doesn't enjoy two teams from the same state duke it out—it has been quite lopsided in favor of the San Jose team.
So what exactly makes this first round such a disappointment for the Kings and why is it they won't be the victors in this best of seven series?
Here are my five reasons why the Los Angeles club will hanging the skates up early with an arguably premature bow out of the playoffs.
1. Jonathan Quick Slowed Down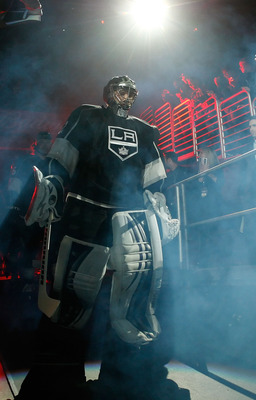 Harry How/Getty Images
Okay, maybe Jonathan Quick hasn't necessarily slowed down, but it was a nice pun while it lasted, and Quick has absolutely struggled against the red-hot Sharks scoring.
Los Angeles' starting net minder currently is burdened with a 3.49 goals against average, ranking him 17th out of the 23 starting goalies, and has a .894 save percentage, ranking him 16th.
For a goaltender that had an impressive 2.24 goals against average in the regular season, these stats pretty much sum up why the Sharks are leading the series 3-1, and tonight could be the Kings' last game of this season.
2. Fatigue Weighs Heavy in Overtime
Harry How/Getty Images
This reason might seem a little bit far fetched, but when you look at the record for the Kings, it almost makes sense.
The Kings have managed to tie up game one at two goals forcing the game into overtime, however they lost the game in that first extra frame of hockey.
Then in game three, the Kings threw what seemed to be a surefire win and let the Sharks catch up from a four-goal deficit to the LA boys, and eventually after the game was tied at five goals, San Jose managed to pull out another win in overtime.
All in all, when the game ends regulation tied, it hasn't spelled any sort of good news for the Kings and possibly that's because of fatigue.
3. Los Anze-Less Kings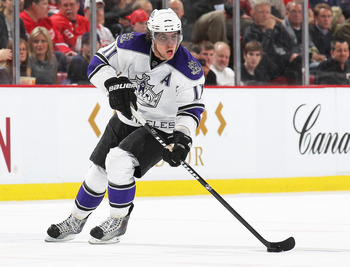 Claus Andersen/Getty Images
When you have one standout player, like Anze Kopitar, who leads the team by a safe margin in assists, points and +/- rating, I see it as almost having all your eggs in one basket.
And if—or with the Kings, when—tragedy strikes and that star goes down, what can you do?
Kopitar averaged just below a point per game played, so when he went down with a serious ankle injury late in the regular season, you could almost hear all the Los Angeles fans groan from most of California.
The Kings have been scoring, however it's not if you can score, it's if you can score more and without Kopitar, they have struggled to outscore the Sharks.
4. Home Ice Disadvantage?
Harry How/Getty Images
The Kings had an impressive record at home during the regular season, but come the postseason they can't manage to come out on top when playing in front of their home crowd at the Staples Center.
Los Angeles managed to tie the first game, only to lose it in overtime, and had their only win of the series in game two at HP Pavilion with a decisive 4-0 shutout win.
Once LA was playing host to the Sharks, things turned south, and ended up losing their four-goal lead in Game 3, where they lost in overtime. In Game 4, the Sharks just completely dominated with a 6-3 win.
When a team struggles to win in front of their own crowd, you know that the series isn't going well and considering how problematic the Staples Center has been for the Kings, they won't be lasting much longer in this series.
5. Defense Not Fit for Kings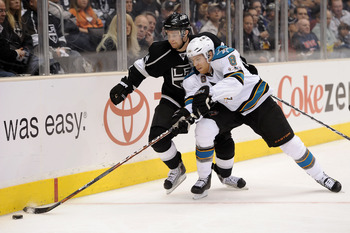 Harry How/Getty Images
When playing against a team, like the San Jose Sharks, who have some of the most impressive offensive depth in the league, you cannot have any holes in the defense.
Apparently no one told this to the Kings.
The Kings had amazing defensive strategies and talents during the regular season, but for some reason, their pairings have recently lost the pep in their step, and now are carrying a second worst shots allowed per game average with 35.5.
Los Angeles propelled themselves into the postseason mainly because of their strong defense, something that didn't manage to carry into the playoffs, and could be the reason for the Kings' early exit.
Keep Reading

Los Angeles Kings: Like this team?