2011 NHL Playoffs Canadiens vs. Bruins: The Good, the Bad and the Ugly of Game 4
April 22, 2011
Phillip MacCallum/Getty Images
Well that was fun wasn't it? 
Three times the Montreal Canadiens had a lead on the Boston Bruins and three times they let it waste away. For every nice shot, pin point pass and dazzling display of skill, there was a blown coverage or a bone-head play.
For a team that seemed to be controlling the pace of the game, the Habs looked tentative on too many occasions. Every time they built up a lead, they looked like they knew they were about to blow it.
Too be honest, I have no idea why. Their top goal scorer has been a complete non-factor and Tim Thomas hasn't been able to control a rebound to save his life. Also, and they proved it in the third period of game three, when they're on their game, the Canadiens are a better team than the Bruins.
They are clearly faster, have more productive forwards, a stronger goalie and have yet to show any signs that their size is an issue.
Make no mistake, this is a huge letdown for the Habs. They could have taken a stranglehold on this series and they choked. They lost home ice advantage and gave the Bruins the confidence they need heading into game five.
Before I get carried away by how far this team missed the boat last night...here are the Good, the Bad and the Ugly from last night's contest.

The Good
Patrice Bergeron has been the B's best player thus far. In four games, he's a plus three, has five points, 12 hits and is well above 60 percent on the draws. Last night, he had two points and made Gomez's life miserable all night. If the Habs are to win this series, they need to find a way to shut this guy down.
Mike Cammalleri has once again proven that he is an absolute beast in the playoffs. He was a nightmare for the Bruins in the offensive zone, had three points and was relentless on the forecheck.There was an instance early in the game in which Gill had him wide open and decided to wind up and blast one instead. I'm just saying.

The Bad
Despite promising a goal, Milan Lucic was once again kept off the score sheet. Hey, on a night like this, you take your victories wherever you can find them.
Although he scored the game's first game, Brent Sopel did not look good on this night. He had two giveaways, was on the ice for three Boston goals, and was especially at fault on the fourth one, where he simply lost the puck in his skates. A buddy of mind turned to me after that play and mentioned Josh Gorges. If only...

The Ugly
That line change in overtime was absolutely brutal. This is the playoffs. You make sure the puck is cleared before you go off. There is simply no excuse for that brain fart.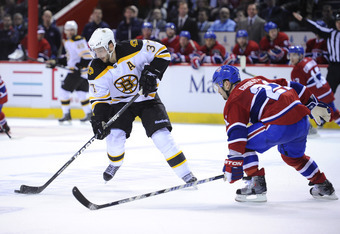 Phillip MacCallum/Getty Images