2011 Stanley Cup Playoffs: Bruins vs. Canadiens, Game 4 Live Blog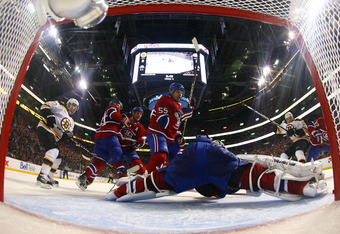 Phillip MacCallum/Getty Images
Just moments away from Game 4 between the Montreal Canadiens and Boston Bruins, it appears as if Jeff Halpern will be in for the Habs, while Boston will make no roster changes for tonight's 2011 Stanley Cup Playoff game.
With the Bruins yet to put together a full 60-minute game, it will be interesting to see which Bruins team shows up—the one that played so well through the first two periods of Game 3, or the one that almost let a huge lead slip away in the final period of that very same game.
The Bruins netminder was money down the stretch, making a number of great saves, which, in turn, made it possible for the Bruins to pull off their Game 4 win.
The home team is yet to win a game in this series. Montreal is bound to be extremely loud tonight, which should give the Habs a boast throughout the game.
As is the case in every playoff game, it will be to the Bruins advantage to get off to a quick start. The team that has scored the first goal has won every game, so it's a good omen to score the games first goal.
Carey Price called out his teammates after the Habs Game 3 loss, questioning their readiness to play and intensity levels both before and throughout the game.
Will the Habs respond for their goaltender, or will they come out flat as they did in Game 3?
Milan Lucic is yet to score a goal for the Bruins thus far. A big reason he has been kept off the scoreboard has been the stellar play of P.K. Subban, who, in my opinion, has owned Lucic all series long.
Along the same line, Habs forward Tomas Plekanec has put on a defensive clinic, keeping Bruins forward David Krejci to just one goal thus far.
Win Game 4 and you can all but call the Habs the winner of the series. Lose, and the Habs will have to win go back to Boston for what could be the final two of three games in the series.
Will the Bruins nullify the Habs two-game sweep of the Bruins at the Gardens by accomplishing the exact same thing in Montreal's building? That remains to be seen, but if they do, you can all but reset the series.
That's all from me...
Until next time,
Peace!
Wow! Home team is yet to win a game yet...who'da thunk it?
Can't blame Price—both D were bad tonight says CBC
Ryder, from Peverley and Kelly!
Subban looks like the goat on that one—bad line change
Happy to be wrong about the winner of tonight's game—now we have a wicked series ahead of us!
And just like that Michael Ryder scores OT winner!!!! BRUINS WIN< SERIES TIED 2-2!!!!
Road team has won three of five OT playoff games thus far
Subban makes nice rush, but is turned away by Bruins
Plekanec shot blocked—habs all over the Bruins to start OT
I'll say the Habs win, ten minutes into OT
Which team will answer the bell in OT?
Still no power play goal from the Bruins...and still no sign of Milan Lucic...not to beat a dead horse or anything.
Which player is your pick for overtime hero?
Habs—Gionta
Bruins— Recchi
shots were 29-10 (Montreal) at the midway point of the second—again, Montreal ended the game with a 36-34 lead, but great job from Boston shutting Montreal down in the second half!
Cherry talking about Montreal's penchant for shooting that low/hard shot that I have been eluding to all night which leads to all those huge rebounds Thomas has been giving up
Mark Recchi pointed out as a great player tonight
Don Cherry says of the Montreal defense—"Never seen a defense play worse—all over the ice—not awake at all—something wrong with that defense—"
36-34—Montreal leads in the shots department
Scoring summary—Note: Kelly did score the tying goal!
1st Period 08:13
MTL Brent Sopel (1) Slap Shot - Assists: M. Cammalleri (4) & D. Desharnais (1)
2nd Period 02:13 BOS Michael Ryder (1) Wrist Shot - Assists: T. Kaberle (1) & C. Kelly (1)
06:52 MTL Michael Cammalleri (2) Wrist Shot - Assists: B. Gionta (1) & S. Gomez (3)
07:47 MTL Andrei Kostitsyn (2) Tip-In - Assists: T. Plekanec (1) & T. Moen (1)
09:59 BOS Andrew Ference (1) Slap Shot - Assists: B. Marchand (2) & P. Bergeron (3)
17:04
BOS Patrice Bergeron (2) Wrist Shot - Assists: B. Marchand (3) & D. Seidenberg (2) 3rd Period
01:39 MTL PPG - P.K. Subban (1) Wrist Shot - Assists: J. Wisniewski (2) & M. Cammalleri (5)
13:42 BOS Chris Kelly (2) Wrist Shot - Assists: R. Peverley (1) & M. Ryder (1)
Third period ends, Bruins get shot off just before the final siren goes...OVERTIME!!!
Penalty over—Habs get two shots, fail to score
Thomas makes another huge save
Bruins dump puck into Montreal zone, 0:15 left on PP
1 minute left in the third
Huge save Thomas from shot in the slot
This article is
What is the duplicate article?
Why is this article offensive?
Where is this article plagiarized from?
Why is this article poorly edited?

Montreal Canadiens: Like this team?