Montreal Canadiens vs. Boston Bruins: The Good, the Bad and the Ugly After Two
April 18, 2011
Elsa/Getty Images
After two games in beantown, the Montreal Canadiens are up 2-0 on the rival Bruins.
If you would have told a lot of pundits that this would be the score after two games, they would have laughed at you.
The Bruins were too big. Tim Thomas has been too dominant all year long. Zdeno Chara is a tree of a man that simply can't be cut down (although like a tree he needs plenty of water).
The Habs were too soft and too small. They've got an anchor for a first line center and have holes throughout their lineup.
Like most instances in hockey, the "pundits" and "experts" were wrong—very, very wrong.
The Canadiens have managed to expose some major holes within the Bruins lineup, while many of Boston's top players simply haven't met expectations.
With the series heading back to la Belle Province, now would be a good time to look at the good, the bad and the ugly from the first two games.
The Good:
I could go in a lot of directions here.
Firstly, and it goes without saying, Carey Price has been absolutely stellar. His positioning has been perfect and he's been gobbling up almost every puck sent his direction.
Secondly, Thomas Plekanec has been the best shutdown centerman of the playoffs thus far.
The Bruins top line has been completely stifled by the Habs best forward. David Krejci, Nathan Horton and Milan Lucic haven't produced any offense and it's mainly due to Plekanec's constant forecheck.
Finally, and only because I'm trying to stay brief, James Wisniewski has stepped up his game tremendously since the second season has started.
What's impressed me most about Wisniewski is his ability to lead the rush. If you watch him attentively throughout a game, you'll notice his ability to consistently get the puck to a player in motion. His passes have been precise and crisp.
Wisniewski has been the engine behind the teams attack and the architect behind its most successful rushes up the ice.

The Bad:
Boston's attack has been utterly terrible throughout the first two games.
Despite all their efforts, and an intense practice which focused on attacking the net, the Bruins have failed to create traffic in front of Carey Price.
The Habs have managed to keep the much bigger Boston forwards to the outside by maintaining a very tight defensive system, which hinges on the forwards coming back to support the defense corps.
The Ugly:
Tim Thomas has been horrible throughout the first two games.
Thomas has been fighting the puck since the opening faceoff and seems to have lost his confidence. The insurance goal from game one was a stinker while all three goals in Game 2 came off rebounds that Thomas couldn't control.
If the Bruins are too have chance of getting back into this series, they need Thomas to play like Thomas.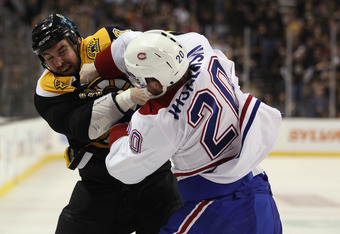 Elsa/Getty Images