James Reimer: How Much Should He Play Next Season?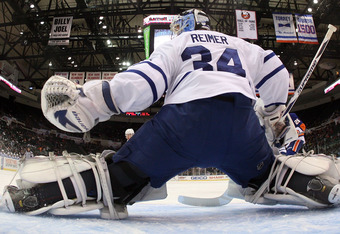 Bruce Bennett/Getty Images
The story is a familiar one by now, but remains an engaging read:
On Dec. 30th, 2010, the Toronto Maple Leafs, sporting a 13-19-4 record, were sitting 14th in the Eastern Conference, and 28th overall. Only the New York Islanders (who were being ravaged by injuries) and the Edmonton Oilers (who were, by all rights, probably deserving of AHL competition) had displayed greater hockey ineptitude at that point in the season.
Jonas Gustavsson had lost his fourth game in the last five (to the Columbus Blue Jackets) and appeared to be a mere shadow of his 'Monster' self. Jean-Sebatiane Gigeure had stretched his 33-year-old groin, fans were being arrested for refreezing their Eggo breakfasts on the ice, and the Toronto media base appeared ready to stone Ron Wilson in the street. It was getting ugly–something clearly needed to be done.
What was done, a sign of complete desperation, may prove to be the most important moment in Maple Leafs' sports in the last decade. An unknown and unheralded rookie, James Reimer, who had just been called up from the AHL to take up the role of backup goalie while Gigeure was on the mend, was offered his first NHL start. Little expectation had been built up; little hope was had. Indeed, the move appeared to be the first indication that Leafs' management had completely thrown in their own waffles on the 2010 season.
The start, on Jan. 1st, 2011, was against the Ottawa Senators, who at the time were seven points ahead of the Leafs in the standings. Still believing that they were in the playoff hunt, the Senators played the Leafs tough, outshot them 32-21, and peppered the inexperienced goalie with tough shots from every angle they could. But Reimer was up to the challenge: he stopped 31 of 32 shots, allowed the only shot that got passed him during a five-on-three disadvantage, and helped catalyze a surprising 5-1 rolling of the Senators.
How Many Games Should Reimer Play Next Season?
Nobody quite new what to make of it. The 23-year-old had performed amazingly well in his first NHL start, but how much could be made about one good start? Sure it was the Leafs most lopsided win since the 2nd game of the season (which was also, strangely, a 5-1 win over the Senators), but still: the kid was a rookie, the team remained 28th in the league, the towel had already been thrown in on the season...what was really to get excited about?
The rest of the story is, of course, well-known to any Leafs' diehard:
After a short (and completely inexplicable?!) stint back in the AHL (during which Gustavsson/Gigeure, for the record, went 1-4 and let in a combined 21 goals), Reimer started all but four of the Leafs remaining 34 games, amassed a record of 20-10-5, sported an impressive .921 save percentage, and almost (almost!) managed to single-handedly catapult the Leafs back into a playoff birth in the East.
In fact, if not for some equally impressive runs by the New York Rangers (who finished the season 9-3-1) and the Buffalo Sabres (who finished the season a remarkable 13-3-2), Reimer's performance very well may have been enough to give the Leafs their first 1st-round playoff birth in the past six years.
Unfortunately, as we all know, even Reimer's heroics could not stop the playoff run from falling slightly short. The Leafs' ineptitude during the first half of the season was just too much to overcome, and the Rangers and Sabres final pushes were just too great.
And so sights must now be set on next season. And question abound:
Should Reimer be the starting goalie next year? And if so, how much should he play?
The answer to the first question seems pretty obvious: there seems little question that even if the Leafs had other options (which they don't), Reimer's play last season was so exceptional that it would seem almost unfathomable for him to not be at least given the opportunity to charm the Leafs' faithful a second time around.
However, the answer to the second question may be considerably more difficult. On the one hand, with the current choices being Reimer, Gustavsson, and Gigeure, fans may want to see Reimer between the pipes as often as possible. At the same time, there are good reasons to believe that the Leafs should make a concerted effort not to push the kid too far, too quickly. Granted, Reimer seemed to stand up to the pressure of the Leafs' win-or-die playoff push remarkably well. But there are reasons to believe that fatigue may have reduced his effectiveness last season, and so it may not be wise to play him too much next season.
Disagree? Well have a look at the following stat, which displays Reimer's performance, based on the number of days rest between starts:
# of Days Rest Between Starts Shots Goals GAA SV%
1 476 50 3.50 .895
2 358 23 2.05 .936
3+ 170 9 1.81 .947
As can be seen, Reimer was significantly more effective when he was given at least two days of rest between his starts. Indeed, his effectiveness in games when he had less than two days of rest was down-right mediocre: the Leafs could expect to win with only two goals if Reimer had at least two day of rest, but needed four in games that Reimer had to play back-to-back, or on a single night's rest.
Don't get me wrong, I'm hardly trying to criticize the kid, but a 3.50 goals against average lines Reimer up with some of the worst goalies in the NHL, and certainly isn't what Leafs fans are looking for. Moreover, if all Leafs management has to do to keep the kid at his best is to make sure that he gets sufficient rest throughout the season, then this is an easy and obvious step to take.
Granted, Gustavsson and Giguere were somewhat reminiscent of sieves for most of last season, but if putting them between the pipes for 20 or 25 games next season will keep Reimer at a top level all season, then the Leafs would be crazy not to do it. Better yet, perhaps the Leafs can land an experienced back-up goalie in the free agent market to help shore things up back there.
Regardless of the solution, the first step is recognizing the problem. And so my greatest hope is that Leafs management is analyzing Reimer's performance sufficiently to recognize when he's at his best, and what they can do to maximize his effectiveness. Granted, they could just start reading my Bleacher reports for additional tips on how to manage the team...but hopefully Burkie is capable of doing at least some of the grunt work for himself (heh heh).
* * *
Interested in more of my opinions? Check out my recent article on why the leafs should wave goodbye to Clarke MacArthur:
www.bleacherreport.com/articles/673945-toronto-maple-leafs-why-mac-should-not-come-back
This article is
What is the duplicate article?
Why is this article offensive?
Where is this article plagiarized from?
Why is this article poorly edited?

Toronto Maple Leafs: Like this team?