2011 Stanley Cup Playoffs: 10 Burning Questions for the Montreal Canadiens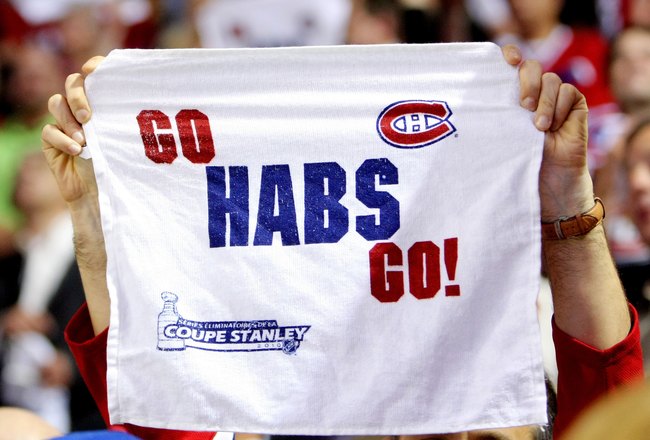 Dave Sandford/Getty Images
Finally, the playoffs are upon us. After 82 grueling games, we're finally at the important stuff. And boy did it take long to get here.
We've witnessed countless injuries, the disappearance of Scott Gomez, the emergence of Carey Price, the ups and downs of P.K. Subban, more injuries...
Fortunately, we're passed that now. We can start focusing on the second season. The games that really count.
Just like the beginning of the season, however, there are a number of questions still hovering around this team. These are the 10 burning questions for the Montreal Canadiens heading into the 2011 Stanley Cup playoffs.
Can Carey Price Win in the Playoffs?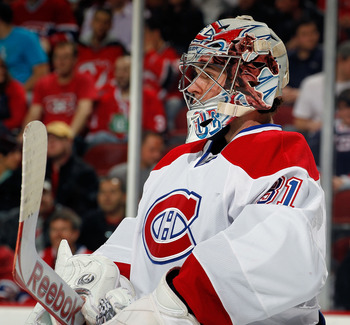 Paul Bereswill/Getty Images
Last year, the Habs benefited from an almost surreal performance from Jaroslav Halak.
With Halak leading the way, this team managed to upset the Presidents Trophy winner and the defending Stanley Cup champions. The question on everyone's mind this year is whether Carey Price can do what Halak just one year ago.
If you were to look at Price's previous playoff experience, you wouldn't be overly optimistic.
Aside from his Game 7 victory against the Bruins in 2008, the number aren't great. In fact, they're pretty bad.
In 19 games, Price has five wins. In the past two years, his save percentage is under .900 and he has a goals against average of 3.8.
Good thing numbers don't win games.
Habs fans have seen a different Price this season. He no longer seems disinterested. He doesn't give up many bad goals. When he does, he no longer implodes.
He has been the single most important reason for the team's success this season and has been the team's MVP from start to finish. Price has excelled at every level he's played in, and it was only a matter of time before he would do the same at the NHL level.
If Price is able to maintain his current level of play throughout the playoffs, the Habs have another shot at making a lot of hockey "experts" look like fools.
Will Scott Gomez Show Up?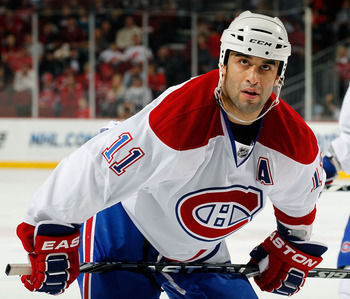 Paul Bereswill/Getty Images
Simply put, Scott Gomez was absolutely terrible this season.
The highest-paid player on the team scored a grand total of seven goals and and 31 assists.
Gomez often seemed disinterested or lost on the ice. He was horrid defensively and was below 50 percent in the faceoff dot.
He was so bad that fans began to turn on him near the end of the season. Fans are wondering whether or not this is the Gomez they'll get come playoff time.
Despite his recent regular-season struggles, Gomez has always been a strong playoff performer. Over his past five playoff appearances, Gomez is scoring 0.95 points per game. This is leading some to believe that he's saving his best for crunch time.
It's hard to believe.
Gomez failed to show up in the latter parts of the season when his team was in a dogfight to secure a playoff spot. He failed to show up when the team's No. 1 center, Tomas Plekanec, went down due to injury.
He just didn't show any signs all year of being the player he once was.
Hopefully, Gomez does have another gear. A strong playoff performance will go a long way in making fans forget about his disastrous regular season. It would also go a long way in helping his team get past the Bruins.
Will Mike Cammalleri Dominate Once Again?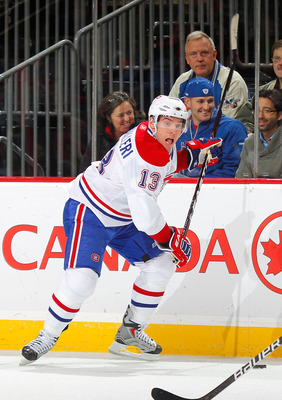 Paul Bereswill/Getty Images
Last season, Cammalleri had some trouble coming back from an injury. But started to round into form toward the end of the season, scoring 13 goals in 19 games last spring. This season, he had some difficulty coming back from an injury, but has now scored six points in his last six games.
Starting to sound familiar, isn't it?
Cammalleri seems to be the type of player who has trouble coming back from injury. He seems to need some time to round into game shape. But when he does, he's one of the more dangerous goal scorers in the league.
Last year, prior to getting hurt, Cammalleri was on pace for a 40-goal season. Aside from Halak, Cammalleri was the best player in the playoffs last year,
Once again he looks like he's primed for a big performance.
If the Habs are to get past the Bruins, they'll need their best sniper to start lighting the lamp.
Is This Benoit Pouliot's Last Chance?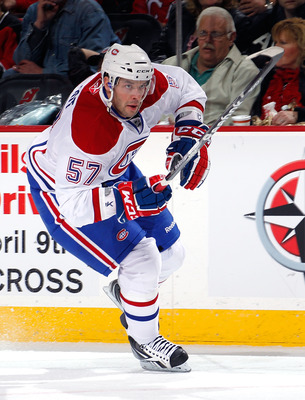 Paul Bereswill/Getty Images
Benoit Pouliot is as close to being a total bust as you can get.
Expectations were high when he was drafted fourth overall, and he has yet to deliver. In Minnesota, he was relegated to the fourth line.
After some initial success in Montreal, he has once again become the lethargic and enigmatic player he was with the Wild. Every time he is given a chance to shine, he fails. After another disappointing campaign, this may be Pouliot's last chance in Montreal.
A strong-to-halfway decent performance by the talented winger will go a long way in garnering the forward a contract for next season.
After struggling to cement his place in Montreal over the past two years, this may be his last chance.
Will Jeff Halpern Provide the "Dominic Moore" Effect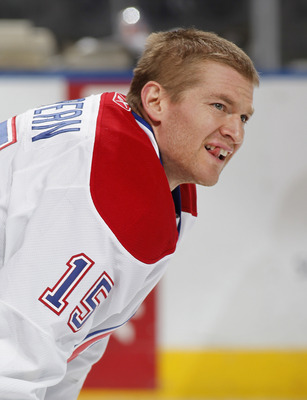 Joel Auerbach/Getty Images
Last year's team had something that Canadiens teams in recent memory were lacking: a checking-line center.
By acquiring Dominic Moore, the Habs found themselves a center capable of winning key faceoffs and keeping top opposing forwards in check. Coincidentally, the Habs advanced further than they had since their 1993 Stanley Cup run.
This year, the duties of the checking-line center will fall to Jeff Halpern.
In the early parts of the season, Halpern was amongst the league's best in faceoff percentage, was strong defensively and was chipping in offensively.
Naturally, Jacques Martin found the need to move him to first-line wing. It flopped and now Halpern is back to his natural position.
Hopefully, for the Habs sake, he'll be able to help this year's team like Dominic Moore did in the past.
What Impact Will Max Pacioretty Have?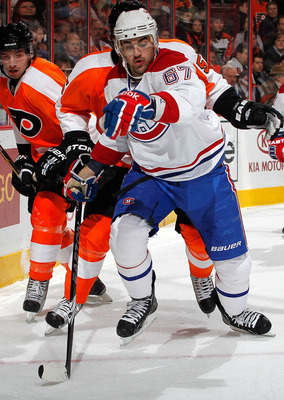 Paul Bereswill/Getty Images
A few weeks after the incident on March 8th, word had surfaced that Max Pacioretty was recovering at a remarkable rate. There was some hope that he might be ready come playoff time.
He won't.
According to the Montreal Gazette, Pacioretty isn't close to returning and won't be playing in the first round of the playoffs.
He still have an impact, however. With the Zdeno Chara and the Bruins making their first appearance in Montreal since the now-infamous incident, the crowd is going to be white hot.
Perhaps and even louder than usual Montreal crowd will play to the home team's advantage.
Will Lars Eller Get Any Ice Time?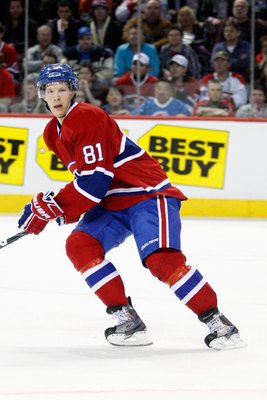 Richard Wolowicz/Getty Images
Jacques Martin doesn't like players who take a lot of penalties. He also has a penchant for playing veterans.
With this in mind, Lars Eller's chances of getting any significant ice time simply don't look good.
Everyone knows that the playoffs are a pressure-packed environment. Young players often have difficulty adjusting to the increased speed, intensity and overall level of play in the second season.
We've seen, throughout this season, that Eller get nailed to the bench after getting one measly penalty. And that was the regular season.
Now that every shift is of the utmost importance, I don't see Martin giving the young Dane any second chances.
Eller being relegated to the end of the bench or the press box seems inevitable.
Can This Team Overcome All the Injuries?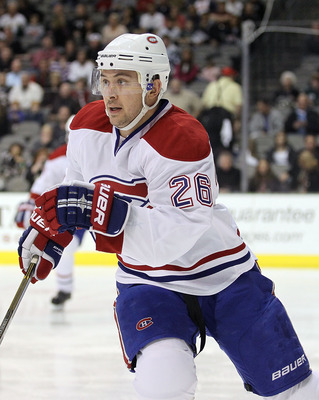 Ronald Martinez/Getty Images
Last year, the Habs made it to the conference finals without its best defenseman.
This year, fans are expecting that they do better without one of its best defensive defensemen, its only power forward and once again without Andrei Markov.
It's sad really. Fans never had a chance to see this team at full capacity.
Who knows, maybe they'll surprise us once again.
Can Jacques Martin Really Coach?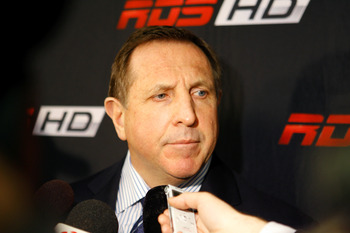 Phillip MacCallum/Getty Images
It seems as though there are constant questions about Jacques Martin's coaching ability.
Meanwhile, Martin has led this team to a conference finals appearance in his first year. He has guided the Habs to a sixth-place finish this season despite a plethora of injuries. He has helped Max Pacioretty and P.K. Subban develop into exceptional talents.
He has carried himself with class despite the constant criticisms from fans and a constantly agitated local media.
Jacques Martin doesn't receive any credit when its due. Sadly, Martin will once again need to lead his team to some measure of success if he is to silence his critics...temporarily at least.
Was Last Year a Fluke?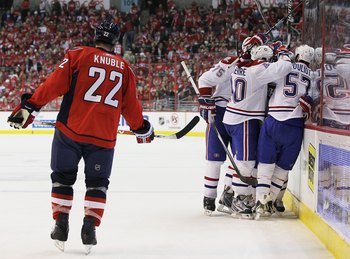 Bruce Bennett/Getty Images
Was last year just an aberration? Was that team of undersized overachievers really that good?
Did they earn that trip to the conference finals or did they just ride a hot goalie?
These questions have hung over this team since they were eliminated at the hands of the Flyers.
Finally, the Habs have a chance to show their doubters wrong. They have a chance to show the world that they have what it takes to succeed and that last year was a sign of more to come.
Scott Gomez has a chance to prove that he still has what it takes to be a No. 1 center in this league.
Mike Cammalleri has a chance to show the world that he is still one of the most dangerous players in the world.
Carey Price has a chance to make everyone in Montreal forget about Jaroslav Halak.
Then again, this team could fold over to the bigger, stronger and more intimidating Bruins. They could prove their critics rights and have the fans demanding change at all levels of the organization.
Whatever happens, one thing is for certain.
This is going to be fun to watch.
Keep Reading

Montreal Canadiens: Like this team?