NHL Playoffs 2011: First Round X-Factors and Predictions, Pt. 1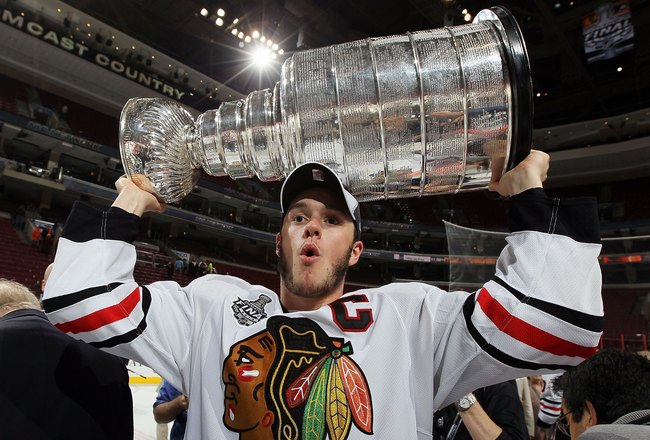 Who will be the nest Captain to hoist the Cup?
Jim McIsaac/Getty Images
The 2010-11 NHL regular season has come to an end, and once again, we are left with excellent match-ups to begin the Stanley Cup Playoffs.
In case you've been living and/or trapped under a rock for the past couple of weeks, here are the first round match-ups:
Eastern Conference
#1 Washington Capitals v. # 8 New York Rangers
#2 Philadelphia Flyers v. #7 Buffalo Sabres
#3 Boston Bruins v. #6 Montreal Canadiens
#4 Pittsburgh Penguins v. #5 Tampa Bay Lightning
Western Conference
#1 Vancouver Canucks v. #8 Chicago Blackhawks
#2 San Jose Sharks v. #7 Los Angeles Kings
#3 Detroit Redwings v. #6 Phoenix Coyotes
#4 Anaheim Ducks v. #5 Nashville Predators
These pairings are absolutely incredible. There are tons of things to speculate as to how these series' will unfold, but I believe the subject of most importance are the 'tide-turners'. Yes, a tide-turner as in the X-factors for each squad.
Note, that these predictions are for only the series beginning on Wednesday. Along with my predictions, I will reveal what I believe to be the most important players and tactics for each team trying to battle their way to Lord Stanley's glorious Cup.
No. 1 Washington Capitals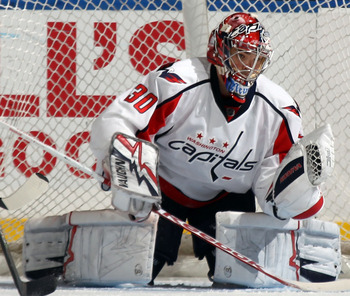 Michal Neuvirth
Bruce Bennett/Getty Images
What a frightening match-up this could turn out to be for both teams. On one end, you have a Capitals squad who's been arguably the hottest team in the NHL since the All-star break, after having climbed to the top of the Eastern Conference standings.
They also have a fairly deep goalie corps, which despite its excellence also comes with a heaping load of questions and concerns. Don't be surprised if we see a faltering Michal Neuvirth, Semyon Varlamov in a backing role, as well as Braden Holtby in his natural savior manor.
Washington X-Factor:
Goal tending. If the Capitals want to advance, then it will be up to Michal Neuvirth to keep his head, and play at the top of his game. Fortunately for Neuvy, has two more than average keepers who will be ready to step in if he cracks.
No. 8 New York Rangers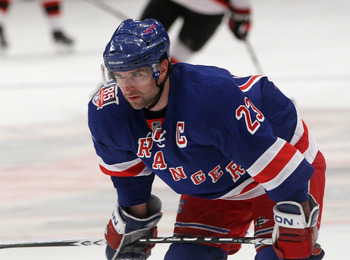 Chris Drury
Jonathan Klein/Getty Images
On the other, John Tortorella has his team in a seemingly cross situation. I say this because surely the Rangers are jacked that they made it to the playoffs. Even though a vital player in Ryan Callahan has been ruled off the ice with a broken ankle, they have just been blessed with the return of their captain, Chris Drury. It appears the Drury is ready to make an immediate impact after scoring in his first game back from injury.
Despite all of the positives going for New York, one has to question their intensity after failing to control their destiny to the playoffs.
New York X-Factor:
Intensity and Passion. The Rangers can win this series, but it won't be easy. I think they have the talent to do so, but their drive and leadership will be vital in their success. If they play only like they want to win, and not like they need to win, then they'll be sent packing.
No. 1 Washington Capitals vs. No. 8 New York Rangers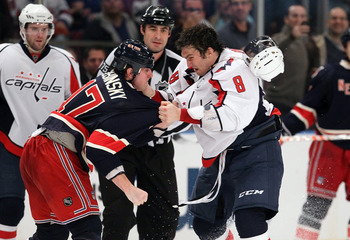 Ovechkin and Dubinsky clash.
Jim McIsaac/Getty Images
Prediction:
Washington advances. There's no chance that Boudreau and Co. let the 8th seed get the best of them two years in a row. This will be achieved by their newly focused defense, and blooming offense. Ovi and the Caps will get it done.
No. 4 Pittsburgh Penguins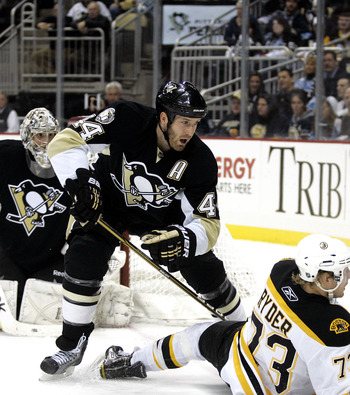 Brooks Orpik
Justin K. Aller/Getty Images
It looks as if the Penguins will be without Sidney Crosby for their run at their second Cup in three years, but as the standings show, this doesn't really matter. The Penguins have kept a relentless pace as they've tried to cope with the loss of not only Crosby, but their second best player, Evgeni Malkin. Somehow, the Pens have been able to do it offensively, which makes me think that if they had sustained as much damage to their defense as their offense has, they'd be in a whole different boat.
Pittsburgh X-Factor:
Defense. The Tampa Bay triumvirate of Lecavalier, St. Louis, and Stamkos is stellar, and don't expect them to be much less starting Wednesday night. This being said, The Penguins defensive lines need to be on the balls of their feet, or is it 'tips of their skates'? Said either way, they need to be ready for the Lightning, and if they aren't I think Tampa Bay will be able to get into Marc-Andre Fleury's mindset and crack his brilliance, along them to take advantage, and take a series win.
No. 5 Tampa Bay Lightning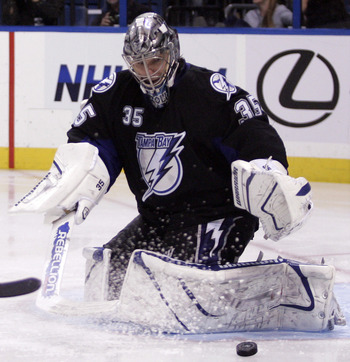 Dwayne Roloson
Justin K. Aller/Getty Images
The second half of the Lightning's season hasn't been quite as proficient nor prolific as the first half was. In the beginning of the season, Tampa Bay was sensational. Don't get me wrong, the team can still be sensational, but not as regularly as before the All-Star Break. Unfortunately, GM Steve Yzerman hasn't really received what he had hoped fro when he picked up Dwayne Roloson. I'll give it to Roloson, in that he was pretty good the first couple of weeks, but has since been spotty in his performances. Perhaps the acquisition of Roloson had some negative effect on backup Mike Smiths confidence, because even though the team is still in the playoffs, they completely switched places with Washington in the Standings.
Tampa Bay X-Factor:
Dwayne Roloson. The Bolts keeper must play out of his mind, rather out of his 41 year-old frame in order to keep the Penguins from making their way to the Conference semis. Unfortunately for Tampa Bay, they find themselves in the same situation as Washington, except for the fact that Tampa Bay doesn't have two more goalies who have and could easily start in place of Roloson.
No. 4 Pittsburgh Penguins vs. No. 5 Tampa Bay Lightning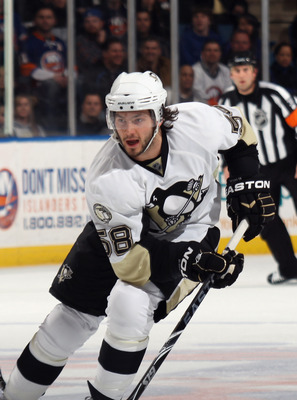 Kris Letang
Bruce Bennett/Getty Images
Prediction:
Pittsburgh Advances. As much as I am surprised that the Penguins have maintained their position in the East, I am also just as surprised that Tampa Bay has faltered in the little ways they have. Despite the Lightning's flashy trio, I have to pick Pittsburgh after the effort they've given after the loss of Crosby and Malkin. I don't believe they'll let they're remarkable regular season run show for nothing. At least not a first round loss.
No. 1 Vancouver Canucks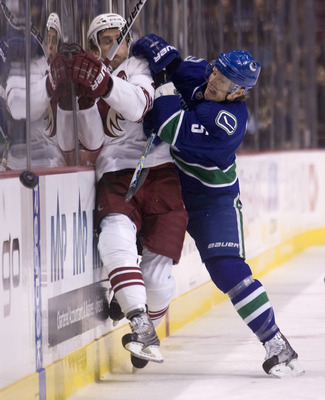 Christian Ehrhoff
Rich Lam/Getty Images
Everybody is looking for either Sedin brother and Ryan Kesler to continue dominating throughout the playoffs. The reality is that these guys know what they are going into. They will keep doing what they have been doing all season. But they do need to be careful of the President's Trophy curse (see '10 Washington Capitals.)
Vancouver X-Factor:
Taking Lead Early. . Vancouver is nearly unstoppable when they lead their opponents after the first and second frames. If they continue this trend, then they will do just fine against the defending champs. However, if they let Chicago in the game early, then they might be in trouble. All they need to do is keep their heads down and get to work, and simply ignore who they are playing.
No. 8 Chicago Blackhawks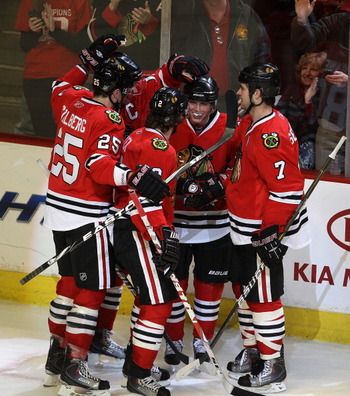 Viktor Stalberg, Jonathan Toews, Patrick Sharp, Brent Seabrook, Duncan Keith
Jonathan Daniel/Getty Images
The Chicago Blackhawks find themselves in a similar situation compared to the New York Rangers. Both teams had to hand over the reigns of their playoff destinies to the Dallas Stars and Carolina Hurricanes, respectively. Luckily for both teams, they still made with the help of the Minnesota Wild and Tampa Bay Lightning.
The Blackhawks however, aren't playing the Capitals, but what I believe to be a more susceptible Canucks squad. If they 'Hawks think they can do it, and prepare themselves with the right mindset, they can pull of quite a large upset.
Chicago X-Factor:
Believing Mentality. The Blackhawks return to the playoffs without most notably Dustin Byfuglien and Antti Niemi, who were played pretty large roles during their playoff run. Aside from these two, Chicago still has the same pieces in place to make a run this post season. I think, because they return a bunch of the same players, that they can do upset Vancouver, as long as they have the right mindset. Who cares if the Canucks take game one and/or game two. If they believe in themselves, then they have a tremendous opportunity in front of them. Believe Blackawks, believe.
No. 1 Vancouver Canucks vs. No. 8 Chicago Blackhawks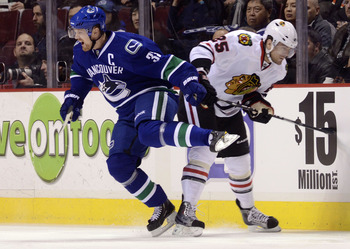 Henrik Sedin, Viktor Stalberg
Rich Lam/Getty Images
Prediction:
Blackhawks advance. I think the Canucks will be stricken with President's Trophy fever, as Chicago will convert the hype into the production of goals, and fantastic play.
No. 4 Anaheim Ducks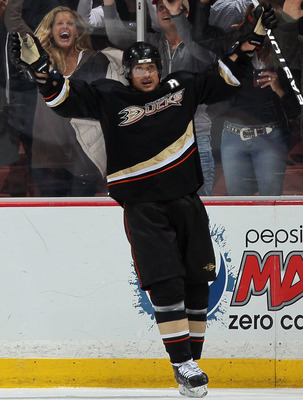 Teemu Selanne
Jeff Gross/Getty Images
The Ducks waddle (rather hastily) into the post-season, riding on a wave of success garnered by a Hart-Trophy-front-runner in Corey Perry and a white hot Teemu Selane (yes, 40 years old.) Yes, they're goal tending is a little shaky, but I think that Dan Ellis and Ray Emery will suffice, who ever it may be. Anaheim simply needs to keep playing with the intensity and efficiency that they have been displaying over the pat month or so.
Anaheim X-Factor:
Keep on keeping on. It's that simple, Perry and the Ducks just need to keep producing excellent offense.
No. 5 Nashville Predators
Leading scorer, Martin Erat
Rick Stewart/Getty Images
Is it me, or does it seem like the Predators have slipped their way into the play-offs? Certainly they find themselves in a decent position, as far as their seeding goes, but they still face arguably the hottest team in the Western Conference. I mean slipped as in that it seems like no one has focused much of their attention on them during the last month or so.
The Nashville defense is pretty solid, being anchored by Shea Weber and goalie Pekka Rinne. The least they will have to worry about is their defense, but they will definitely need to harness their offensive skills. This said because they don't have a real singular offensive threat or offensive superstar.
Nashville X-Factor:
Offensive predation. Just like Anaheim, it is that simple. Their defense is solid enough that I think the only struggle they will have, is keeping up with the electric offensive that belongs to the Ducks. Nashville does have a good opportunity to be explosive, as they face the shaky goal tending of the Ducks.
#4 Anaheim Ducks vs. Nashville #5 Predators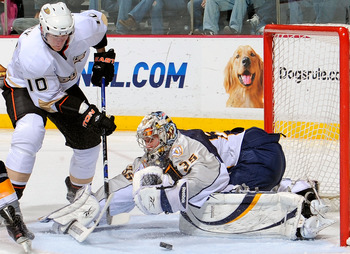 Corey Perry and Pekka Rinne
Frederick Breedon/Getty Images
Prediction:
Anaheim advances. The Ducks, quite frankly, are just too hot to drop. They are playing excellent hockey of late, and I think Corey Perry and Co. will be too much to handle for the Preds.
Keep Reading