NHL Playoffs 2011: Ray Emery and the 5 Backup Goalies Who Should Be Starters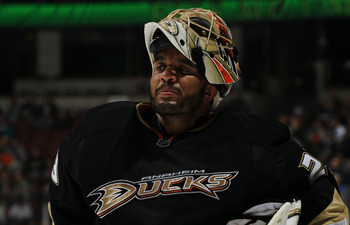 Stephen Dunn/Getty Images
This NHL playoff season is full of talented goaltending. There's Tim Thomas and Carey Price facing off in the Northeast and Roberto Luongo versus Corey Crawford in the West, along with many others.
Many of these teams have equally strong backup goaltending as well. Some even have goaltending that could be more worthy of being the team's starter in net during the playoffs.
Here are the five backup goaltenders who should be starting in the playoffs.
5. Michael Leighton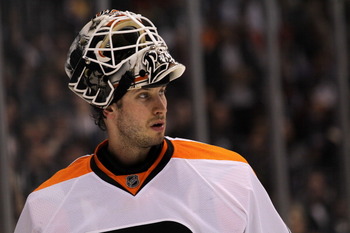 Stephen Dunn/Getty Images
Last year in the playoffs, Michael Leighton became the Philadelphia Flyers' starting goaltender after an injury to starter Brian Boucher.
Leighton fared well, going 8-3. He averaged 2.46 goals against and posted a .916 save percentage as well. Boucher on the other hand, went 6-6, averaging 2.47 goals against and posting a .909 save percentage.
This season, the Flyers added rookie goaltender Sergei Bobrovsky, whose entrance rendered Leighton unnecessary. Leighton was eventually waived.
However, following an injury to Boucher, Leighton was brought back to serve as backup.
The Flyers will start Bobrovsky in net, backed by Boucher, with Leighton as insurance if either of the two get injured.
It seems as if Leighton should at the very least be backing up Bobrovsky though.
4. Jonathan Bernier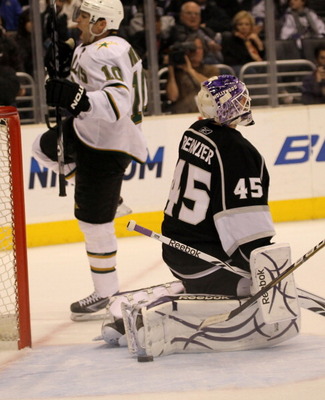 Stephen Dunn/Getty Images
For the Los Angeles Kings in net, it's a tale of two Jonathans: Jonathan Quick as their starter, Jonathan Bernier backing him up.
In last year's playoffs as the Kings lost, Quick went 2-4, posting a GAA of 3.5 and a save percentage of .884. The rookie Bernier has no NHL playoff experience.
This season, Quick has a GAA of 2.24 and a save percentage of .918. Bernier has a GAA of 2.48 and a save percentage of .913, which isn't too far behind his counterpart, who has played more.
Quick is a great goaltender, but the Kings should consider alternating their goaltenders, just to keep the Sharks on their toes.
3. Ray Emery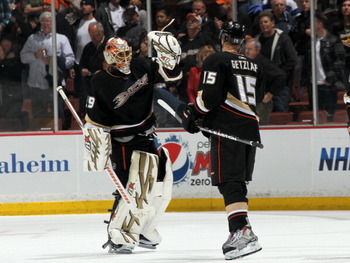 Stephen Dunn/Getty Images
Ray Emery is nursing a lower body injury and his status for the start of the playoffs is unknown. Meanwhile, starting goaltender Jonas Hiller is still experiencing vertigo and his status is unknown as well.
The Ducks hope to have at least one of them available to start in the playoffs, rather than putting it in the hands of Dan Ellis.
Hopefully the available goaltender will be Emery. He's been great during his comeback for the Ducks and that could translate to playoff success as well.
Plus, I believe that putting Hiller in is a big risk.
2. Jhonas Enroth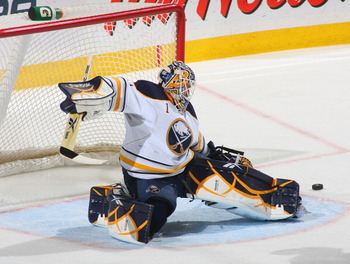 Rick Stewart/Getty Images
Jhonas Enroth should remain the Buffalo Sabres starting goaltender, even with Ryan Miller available again.
The main reason I believe this, is because of the old adage "don't fix something if it ain't broke." Meaning, the Sabres have been on a roll. Enroth has helped them make the playoffs and even move up into the seventh spot.
Rather than changing things up now that Miller is back, the Sabres should give Enroth a chance and see what he can do to start the series versus Philadelphia.
After all, beginner's luck can be quite important.
1. Braden Holtby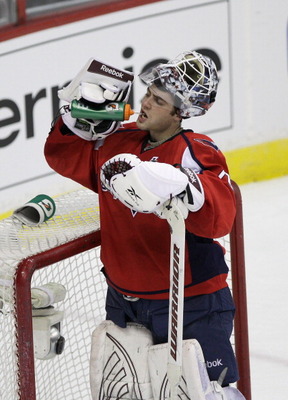 Rob Carr/Getty Images
The Washington Capitals and their rookie goaltenders know all about beginner's luck. During the 2009 playoffs, rookie goaltender Semyon Varlamov had great success versus the New York Rangers and the Pittsburgh Penguins, before the eventual Stanley Cup champions won the series.
Rookie Michal Neuvirth has had a great season this year, but he's struggled at times too.
Braden Holtby played amazingly when he was called up from AHL affiliate Hershey Bears. In 12 games with the Capitals, Holtby was 10-2, posting a GAA of 1.79 and a save percentage of .934.
In comparison, Neuvirth has posted a GAA of 2.45 and a save percentage of .914.
Plus, opponents don't have very much experience or as much film to judge Holtby by, giving the Capitals an advantage.
Keep Reading