NHL Playoff Predictions 2011: Projecting Winners for the First Round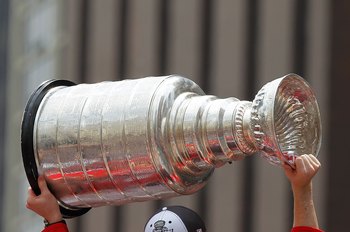 Jonathan Daniel/Getty Images
It is Stanley Cup playoff time. The teams are chasing the most historic trophy in sports, daring to dream of taking that championship drink from the cup.
The NHL playoffs are the most daunting of playoffs among the big four sports. There is no bye week for top seeds and rarely is there a gimme round. Instead there are four tough, hard fought battles that must be won in order to raise the cup. A hot goalie, a lucky bounce or hard hit can change to nature of a series in an instant.
Here are the 2011 NHL playoffs first round preview and predictions.
Vancouver vs. Chicago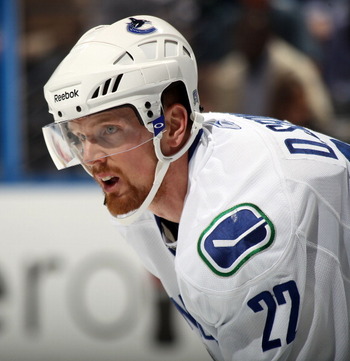 Bruce Bennett/Getty Images
What a way to start to the playoffs for Vancouver. They finish with the Presidents' trophy for the first time in team history; unfortunately they are rewarded with the defending champs in the first round.
The teams tied their season series 2-2. Vancouver has won the two most recent meetings but that latest was February 4th. Chicago blasted the Canucks for seven goals back in November only to be shut out two weeks later. This is the third straight year that these two teams have faced off in the playoffs, with Chicago winning both of those.
The Canucks are an impressive team. They led the league in goals scored, fewest goals allowed and power play. They would have swept the main four categories if not for the penalty kill, which tied for second. They are led by the Sedin twins, Henrik and Daniel. Henrik was tops in league scoring last season, Daniel matched that effort this year with 104 points.
The team suffered some injuries on defense towards the back half of the season, however, they enter the playoffs close to full health. They now have the deepest and strongest defensive unit in the playoffs.
The Blackhawks have been up and down this season. They have been just as likely to go on a three-game losing streak as a three-game winning streak. They spent much of the season hanging just outside the top eight in the west. An eight-game winning streak which led to a 13-4-1 run vaulted them up the standings. At one point many wondered if they were going the catch Detroit for the division lead. The team fell back to earth with only seven wins in their last 16 games.
This should be an entertaining series. Chicago has been too up and down this season and Vancouver is hitting on all cylinders right now. While it wouldn't be a surprise to see this one go seven games, Chicago just hasn't proven it can play consistently for a long enough stretch. Canucks in six.
Anaheim vs. Nashville
Doug Pensinger/Getty Images
Nashville will try once again to get their first playoff series win in franchise history. The Predators did win the season series 3-1, scoring at least four goals in every game. The team did finish on an 11-3-1 run and enter the playoffs on a roll.
The Predators are lead by goalie Pekka Rinne with a 2.12 GAA and .930 save percentage. Both stats place him among the top three goaltenders. He is capable of putting this team on his back and carrying them through a round or two. The Predators offense is the question as they do not have a goal scorer in among the top 60. Rinne will keep it low scoring, but will the offense be able to give him enough help?
Anaheim is juggling goalies as injuries have slowed Jonas Hiller and Ray Emery. As of now it looks like Dan Ellis will be in net but, that changes just about every day. Luckily all three goalies have played well when they were in net. The concern is that once healthy will they be looking over their shoulder for the hook at the slightest sign of struggle.
The Ducks Corey Perry is the league's only 50 goal scorer this season. He finished on a tear with 19 goals over his last 16 games and ended the season third in league scoring. The ageless Teemu Selanne still produces well for the team scoring 31 goals and 81 points in his 18th season. They both will need to put pressure on the Predators defense and Rinne if they have a chance to advance.
This series should go the distance but look for Rinne to carry the Predators to their first playoff series win.
Phoenix vs. Detroit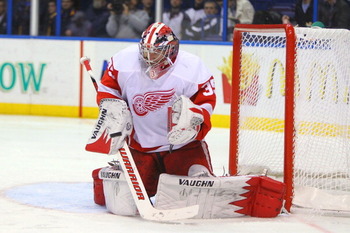 Dilip Vishwanat/Getty Images
This is a rematch of last year's seven-game battle in which the Wings won on the road. The teams split the season series. Home ice may not be that important in this series as both teams won more games on the road than at home this season.
Injuries will play a key role in this matchup as it appears the Wings will be without Henrik Zetterberg to start the series. They Coyotes are hoping that Martin Hanzel will be at full strength in order to slow the Wings Pavel Datsyuk.
Keith Yandle may be one of the most under appreciated defenders in the league, his 59 points were second on the team and his strong play helped them reach the playoffs. Phoenix struggled with only one player scoring at least 20 goals. Despite that they do have 11 players with double digit goals. They don't rely on any one guy but can they get enough consistent scoring throughout the series?
IIya Bryzgalov has been strong in net for the Coyotes this year and he will need to really up his game to hold off the high scoring Red Wings.
The Red Wings were second in goals scored this season. Considering how many games that their top players missed throughout the season that is an impressive stat. What is of concern is the Red Wings defense has been uncharacteristically soft this year. After being in the top 10 in goals allowed for nine of the past 10 years, they fell to 23rd this year. That will need to change if they hope to make a long playoff run.
Even without Zetterberg the Wings are just too deep. With a fully healthy team this would be a five-game series but with the injuries it will take six for the Wings to prevail.
Los Angeles vs San Jose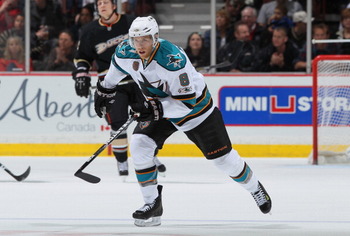 Jeff Gross/Getty Images
There are three teams in this matchup, the Kings, the Sharks and the memory of the Sharks past failings.
San Jose has gained a reputation for not playing up to their ability come playoff time. It doesn't matter what all the stats say, coming into this one it is all about beating their ghost and finally making that long postseason run. While the long run still may not happen, they will get by the Kings in five games.
Philadelphia vs. Buffalo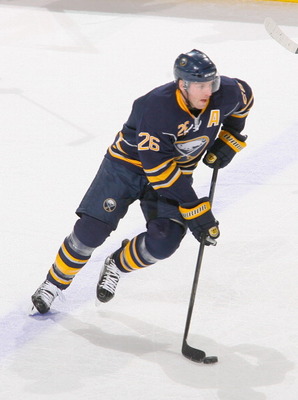 Rick Stewart/Getty Images
Philadelphia spent much of the early part of the season as a favorite to return to the finals after last season's runner-up finish. However they have fallen into inconsistent play as the season progressed. They lost five of their last six games and have only won two of their last seven home games. The Flyers will be going with a rookie net minder in Sergei Bobrovsky. He will be looking over his shoulder though as last year's hero, Michael Leighton, will be waiting for his shot at redemption.
Buffalo has been on a tear over the second half of the season. Their 28-11-6 record since January 1st is the best in the Eastern Conference. Ryan Miller recently returned from injury to patrol the net. Thomas Vanek leads the ninth-best scoring unit.
Buffalo will pull the upset here. While a five-game win would not be a surprise it should take six games for the Sabers to reach the second round.
Montreal and Boston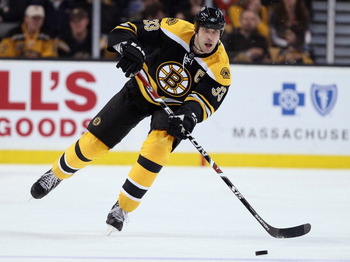 Elsa/Getty Images
This already fierce rivalry took a nasty turn this year when Boston defensive star Zdeno Chara hit Max Pacioreth from behind in a February 9th game. The hit ran Pacioreth into the metal support between the benches which caused a concussion and broken vertebra. The game had 180 penalty minutes and will fuel the fire for this series.
Montreal is a fast paced team. Boston is a very physical team. Both teams have strong goalies and playmakers all over the ice.
This should be a much watch series as the two very different styles of play combined with the recent battles and long history have the makings of a great seven-game series. Boston should wear out the Canadiens and move to the next round.
Pittsburgh vs. Tampa Bay
Paul Bereswill/Getty Images
The Penguins are the team that just will not quit. Sidney Crosby and Evgeni Malkin both went down with injuries. Most teams would drop in the standings if their top two players were out, however the Penguins were able to maintain their level of play. The injuries forced other players to step up and so far they have.
Tampa is an explosive team with Martin St Louis, Steven Stamkos and Vincent Lecavalier each able to score goals at any time. The question will be can 41-year-old Dwayne Roloson hold up in net to get Tampa past the Penguins?
Over one or two games, Pittsburgh would win but over a series the scoring power of Tampa will be too much. The Penguins will not be able to match the offensive output and will lose on six games.
Washington vs. New York Rangers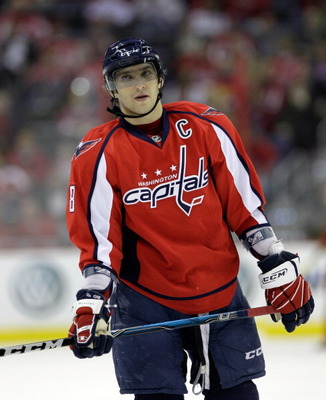 Rob Carr/Getty Images
This should be the quickest series of the first round. While the Capitals could easily sweep, Rangers goalie Henrik Lundqvist is just too good to not steal at least one game.
After last season's first round upset the Capitals had a team philosophy change and become more defense oriented. While they still have the capacity to score big, their focus has been on defense. They went from 15th in the league in goals against last season to fourth this year. Despite their goals per game declining this year, their goal differential improved by 32 goals.
The Rangers Lundqvist led the league with 11 shutouts; he will need to be stellar if his team is to have any chance at the upset. They do have five players with at least 20 goals this year but their offense still only ranks 18th as there isn't much help beyond those players.
The Capitals are just too motivated to let another upset happen. They win this one in five games.
Keep Reading