Toronto Maple Leafs: 6 Question Marks for the 2011-12 Season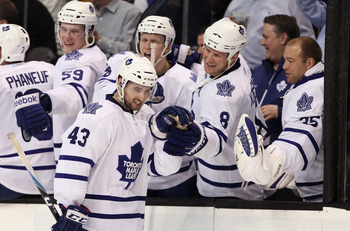 Elsa/Getty Images
For the seventh straight year, Toronto Maple Leafs fans will have to do without cheering their team on in the postseason. Despite a late season push, the hole they had dug themselves in November and December proved to be too much to overcome.
The Leafs started the season on fire, winning four straight games, but swiftly fell back down to earth, as the Leafs mustered just one win in their next 12. The team continued to struggle for the next few months until the All-Star break, when they turned it around.
After dealing away veteran defensemen Tomas Kaberle and Francois Beauchemin, as well as talented winger Kris Versteeg, the Leafs became a better team.
Dion Phaneuf gained confidence. Keith Aulie became a dependable D-man. It seemed that everything was in place for a miracle playoff run, and while the Leafs held up their end of the bargain, the teams they were chasing went on nice runs of their own.
While not making the playoffs, a number of bright spots did emerge in the final two months that the Leafs hope they can build upon heading into the 2011-12 season. There are, however, a number of question marks and plenty of uncertainty for the Blue and White heading into next season.
Can the Second Line Do It Again?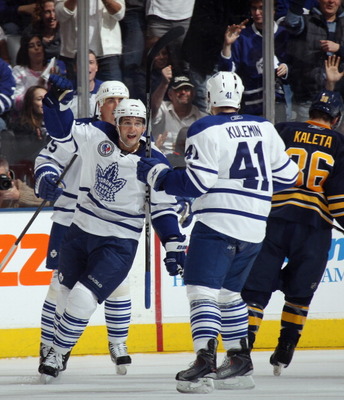 Bruce Bennett/Getty Images
This trio became Ron Wilson's most dependable line down the stretch, choosing not to tinker with their chemistry even as new faces entered the lineup. Each player, however, has some uncertainty surrounding their future.
Firstly, Clarke MacArthur is a restricted free agent for the second straight season. There was talk of dealing him at the deadline, for fear that he may have priced himself out of Brian Burke's price range. He is a valuable commodity, however, and Burke must decide whether his career highs across the board are just a fluke or the real thing.
Last offseason, Burke tried desperately to unload Mikhail Grabovski to anyone that would have him. How did he respond? With a career high 29 goals, and was arguably the Leafs' MVP. It still remains to be seen, however, whether he can sustain this production or revert back to his 10-goal output of 2009-10.
Finally, 30-goal scorer Nikolai Kulemin appears to be the one sure thing on this line. He responded to Burke publicly, downplaying his 2009-10 season during contract talks last year, to finish the season second in the NHL for most goals by a Russian. But again, it remains to be seen whether he can consistently produce, especially if linemate MacArthur is shown the door.
Is Dion Back?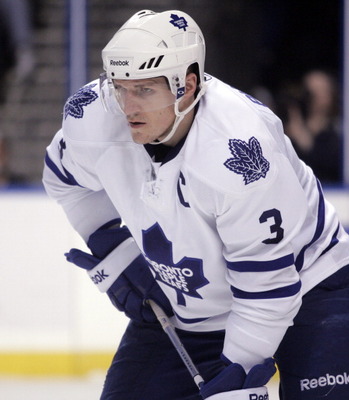 Justin K. Aller/Getty Images
Dion Phaneuf appeared to find some of that old flare he had in his first few seasons in Calgary after the All-Star break, and really came into his own after Tomas Kaberle was shipped out of town.
A quick look at Phaneuf's stats before and after the Kaberle trade:
Before: 42GP 2G 13A 15P
After: 23GP 6G 9A 15P
Kaberle's departure meant Phaneuf was now the bona fide leader of the blue line and he seemed to seize the opportunity. As Leafs fans, we finally saw what Phaneuf was brought here to do, and now we are left to wonder whether this is a return to his Norris candidate form or was this simply just a hot streak?
What Will Happen in Net?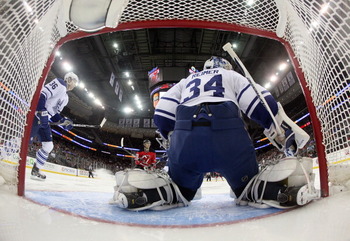 Bruce Bennett/Getty Images
Brian Burke has some serious decisions to make about his goaltenders. Sure he has James Reimer who played lights out for the final two months of the season, but can he be trusted as the starter heading into next season? Does he shell out the money required to bring in a bona fide starter like Ilya Bryzgalov and relegate Reimer to backup status?
Reimer burst onto the scene in the second half of the season, posting a 20-9-8 record to go with a .922 SV percentage. He has Leafs fans in a state of euphoria, already being heralded as their goaltender of the future. Not to take anything away from Reimer, but could this just be a case of a rookie on a roll to begin his career? Will he be able to perform with greater expectations next year?
Jonas Gustavsson has shown signs of promise in his first two NHL seasons, but health issues have derailed his career, and he may have become expendable in light of Reimer's performance. As for J.S. Giguere, will he be interested in taking a pay cut to stay in T.O. and mentor the young Reimer?
Is Nazem Kadri Here to Stay?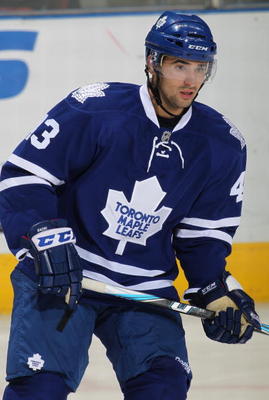 Claus Andersen/Getty Images
Brought up in November amidst much fanfare, Kadri was anything but memorable in his first stint this season with the Leafs. He registered just six assists with a minus four rating in his first 17 games, and much was made of his poor habits and shoddy defensive play.
Fast forward to March, and it was quite obvious that his extended stay in the AHL really paid off. In the Leafs' final 11 games, Kadri scored three goals to go along with three helpers. More importantly, however, was his plus two rating, the result of improved defensive play.
The question now is, which Kadri are we going to see next year? The one with the untimely giveaways in the offensive zone, or the one who showed us glimpses of why he was taken with a top 10 pick? And only time will tell if he will ever be able to fill the role of a top-line centre.
Will the Special Teams Ever Improve?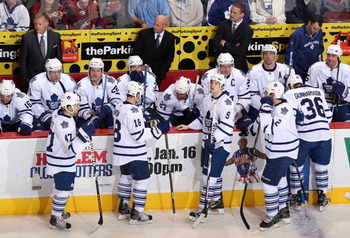 Christian Petersen/Getty Images
Whether you like it or not, Ron Wilson will be back behind the bench next season. While something has to be said for getting career years out of a number of his players, the Leafs' PP and penalty kill remain in the bottom third of the league.
This has been an area of concern ever since Wilson took over as the bench boss. Whether it means hiring different assistants or acquiring a PP specialist, this area needs to be addressed.
Fans can't help but wonder where the team could be today had the Leafs powerplay been more efficient this season. An extra point here, a point there, and the Leafs could very well have been playing hockey this spring.
Who Will Be the No. 1 Centre?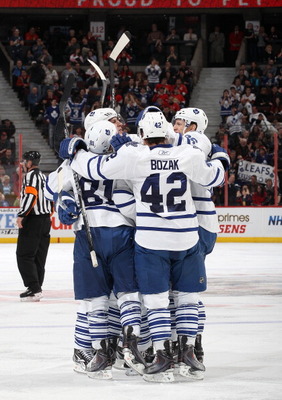 Jana Chytilova/Freestyle Photography/Getty Images
Every year Leaf fans ask the same question, and for the past few years it has gone unanswered. This season, Tyler Bozak was supposed to be the guy. Then it was Phil Kessel. Then Kadri. The Leafs have yet to find that guy, and the question lingers heading into next season.
Brad Richards is the big fish on the market this offseason and Toronto has the cap space required to sign him. Sounds pretty simple, right? Before we get ahead of ourselves, Richards has to actually want to come to this hockey hotbed, and I'm still convinced he would prefer to reunite with John Tortorella in New York.
So after Richards, who is left in the UFA pool? Brooks Laich? Tomas Fleischmann? Neither of these guys really fit the bill as No. 1 centres in this league, which leaves Toronto still searching for their first legitimate top line centre since No. 13 left in 2007.
Keep Reading

Toronto Maple Leafs: Like this team?