San Jose Sharks: Could Dany Heatley Benefit from Being a Healthy Scratch?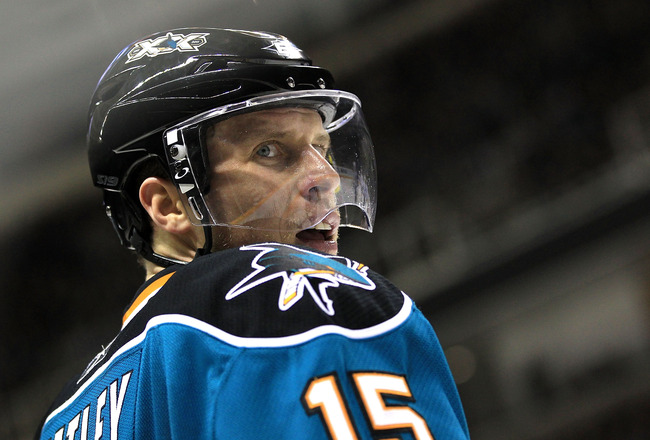 Dany Heatley is gripping the stick a little tightly these days. Can the Sharks afford to give him a night to right his mind? Can they afford NOT to?
Ezra Shaw/Getty Images
The 2010-2011 season has not been a banner year for San Jose Sharks' forward Dany Heatley. His production has been paltry by his standards, with just 24 goals and 58 points.

Lately, he has been battling a particularly acute case of ennui, and certainly seems to be feeling the "heat."

Heatley recently served a two-game suspension for a high hit on Steve Ott of the Dallas Stars, and since returning after his brush with the league office, he has looked more pensive and anxious than ever.
The Sharks have collected three of four points in his two games back, but Heatley was not a positive factor in the box score of either game. To the contrary, his only appearance on the scoresheet Wednesday night was a first-period penalty which proved costly, as it allowed a game-tying goal from Jerome Iginla of the Calgary Flames.

That game was a microcosm of Heatley's entire current rut. The Sharks tallied six goals on 38 shots, and 13 different skaters recorded at least a point. Heatley was not among them. He played marginally better against the Los Angeles Kings the following night, but still could not break onto the scoresheet.

This raises an interesting question. The Sharks have seven games remaining on the schedule, all against Pacific Division opponents. They hold the lead in the division and are battling for the second seed in the Western Conference, but the last-place Stars could still catch the Sharks if they fail to keep up their strong play down the stretch.

Even in an off year, Heatley has a lot to offer the Sharks. His numbers may be down, but everyone in the league respects him as a tremendously dangerous scorer. Simply having him on the ice forces opponents to adjust their game plans—which often translates to opportunities for the Sharks.

Nonetheless, with Heatley clearly grinding since returning from his suspension, should head coach Todd McLellan consider giving Heatley a night off to watch from the press box and recollect himself? The game is much easier from upstairs, and if Heatley has the chance to take a proverbial and literal step back, it could help him burst out of his season-long funk just when the Sharks could benefit the most.

Every game is critical between now and the end of the season, and Heatley is a critical piece of the Sharks' offensive attack, even now. Still, with the recent emergence of Torrey Mitchell, it could give the Sharks the leeway to offer Heatley such a respite for at least a game—which could be to the benefit of all involved (Sharks' opponents excluded, of course).

Speaking of players who need a night off, how about Antti Niemi? The goaltender's consecutive start streak has reached 30 games—nearly as many as he started in the entirety of the regular season last year. One could argue McLellan has simply been playing the hot hand, but there needs to be a balance between rest and rhythm.

Observant fans will notice that Niemi has cooled considerably from a torrent February which saw him earn NHL honors for his tremendous performances. The Sharks allowed fewer than 10 shots in each period against the Flames, but Niemi still allowed three goals. San Jose was more than up to the task of compensating on that night, but such prolific offense cannot be relied upon once the playoffs begin.

Antero Niittymaki is supposedly healthy again, but has not played at all since returning for injured reserve except in mop-up duty in a terrible loss to the Chicago Blackhawks. With a healthy Niittymaki to spell him—and hopefully a prolonged playoff run in the offing—if Niemi starts more than five of the remaining games, it will be a major mistake.

Just some of the things Todd McLellan must weigh as his team continues to battle in an impossibly competitive playoff race.

Keep the Faith!
This article is
What is the duplicate article?
Why is this article offensive?
Where is this article plagiarized from?
Why is this article poorly edited?

San Jose Sharks: Like this team?