James Reimer Sweeps the Nation: Goalie's Rookie Year Among Best in Leafs History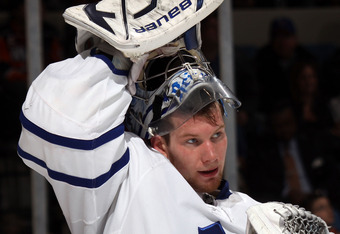 Bruce Bennett/Getty Images
In the season the NHL unveiled their Guardian Project, the Toronto Maple Leafs are starting to compile some aptly-named guardians of their own. And these ones are actually useful for something.
Last season, Jonas "The Monster" Gustavsson had the city abuzz over the team's future in net.
This season, it's all about 23-year-old James Reimer, or Optimus Reim, as he commonly goes by now.
Two goalies who made a splash as a rookie in this city, but have taken two entirely different paths since the beginning of the year. Reimer is now the toast of the town. Fans curse the coach if anyone other than Optimus is in net, and chants of his name now ring through the ACC crowd.
Meanwhile, Gustavsson has found himself the odd man out, watching the action in a suit from the press box. The Monster has been put in the closet, if you will, after a breakout party of his own just a year ago.
For now, anyway, he's forced to watch as the new kid on the block piles up saves, wins and praise.
Such is life for Reimer these days. The kid who came from a tiny town in Manitoba is now in a starring role at the center of the hockey universe.
He is a real-life superhero in these parts, who went from your average church league goalie to the No. 1 reason the Leafs have a shot at the playoffs this season.
Sure, giving him the superhero title is slightly ambitious at this point, but give him a cape and phone booth and you might be more easily convinced. His play has simply been out of this world.
And yet, his personality and attitude is still that of the kid from Manitoba, praising his teammates and deflecting any attention away from himself. The smile hasn't left his face since he put on the jersey for the first time, and since then he has become arguably the most loved current athlete in the city.
He's just so darn likable.
Fact is, Reimer is giving the Leafs something they so often can't find: a young, reliable goalie. And not just that, but a young, reliable goalie they drafted themselves and were able to watch grow right from the start.
After the big win in Colorado on Thursday night, Reimer has a record of 17-7-4, with a 2.51 GAA and .924 SV%. His three shutouts are nothing to scoff at either.
A rookie phenom goalie is something that's rarely happened Toronto, but when it has the goalies have turned out to have pretty impressive careers. He's played just 28 games, but already Reimer is in the conversation when it comes to best rookie seasons for a Leafs goalie.
Ever.
Though Gustavsson was not drafted by the Leafs (or any team), he did play his rookie season in 2009-10 with them, and did have an impressive start.
Bruce Bennett/Getty Images
He finished the year with a 16-15-9 record along with a 2.87 GAA and .902 SV%. What's more impressive is that he was also forced to endure two separate heart procedures as well as the death of his mother in that same year.
He was not only playing with the weight of a city on his shoulders, but a heavy heart as well.
Coming into this season, expectations were high for Gustavsson, but he quickly began to struggle. Eventually, he was third on the depth chart and forced to watch from the sidelines. He still has a future with the club, as the likelihood is high that J.S. Giguere won't return to the club next season.
It's unfortunate that his stellar rookie season is largely forgotten amidst the struggles this year, but there is still plenty of time for him to regain that form.
Before the Monster, the last goalie drafted by the Leafs to actually make an impact on the team was Felix Potvin. Drafted 31st overall in 1990, he broke into the league two years later and become an instant fan favourite. In his rookie season (1992-93), Potvin went an impressive 25-15-7 through 47 games, with a 2.50 GAA and .910 SV% while leading the Leafs all the way to the Conference Finals.
They bowed out to Wayne Gretzky's Los Angeles Kings in seven games, but the Leafs knew they had something special between the pipes.
Potvin was named to the NHL's All-Rookie team that season, and went on to play six more seasons in the blue and white, winning 160 games.
Mike Palmateer was drafted 85th overall in the 1974 NHL Draft and played his rookie season in 1976-77. He went 23-18-8, with a 3.21 GAA. Palmateer was the Leafs' starter until 1980, when he was traded to the Washington Capitals.
Arguably the greatest rookie goaltender the team has ever seen played his rookie season in 1950-51, and became an instant legend in the crease for the Leafs.
Al Rollins went a ridiculous 27-5-8 during the regular season, and led all goalies with a 1.70 GAA. He backstopped the Leafs to a Stanley Cup victory that year, and topped it off by winning the Vezina Trophy.
He won 29 games for the club the next season before being traded to the Chicago Blackhawks in 1952, a deal that brought Harry Lumley to Toronto.
Rollins wasn't the first impressive rookie performance in Toronto, though. In 1936-37, a kid from Manitoba (stop me when this sounds familiar) stepped into the limelight and went on to have one of the most impressive careers in NHL history.
Turk Broda played his entire career as a Maple Leaf. He won five Stanley Cups between 1942-1951, twice was a Vezina Trophy winner (1941, 1948) and eventually was inducted into the Hockey Hall of Fame in 1967.
In his rookie year, Broda went 22-19-4 with a 2.30 GAA and three shutouts.
Broda retired in 1952, stepping aside as Rollins took over the Leafs net.
This isn't to say that Reimer will ever reach the level of Potvin, Palmateer, Rollins or Broda when it comes to the careers that they had as a Leaf, but his rookie season sure lives up to what they accomplished, as far as regular seasons go.
And there is hope between the pipes in Toronto once again.
Reimer looks like he's positioned himself nicely for next season in the NHL, and Gustavsson still has all the opportunity in the world to round out the one-two punch in 2011-12.
Optimus Reim and the Monster.
It's likely that the Leafs' impressive run to the playoffs this season turns out to be too little, too late, but when it comes to the future of goaltending in Toronto, dare we say there's reason for fans to be Monstrously Optimistic.
Twitter: @therealjonneely
This article is
What is the duplicate article?
Why is this article offensive?
Where is this article plagiarized from?
Why is this article poorly edited?

Toronto Maple Leafs: Like this team?