Toronto Maple Leafs: Should They Give Up, Lose and Aim for a Higher Draft Pick?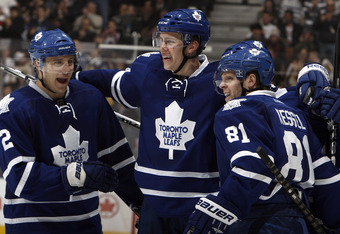 Abelimages/Getty Images
Alright now people, before you go crazy saying I'm out of my mind, let me explain.
While the Toronto Maple Leafs don't have their first round pick in this year's draft, we might very well have the assets to acquire a pick in the top 10. Well, maybe not right now, but we very well could by the time the draft rolls around.
The Leafs own Boston's and Philadelphia's first round picks. Brian Burke has said that he wants to parlay those picks into either an impact player or a higher pick, and he just might have that opportunity.
The Leafs currently stand 22nd in the NHL standings with nine games left in the season. In those games, they face five teams above them in the standings, Minnesota, Detroit, Buffalo, Boston, and Washington. If they lose to Minnesota, it very well might be the death knell for the Leafs playoff hopes.
If the Leafs fall back even further in the standings into the bottom five in the league, they might have a chance to make a trade that just might be enticing to a couple of bottom 10 teams.
Let's say the Leafs were to pick fifth in the draft, with Boston owning that pick. The Leafs second round pick would then be 35th. Philadelphia's and Boston's picks could very end up being in the 25 to 30 range in the first round. That means the the Leafs would have three picks out of ten. Even if one of Boston or Philadelphia gets eliminated in the first round of the playoffs, the package might be enough.
Would you trade a potential 2nd or 4th overall pick for three picks in the late first round an early second round?
If the Leafs were to offer up those three picks, they might be able to entice a team in the top ten, maybe even in the top five to give up their pick.
Currently the bottom five teams in the NHL are the Edmonton Oilers, Colorado Avalanche, Ottawa Senators, New York Islanders, and Florida Panthers. The two teams in that list that I could see giving up their top five pick would be the Avalanche and Islanders.
The Oilers, Senators and Panthers are all in rebuilding seasons and will most likely want to hold onto their picks. Colorado and New York are two teams that are just a step or two from playoff contention, but that step might not be a high draft pick.
As it stands right now, if we were to trade with Colorado or New York, we would get the second or fourth overall pick. With that high a pick, we could draft a player like Sean Couturier or Gabriel Landeskog. With the acquisition of Joe Colborne, I would think Burke would lean towards Landeskog.
This would mean Boston would get another top player in the draft, but if we were to somehow pick higher than them, I don't think many Leaf fans would care.
The question is whether Burke would rather make three quick picks in the first and second round or take a chance and pick a player who could step into their lineup immediately.
What do you guys think? Should the Leafs tank? Would you make the deal if you were the Islanders or Avalanche?
This article is
What is the duplicate article?
Why is this article offensive?
Where is this article plagiarized from?
Why is this article poorly edited?

Toronto Maple Leafs: Like this team?