Montreal Canadiens: Who's To Replace Max Pacioretty?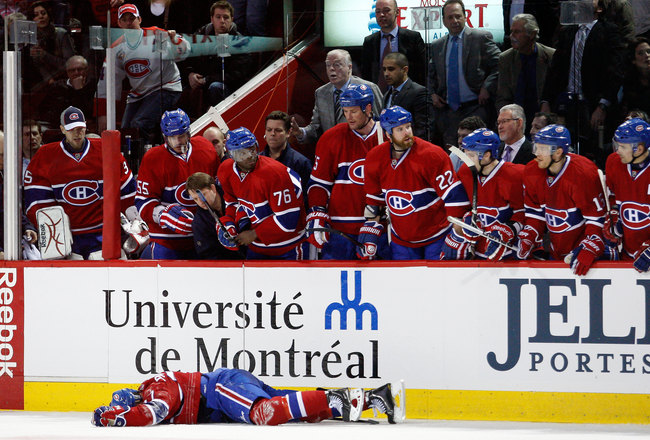 Richard Wolowicz/Getty Images
With Max Pacioretty recovering in hospital (from a severe concussion and a broken vertebrae in his neck), his teammates and coaching staff have the unenviable task of shifting their attention away from their fallen teammate to tonight's game against the St-Louis Blues. With Patches likely done for the year, Jacques Martin will have to find a permanent replacement for his emerging power forward. Just as Scott Gomez was beginning to enter his comfort zone, the coach will be forced to juggle his lines and find his embattled center a new triggerman.
If one looks over the roster, a few names immediately come to mind as possible substitutes for the young American.
Lars Eller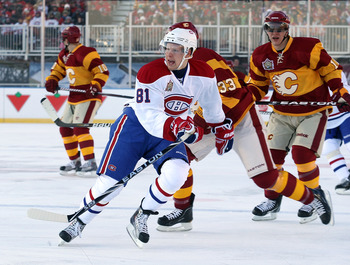 Andre Ringuette/Getty Images
After nearly 2/3 of the season completed, it had finely dawned on Jacques Martin to play the Danish rookie at his natural position. Since then, Martin and the Canadiens have reaped the rewards of moving Eller to center. Eller has, since the move to center, scored seven points in his last nine games (compared to 0 points in his previous nine). With that increased production, and his previous failures playing wing on the top two lines, it's unlikely that Martin will move the rookie back up into the top six.
Travis Moen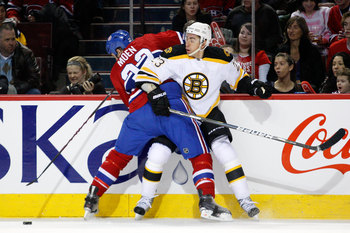 Richard Wolowicz/Getty Images
Jacques Martin has repeatedly put Moen in a position in which he is destined to fail. Throughout the first half of the season, Moen bounced around all four lines, and was often placed next to Scott Gomez. If Martin was paying attention, he would have noticed that Moen lacks both the foot-speed and the hands to contribute much of anything in a top-six role. Unfortunately, when the going gets tough, Martin has consistently gone back to Moen with the hopes that he would suddenly emerge as a scoring power forward. Don't be surprised if Moen quickly finds himself playing more minutes than he should.
Benoit Pouliot
Elsa/Getty Images
Immediately after the injury, Pouliot once again joined Gomez and Gionta. After being traded from Minnesota, Pouliot had quickly found some success playing with the two veterans, scoring 14 goals in his first 25 games with the Habs. His production then suddenly tailed off, leading to a dramatic reduction in ice-time. This season, Pouliot seems to have found some consistency in his game, being given a lesser role on the team. Playing third line minutes with the likes of Jeff Halpern and David Desharnais has helped the Alfred Ontario native gain some confidence. Pouliot now may be ready to assume a more important role on the team. His size, speed and hands make him a perfect fit on the line. It's what he has between the ears that will make the difference.
Andrei Kostitsyn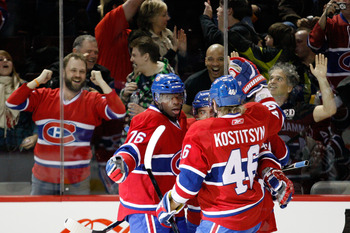 Richard Wolowicz/Getty Images
Andrei Kostitsyn has largely been a disappointment all season long. He has repeatedly scored in bunches and then regresses into a mind-numbing slump. The player has been the source of much frustration for the Canadiens hopeful and the organization alike. No one seems to understand how a player with such a lethal shot, blazing speed and impressive physique can produce at such an underwhelming rate. Kostitsyn seems to have regained some scoring acumen since being paired with Eller. Much like with Eller however, I doubt that Martin would return to a failed experiment.
David Desharnais
Rich Lam/Getty Images
Much like Pacioretty, David Desharnais has been a revelation this season. The diminutive center has 17 points in 28 games and is quickly gaining the confidence of his coach and teammates. Desharnais has all the skill and speed necessary to play in a top-six role. Unfortunately, Desharnais is a long way off Pacioretty's 6'2, 200 pound frame. Patches used his size very effectively on the line, especially when digging the puck out of the corners and standing in front of the net. If Desharnais is to succeed on the line, he will once again have to prove his doubters wrong and prove that he can play big minutes against top opposing players.
Aaron Palushaj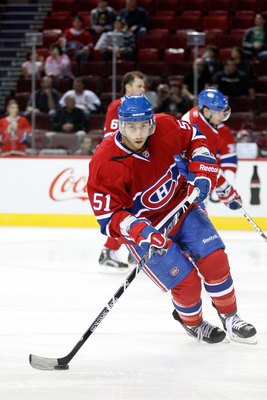 Richard Wolowicz/Getty Images
Although this comes slightly out of left field, Palushaj may be worth a look. He has decent size, at 6'0, 185 lbs, and can play wing. He is so far having his best season in the AHL, with 40 points in 54 games. The former second round pick has decent speed and has also shown a willingness to play a physical game. If Pacioretty and Desharnais are any indication, Randy Cunneyworth is doing a good job preparing his boys for the NHL, so it may be worth giving Palushaj a look.
For more on the Habs and tonight's game, visit www.habsworld.net. Send your questions and comments to markdellaposta@habsworld.net.
Keep Reading

Montreal Canadiens: Like this team?