Saul Alvarez vs Matthew Hatton Live Fight Update & Follow on Twitter: KINGJ323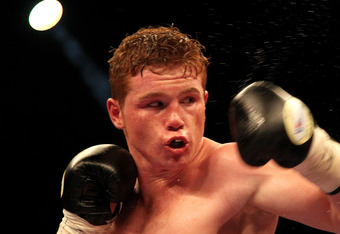 Jed Jacobsohn/Getty Images
Alright fight fans, the day has finally arrived Saul "Canelo" Alvarez is getting his official coming out party to the world against Matthew Hatton for the WBC 154 lbs belt tonight at the Honda Center in Anaheim, Calif.
We are ringside tonight to bring you all the live updates from what the view is on tonight's fights which also includes the comeback of the exciting, undefeated American powerhouse James Kirkland returning to the ring since being released from prison and Ponce De Leon vs Broner.
To get everyone up to speed, Canelo came in almost two pounds over weight to the agreed upon catchweight, so he will be paying a hefty penalty to Hatton. However, the 154lbs belt is still on the line since both fighters did come in under the 154lb limit.
A bit of controversy already surrounding the main event but in all honestly, it will most likely be Hatton's final chance to make some big money seeing he never really had what it takes to make that big brother Ricky Hatton money.
The Honda Center is one of the best venues to watch the fights as a fan, however, as part of the media many have complained about certain issues they have had covering a fight here such as the unstable internet connection and the lack of complimentary media buffet. Hopefully these issues will not be a problem tonight.
For even faster real time updates, crowds reactions/vibe and which celebrities and fighters are in house tonight and real time photos from tonight's fights follow on Follow on Twitter: http://twitter.com/KingJ323
Clean up crew is already stacking up the press row seats WTF hahaha guess we out.
It was a fun night of fights however I think Canelo should have stopped Hatton, the fact that he did not says something.
Canelo: Viva Mexico!
Crowd Screams.
Hatton now being interviewed and those screams quickly turn into BOOOOOS!
Max asks Canelo why his fans go so crazy over him.
Like he knows how to explain the hype LOL
UD for Alvarez 119 to 108 Crowd goes nasty.
RIcky Hatton comes in the ring and crowd boos!
12th final round: Hatton still trying to make something happen despite the one sided beat down from Canelo. They both trade till the bell rings it went the distance.
Canelo despite trying to end it could never because Hatton would always hold on and tie him up.
Is this the inexperience and lack of true skill/talent/power of Canelo? Can he learn from this?
We await the judges decision which is quite obviously going to be a UD for Alvarez.
Crowd is on their feet waiting. I'm sitting cause I'm typing this to you guys.
Round 11: Hatton still firing a jab to Canelo's face that doesnt seem to matter.
Canelo lands power shots and Hatton ties him up holds and even headlocks.
Canelo Round.
Round 10: Hatton still not giving up as he opens the round with jabs that seem to go no where. A lot of hugging and holding in this round. Crowd boos. Hatton goes down but fakes an injury due to a punch on the breaks and crowd boos. Canelo tries to finish Hatton but seems to not be able to.
Canelo Round
Round 9: Hatton actually landing and pressing Canelo against the ropes but Canelo still not hurt by anything. Hatton is really trying to make something happen this round but its more so Canelo taking the round off.
Canelo lands two big lefts that stagger Hatton crowd cheers. Canelo then turns it up trying to finish him with combos another good upper cut lands. Crowd is loving this.
Canelo round.
Round 8: All the same. Press Row is standing up in excitement.
Hatton is cut over his eye but the corner seems to have it under control.
Canelo still landing the harder cleaner power shot combos.
Canelo round.
Round 7: Canelo lands a fast 5 punch combo that causes Hatton to hold on and tie him up.
Hatton then takes a knee after they both trade rabbit punches. Crowd boos.
The last 45 seconds of the round is the most exciting as both trade hayemakers and Canelo really turns it up to end it but Hatton holds on to stop him.
Round 6: All the same Canelo landing big shots in bunches. Towards the end Saul lands a big upper cut after a three punch combo that stuns Hatton.
Canelo Round
Round 5: Hatton lands a few in the opening round but Canelo doesnt seem to be phased at all still coming forward. Crowd starts to stomp their feet to motivate Canelo.
Canelo backs up Hatton and there seems to be blood on the side of his head. Hatton rough houses and head locks Canelo and crowd disapproves.
Canelo lands and backs Hatton into another corner and the bell rings.
Canelo round. Jumbo tron shows a three punch combo landed for Canelo in slow mo. Crowd cheers
Round 4: Canelo backs Hatton up into a corner crowd stands up. Much of this round was all Canelo stalking Hatton around the ring and landing. Hatton when opening goes straight down the middle.
Jumbo tron shows big body punch and head combo landed in this round for Canelo.
Round 3: They show Ricky Hatton's face and the crowd BOOS!
Hatton attempts to open up but Canelo counters. Canelo hits Hatton behind the head hard.
Ref doesnt do anything about it. Hatton lands a few fast punches down the middle but Canelo walks right through and lands more bigger harder shots.
Hatton decided to open up more this round but I have this 3-0 Canelo.
Round 2: Canelo still unloading the big lefts like its target practice. It seems he is beating Hatton to the punch or Hatton is hesitant to really open up he has his gloves up high protecting his face.
Hatton opens up and lands a flurry to Canelo's face but he's not bothered by it.
Canelo goes to the body and head and rocks Hatton.
Hatton's face is bleeding from the nose it seems
Canelo's round
Round 1: Both fighters stare down each other.
Canelo throws to big left counters to the aggressive Hatton. Canelo is quite stationary and waiting for openings and landing. BIg flurry at the end of the round for Canelo.
Canelo's round
Both Canelo and Hatton are now in the ring. Hatton comes in to Karate Kid Soundtrack Youre the Best Around.
Canelo comes into some 80's sounding song as well? All in purple. Everyone is on their feet for Canelo. The cheers are LOUD as hell.
Broner gets beer and garbage thrown at him as he leaves the ring. I hate that BS.
New WBO jr. lightweight intercontinental champion: Adrien Broner UD. All these Mexicans are booing like its Showtime at the Apollo.
Im glad the judges werent swayed by the crowd.
Crowd on their feet cheering not sure why maybe they are drunk. This fight was pretty mediocre. 10th final round ends with some trading back and forth however Broner looked to land the cleaner more effective shots. This Mexican crowd boos Broner when he gets on the ropes but screams when PDL gets up on the ropes.
We are waiting for the judges to tally up their scores.
Oh no the crappy annoying band right behind me are beginning to play again. PLEASE NO MAS!
Going into the 10th and final round PDL is the fighter exciting the crowd. It is a close fight and if the judges are swayed by this loud wild crowd then I can see PDL getting the decision.
Crowd is booing because Broner keeps sticking and moving out of harms way. Everytime PDL lands even if its not clean or effective this sold out Mexican dominating crowd goes nuts. However the crowds not judging this fight the judges are.
We are now in round 8. In round 7 Broner was doing a very sloppy poor mans version of PBF's shoulder roll and get tagged.
However I personally still have Broner winning this fight by a few rounds. He's comfortably outboxing PDL who seems to be just too small for him.
They just showed Canelo's mug on the jumbo tron and the crowd just fainted.
This article is
What is the duplicate article?
Why is this article offensive?
Where is this article plagiarized from?
Why is this article poorly edited?

Anaheim Ducks: Like this team?