Top 10 Detroit Red Wings of the Last 20 Years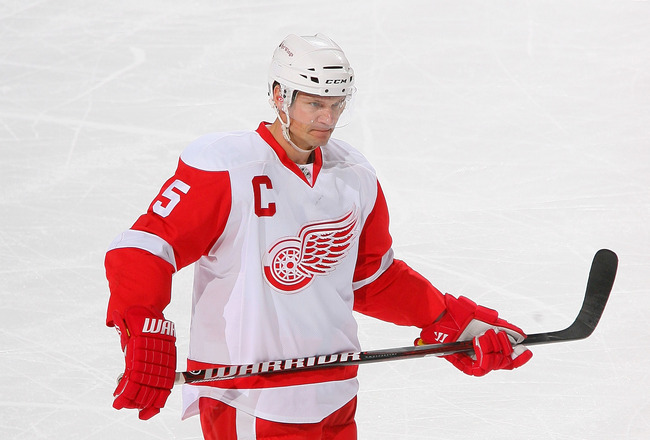 Rick Stewart/Getty Images
The Red Wings have been one of the best franchises in the NHL for the past 20 years. They have stunned people with great seasons year after year and with late-round draft picks that turn into All-Stars.
The Red Wings have made the postseason 19 straight years and are looking to make it 20 this year. Which they almost are for sure getting in.
The Red Wings have had their fair share of talent over the years and especially in the last 20 when they have had most of their glory. Let's take a look at some of the best players to lace 'em up in Hockey Town in the last 20 years.
10. Mike Vernon
Mike Vernon was the goalie for Detroit when they captured their first Cup in 42 years. He was, of course, an All-Star throughout his career.
Even though he had a short three-year stint with the Red Wings, he won the Conn Smythe in the 1997 Cup year. He was the backbone that year for the playoffs, and that is why he is on the list.
It also helps when you give Patrick Roy a whooping!
9. Vladimir Konstantinov
Known as "Vladdy" in Detroit, this man was the monster at the blue line for the Wings back in the 90's.
Also a fan favorite of Red Wing supporters everywhere, he would lay the boom down and get the crowd pumped up.
He could be higher, but his career was shortened by a tragic car accident after winning the 1997 Stanley Cup.
8. Brett Hull
This recent Hall of Famer came to the Red Wings in the 2001-2002 season from the Dallas Stars. He was just one of the great additions that year to be added to that star-studded roster.
Hull only played three years with Detroit but was a key part of the Wings' success in their 2002 Cup run.
Red Wings or Hurricanes fans should remember that sick tip by Hull to send Game 3 of the Finals to overtime.
7. Darren McCarty
Darren McCarty was a part of the legendary "Grind Line" in Hockeytown. He wasn't the best scorer on the team but he was one of the best fighters.
Sticking up for teammate after teammate (Kris Draper) he became a fan favorite in Detroit.
Also clinching the game-winning goal in the 1997 Finals doesn't hurt your rep with the fans.
6. Dominik Hasek
Dominik "The Dominator" Hasek came to the Red Wings in 2001-2002 along with Brett Hull.
Hasek played a total of 3 seasons in Detroit in 2002, 2007 and 2008, capturing two Cups with Detroit. The first of his career came in 2002.
5. Chris Osgood
Chris "Ozzie" Osgood has probably been the best goalie Detroit has had in the last 15 years...in my opinion. He has won three cups with Detroit with two of them coming as a starter.
He was backup to Vernon in 1997. He played in Detroit from 1993-2001 before pretty much being forced out by Detroit.
Ozzie came back the year after the lockout and has been on the team ever since. To many, he is considered the most underrated goalie of all time... and I agree with that statement.
4.Sergei Fedorov
Sergei Fedorov was part of the Russian 5 in Detroit and was probably the most skilled out of all of them.
Fedorov played from 1990-2003 on the Wings and won three Stanley Cups in the process.
3. Brendan Shanahan
Brendan Shanahan came to Detroit in 1997 at the trade deadline from the Hartford Whalers. He played in Detroit until 2006 until leaving for New York to play with the Rangers.
He will always be remembered as "Shanny" to fans in Detroit and most importantly being able to put the puck in the net and put a fist in a face.
2. Nicklas Lidstrom
Nicklas Lidstrom is a Hockey God. This man does not age and it shows in his play. Lidstrom has won four Cups with Detroit and seven Norris Trophies.
He was also the first European Conn Smythe winner and first European to Captained his team to a Cup.
Lidstrom is undoubtedly the best defenseman in Red Wings history and maybe NHL history. Nick is coming back for at least one year with chance to improve his already ridiculous stats.
1. Steve Yzerman
Stevie Y is the obvious number one choice for this list. If you think otherwise you probably aren't a Red Wings fan. Yzerman in his own way lifted Detroit out of the "Dead Wing" era.
He is one of only 18 people in NHL history with 600 or more goals with 692. He played all 22 seasons in Detroit and won three Cups while in the Motor City.
He will go down as one of the best Red Wings ever and NHL players of all time.
Keep Reading

Detroit Red Wings: Like this team?