NHL Trade Deadline 2011: Recapping the Trades, Signings and Action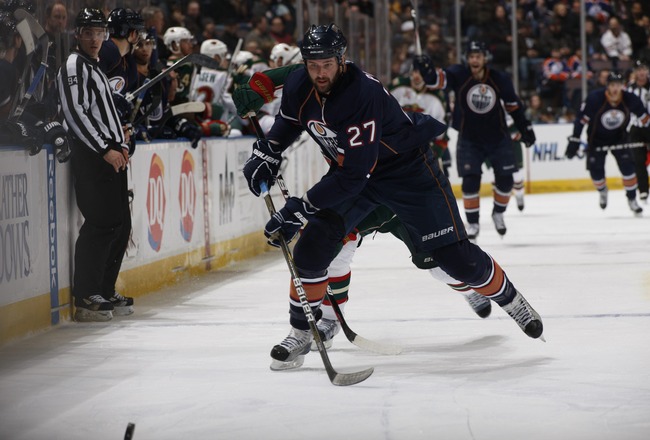 Dale MacMillan/Getty Images
It's been a slow day for the NHL.
Most deadline days are exciting, fast-paced and extreme. However, due to a ton of action in the days leading up to February 28, that was not the case this season.
With just 16 trades, the action today was slower than molasses in a Canadian January.
There weren't many big players on the move either, which contributed to the lack of energy.
When one of the more interesting points of a day is TSN news anchor Jay Onrait being on Skype in a bathrobe, you know things aren't moving along very quickly.
All that aside, there were a few solid deals that went down. Some teams acquired key players that will help in a playoff run, some teams found a player who will boost them into playoff contention, and some had a full-out firesale.
Some teams re-signed key players or picked up an asset off waivers.
With that said, here is a recap of every deal that went down today.
Follow me on Twitter: @NHLKaelan
Players Re-Signing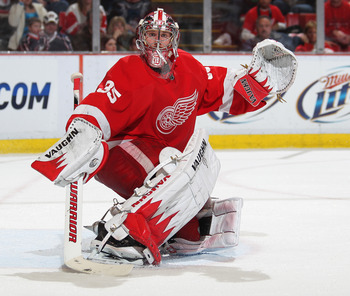 Claus Andersen/Getty Images
G Jimmy Howard re-signs in Detroit (two-year, $4.5M)
Smart move by Detroit re-signing their number one goaltender.
D Mark Stuart re-signs in Atlanta (three-year, $5.1M)
Locking up a stay-at-home blueliner with a career plus-35.
RW Justin Williams re-signs in Los Angeles (four-year, $14.6M)
Keeps him in L.A. until he's 33, likely when his career will begin to trend downward. Smart deal by the Kings—keeps an integral part of their team for future seasons and playoff runs.
Players Claimed off Waivers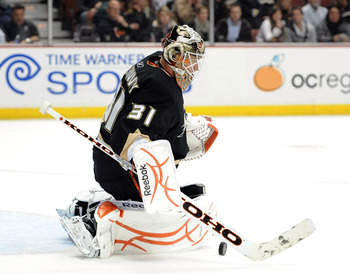 McElhinney has moved around a lot lately.
Harry How/Getty Images
Ottawa Senators claim G Curtis McElhinney
McElhinney was claimed to be a back-up goaltender for the Sens, which will allow rookie goaltender Robin Lehner to compete in the AHL playoffs as a member of the Binghamton Senators. Smart move by Sens management as it gives their minor team a better chance to move further in the playoffs, thus giving their youngsters a solid playoff experience.
Atlanta Thrashers claim F Rob Schremp
Rob Schremp's hands are some of the best in the NHL, but it looks like he finds it tough to keep a big-league job. He has posted 10 goals and 12 assists so far this year, so he isn't doing a bad job in 2010-11.
Calgary Flames claim D Brett Carson
Solid pick-up for the Flames—good depth defenseman.
Atlanta Thrashers / Florida Panthers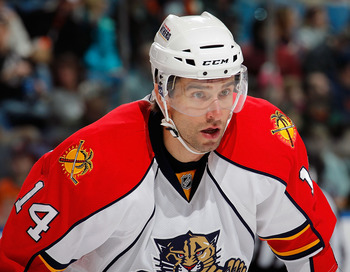 Paul Bereswill/Getty Images
To Atlanta: Radek Dvorak, 5th round pick in 2011
To Florida: Niclas Bergfors, Patrick Rissmiller
Breakdown: Small deal, good "ice-breaker" to start the day. Dvorak should provide some stability and a veteran presence for the Thrashers. He might help steady them during their current free-fall.
For the future, Florida will probably get the better end of this deal if they can re-sign Bergfors. With the right minutes, he will probably be a solid 40-60 point depth forward.
At 6'2", Dvorak adds some size to the relatively a small Thrashers squad. He's currently on a $1.7 million contract and has a style that will fit very well with coach Craig Ramsay.
All three players face free agency at year's end: Dvorak and Rissmiller are UFA's, while Bergfors is an RFA.
Washington Capitals / Florida Panthers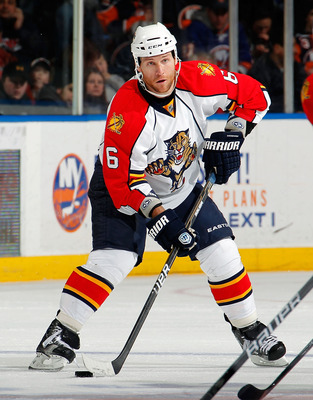 Paul Bereswill/Getty Images
To Washington: Dennis Wideman
To Florida: Jake Hauswirth, 3rd round pick in 2011
Breakdown: Solid pick-up for the Capitals. Wideman adds depth to the Caps squad and gives them another strong player who can help them in a playoff run without actually trading anybody on their team.
Wideman will help replace Mike Green, who is currently injured.
He's got nine goals and 24 assists for 33 points this year.
Hauswirth is pretty unknown. The 6'5" left winger is 23 years old.
Columbus Blue Jackets / Phoenix Coyotes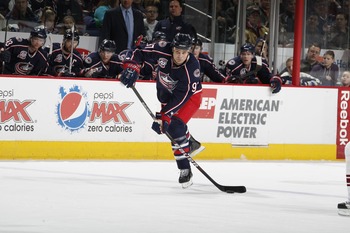 Rostislav Klesla is injury-prone
Gregory Shamus/Getty Images
To Columbus: Scottie Upshall, Sami Lepisto
To Phoenix: Rostislav Klesla, Dane Byers
Breakdown: This move is big for Phoenix. Klesla will fill a void on defense that has been there since the departure of Zbynek Michalek. At $2.975 million, he's locked up for a decent price until 2013.
Columbus gets a speedy, goal-scoring winger in Upshall. He's a solid 15-goal scorer with a career plus-36.
Both Upshall and Lepisto need to be signed at year's end; Upshall is unrestricted, Lepisto is restricted.
I would say Phoenix wins this deal as long as Klesla stays healthy. He can be a very sound defender who can contribute offensively and is locked up for awhile, whereas Columbus may lose both their acquired players at this year's free agency.
Edmonton Oilers / Colorado Avalanche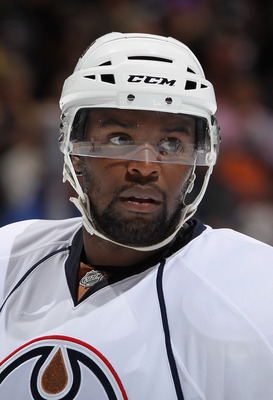 Shawn Belle
Jeff Gross/Getty Images
To Edmonton: Kevin Montgomery
To Colorado: Shawn Belle
Breakdown: Very minor deal. Both teams are likely hoping the player they acquired just needs a change of environment to thrive. Belle is 26, so he's a little older and time may be running out. Montgomery is 22, so while he's not young, he's still got time to develop.
I'll call this trade a tie, being it is probable that neither player ever has an NHL impact.
Belle has played 16 NHL games and has tallied an assist.
Chicago Blackhawks / Ottawa Senators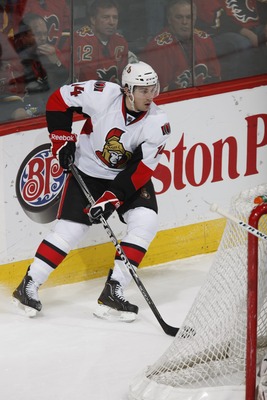 Chris Campoli is the defenceman the Blackhawks were looking for.
Dale MacMillan/Getty Images
To Blackhawks: Chris Campoli, conditional 7th round pick
To Senators: Ryan Potulny, 2nd Round Pick in 2011
Breakdown: The Blackhawks acquired a solid defender in this deal. After searching for a blueliner for awhile, they decided that Chris Campoli was their guy.
He is a restricted free agent at the end of the year, so the Blackhawks can re-sign him if they'd like.
The conditional seventh pick is dependant on whether or not the Senators re-sign Potulny.
I'd call the trade a wash and a solid deal for both teams. Both the Senators and Blackhawks fulfilled a need.
St. Louis Blues / Anaheim Ducks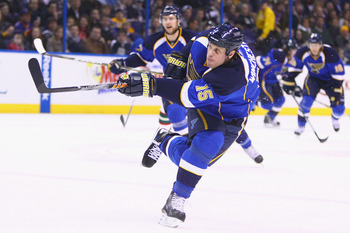 Dilip Vishwanat/Getty Images
To St. Louis: 3rd round pick in 2012
To Anaheim: Brad Winchester
Breakdown: Small deal, Winchester is a depth, 20-30 point type of forward. A low-impact deal, but it looks like Anaheim may have won this one.
Carolina Hurricanes / Florida Panthers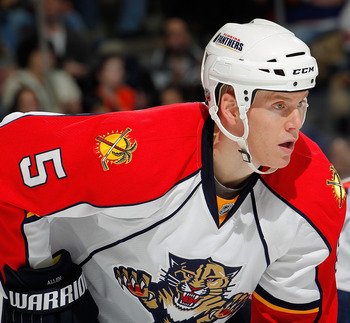 Bryan Allen
Paul Bereswill/Getty Images
To Carolina: Bryan Allen
To Florida: Sergei Samsonov
Breakdown: "Dale's trying to start over right from scratch ... Hopefully this is their last rebuild."
That's what Bryan Allen said after being traded, and it's a quote that will likely be looked upon if the Panther's latest efforts to rebuild end in failure.
Allen is a sound blueliner who can contribute some offense. Samsonov is a slumping depth forward who can usually contribute 40 points.
A solid hockey deal, both teams get a player who will address one of their needs.
Toronto Maple Leafs / New York Rangers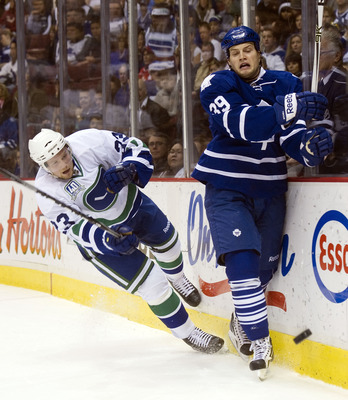 Rich Lam/Getty Images
To Toronto: 7th round pick in 2012
To New York: John Mitchell
Breakdown: This trade may prompt Maple Leaf fans expecting new born babies to name them "Brian."
John Mitchell is a guy that Leafs Nation has been fed up with for awhile. Brought in to be a scorer, Mitchell has disappointed. A change of scenery may be all he needs to jumpstart his career.
I'll call this trade a wash for now. If Mitchell plays anything like he did in Toronto in New York, then the Leafs win this deal, if you can call a 7th round pick a win.
Washington Capitals / New Jersey Devils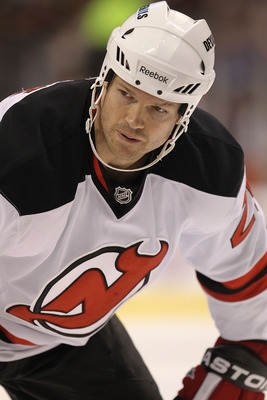 Ronald Martinez/Getty Images
To New Jersey: David Steckel, 2nd round pick
To Washington: Jason Arnott
Breakdown: Great deal for both teams. Washington gets their experienced second center who they've needed for so long. He will definitely impact their playoff run. With Arnott's $4.5 million off their hands, New Jersey gets cap relief, as Steckel's cap hit is just $1.1 million.
Steckel is a depth center who will put up 15-25 points a year, and a second round pick is always welcome when a team plays as badly as the Devils did at the beginning of the year.
Washington wins this deal, but it still works very well for both teams.
Vancouver Canucks / Anaheim Ducks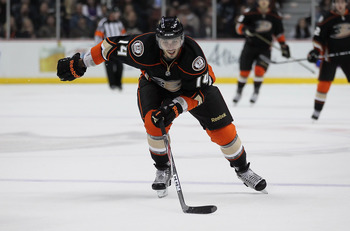 Maxim Lapierre
Jeff Gross/Getty Images
To Vancouver: Maxim Lapierre, MacGregor Sharp
To Anaheim: Joel Perreault, 3rd round pick in 2012
Breakdown: This deal is pretty much a wash. Vancouver gets a player to help their fourth line in Lapierre and a 25-year old minor-leaguer.
Lapierre is a good fourth line player for the squad. He has scored 15 goals in the past and will likely replace Cody Hodgson as the fourth-line center.
Anaheim gets a third rounder and a player who has been back and fourth between the NHL and the AHL since 2005.
Vancouver Canucks / Florida Panthers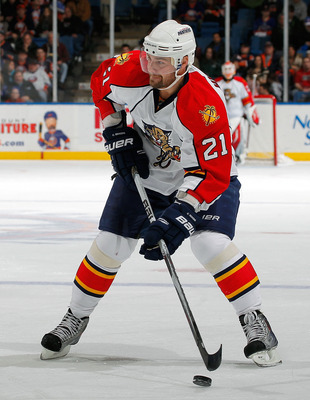 Chris Higgins
Paul Bereswill/Getty Images
To Vancouver: Christopher Higgins
To Florida: Evan Oberg, 3rd round pick in 2011
Breakdown: Higgins is a UFA at the end of the year, which is absolutely perfect for the Canucks squad.
He joins the squad as a depth forward who can contribute offensively. He's tallied 11 goals and 12 assists in 48 games.
Higgins is currently out with a broken thumb, but should be back within two weeks. He could provide back-up if Mason Raymond continues to struggle.
Vancouver wins this deal because they did exactly what they set out to do this deadline day: rebuild their fourth line.
Calary Flames / Atlanta Thrashers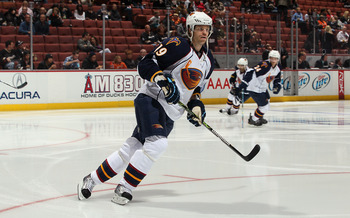 Jeff Gross/Getty Images
To Calgary: Fredrik Modin
To Atlanta: 7th round pick in 2011
Breakdown: Fantastic deal on the Flames' part. General Manager Jay Feaster managed Modin's team in his best years, and the two supposedly have a great relationship.
"He's the perfect kind of playoff player," said Feaster.
For just a seventh round pick, Modin is a player who will help the Flames reach the playoffs, then perform well if they make it the postseason.
Calgary wins, unanimous decision.
Columbus Blue Jackets / Philadelphia Flyers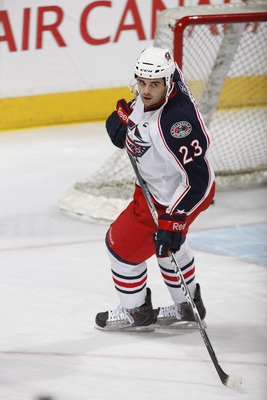 Dale MacMillan/Getty Images
To Philadelphia: Tom Sestito
To Columbus: Greg Moore and Michael Chaput
Breakdown: Just a minor-league transaction, nothing to be too worried about. Sestito has played 13 NHL games, recording two goals and two assists.
Atlanta Thrashers / Montreal Canadiens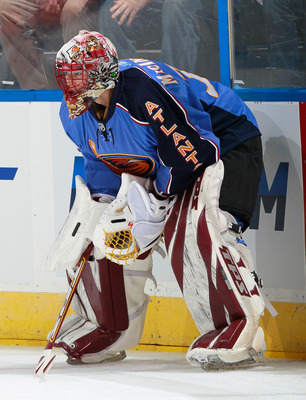 Drew MacIntyre
Kevin C. Cox/Getty Images
To Atlanta: Brett Festerling
To Montreal: Drew MacIntyre
Breakdown: Another minor league deal. MacIntyre is a goaltender who has played two games at the NHL level, while Festerling is a defenseman who has tallied eight goals in 83 games.
Let's say Atlanta wins this deal. MacIntyre is three years older than Festerling, and it's always harder to crack a line-up as a goaltender.
Minnesota Wild / Boston Bruins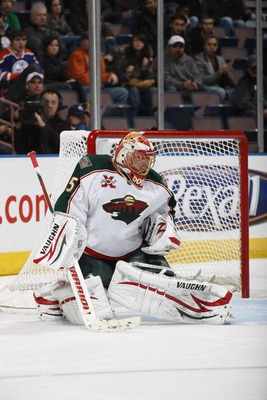 Dale MacMillan/Getty Images
To Minnesota: Jeff Penner, Mikko Lehtonen
To Boston: Anton Khudobin
Breakdown: Boston gets a goalie to throw on their depth chart, likely taking a chance on him in case Rask isn't up to the task when Thomas gets too old. He's got a fairly bright future. In 2007-08, he went 20-1-4 as a part of the Texas Wildcatters in the ECHL.
Both Penner and Lehtonen have played two career NHL games. Penner is a defenseman while Lehtonen is a left wing.
Edmonton Oilers / Los Angeles Kings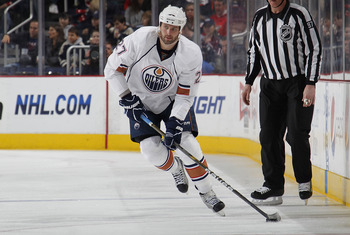 Penner is a big acquisition for the Kings
Gregory Shamus/Getty Images
To Edmonton: 1st Round Draft pick in 2011, Colton Teubert, conditional 2nd/3rd Round Pick in 2012
To Los Angeles: Dustin Penner
Breakdown: Hearing this trade was a huge relief. After waiting around an entire day, this was the first blockbuster deal.
Penner is a huge acquisition for the Kings, even if they did maybe overpay for him. He makes the Kings a legitimate Stanley Cup contender.
It's a win-win deal for both teams. The Oilers free-up cap space and get a couple of solid draft picks as well as a tough defensive prospect who could likely play on a second or third defensive pair in the future. The Kings get a strong, goal-scoring power forward who launches them into greatness.
The conditional third rounder turns into a second round selection if the Kings win the Stanley Cup.
Keep Reading