NHL Trade Rumors: Pittsburgh Penguins Alex Goligoski For Dallas Stars James Neal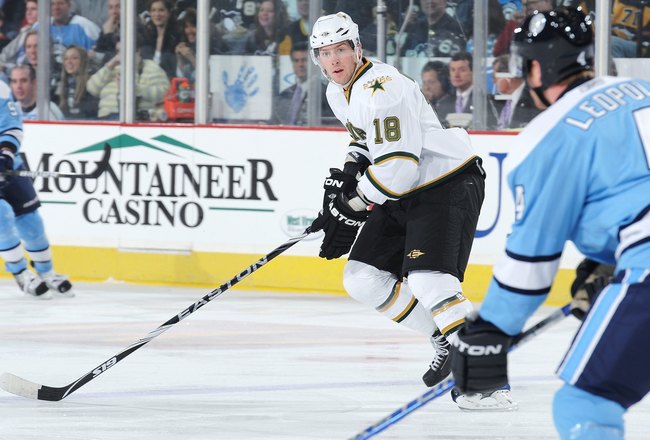 Jamie Sabau/Getty Images
Reports have recently come out that the Pittsburgh Penguins are talking to the Dallas Stars about a deal that would send defenseman Alex Goligoski to the Stars in exchange for forward James Neal.
Darren Dreger of TSN reported in his daily update, The Dreger Report, that this deal was being discussed.
It could be a good fit for both sides, but would probably involve some other pieces (draft picks) being exchanged.
Let's take a look at what each team would get out of it.
Follow Erik on Twitter: @ekpaul87
Dallas Gets: Alex Goligoski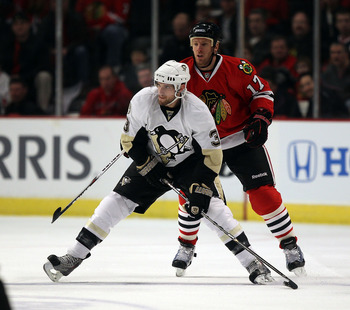 Jonathan Daniel/Getty Images
Alex Goligoski is a puck-moving, powerplay quarterback-type defenseman. He's got good speed, makes a great first pass and is pretty responsible defensively.
At only 25, Goligoski is going to keep getting better. He had 37 points last season and already has 31 this year.
Goligoski also boasts one of the best plus/minus ratings in the league, at plus-20.
Pittsburgh Gets: James Neal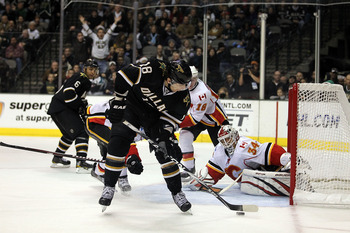 Ronald Martinez/Getty Images
James Neal is a 23-year-old power forward with pretty good scoring touch. Neal is in his third NHL season and has scored over 20 goals all three season.
He started this season with 19 points in 18 games. He's cooled off slightly since then, but he still sits fifth in scoring on the offensively powerful Stars.
Neal would slot in on Sidney Crosby's wing, and combined with Chris Kunitz, their physicality would open up a ton of space for Crosby.
What Else Needs To Be Added?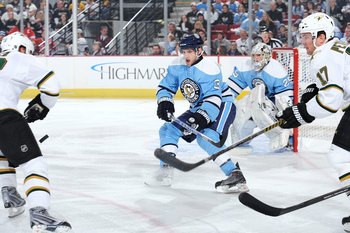 Jamie Sabau/Getty Images
Not much more would need to be added in for this deal to be completed.
Neal is a couple of years younger and has a bit higher upside, so the Penguins would probably have to add in a second-round pick.
The Stars would add in a fourth-round pick to balance it out, and this deal could be completed.
Would the Stars Be Better?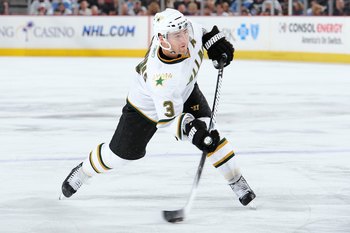 Jamie Sabau/Getty Images
Yes.
The Stars get devastatingly low offensive production from their defensemen and Goligoski would go a long way toward fixing that problem.
Goligoski would immediately be the highest scoring defenseman for the Stars, and would help the Stars 10th-ranked powerplay be even better.
The Stars wouldn't miss James Neal a lot, as they already have Brendan Morrow and Jamie Benn filling the power forward roles.
Would the Penguins Be Better?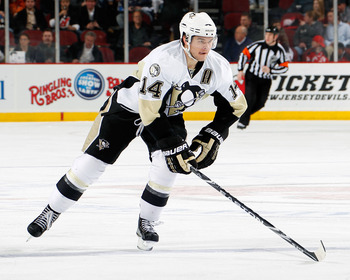 Paul Bereswill/Getty Images
Definitely.
The Penguins already have two offensive defensemen in Kris Letang and Paul Martin, but desperately lack skill on the wings.
Chris Kunitz is currently the only Penguins winger who belongs in the top six forwards, but the Penguins have been strapped for cap space due to Sidney Crosby, Evgeni Malkin and the defensive upgrades.
James Neal would immediately help the Penguins and, playing beside Sidney Crosby, has the skill to become a 40 goal scorer.
How Would the Money Work?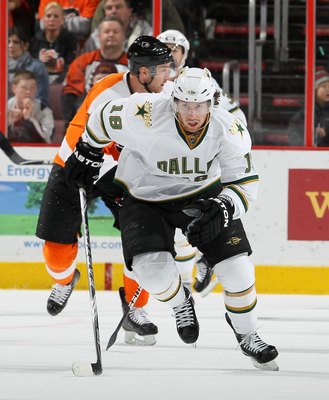 Jim McIsaac/Getty Images
James Neal and Alex Goligoski each have one more year remaining on their current contracts.
Neal gets $2.875 million for his last year.
Goligoski gets $1.833 million for his last year.
The money would work well for both teams. The budget-conscientious Stars would save about a million dollars, while the Penguins can afford the extra million dollars in cap hit.
Who Would Win the Trade?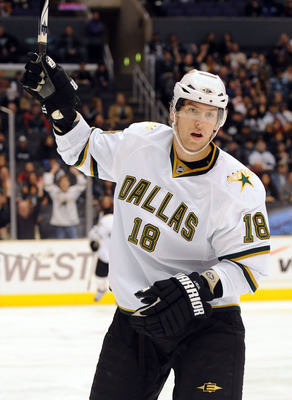 Harry How/Getty Images
Both teams would win this deal.
Both would address significant needs by giving up players they don't need that badly.
In the long run, James Neal has a higher upside than Alex Goligoski, but that's why I've included the swapping of draft picks in the deal.
Follow Erik on Twitter: @ekpaul87
Keep Reading

Pittsburgh Penguins: Like this team?